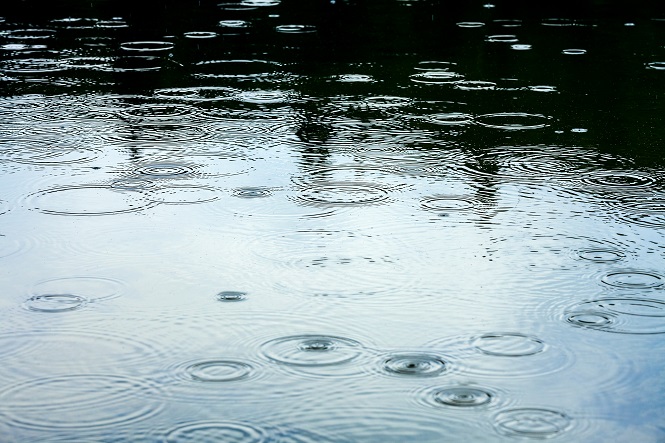 Just because summer is coming to an end doesn't mean that you can't enjoy your garden or yard. In fact, many people will tell you it's one of the best seasons for planting, as well as prepping for the upcoming spring. Whether you love mums or you grow your own pumpkins for Halloween, autumn can be an ideal time to spend outside in your garden. However, changing seasons can bring turbulent weather to some areas of the country. Cool temperatures may spawn thunderstorms when they collide with warm air. Some regions may have ample precipitation, while others may be simply prone to heavy frost. Regardless of where you live, there are a few ways you can protect your fall garden from the stormy skies. Mother Nature doesn't have to put a damper on your plans for the most colorful season of the year. Furthermore, the weather shouldn't stop you from enjoying one of your favorite hobbies.
1. Think containers.
Containers are small, mobile and easy to move inside when stormy weather hits. Furthermore, they are ideal for moving plants that may not be able to tolerate an early frost, according to the
Mother Nature Network
. Depending on the amount of space you have in your home, you may be able to dedicate a small segment to your plants. In this space, you might want to introduce special lighting to keep your plants warm and happy when they have to be indoors.
2. Use row covers.
This is an especially helpful tip if you have vegetables that do not tolerate frost well. Row covers are made from non-woven fabric that allows sunlight to come in and provides insulation. Many gardeners use row covers when they want to extend their season a bit beyond the first frost – they are typically used when nighttime temperatures dip below 40 degrees Fahrenheit. However, there is no set rule for row cover usage, and you don't even have to be planting vegetables!
3. Fertilize after hail.
A hail storm may not only reduce your harvest, but cause damage to your blooming plants. Whether you're growing flowers or vegetables,
Off The Grid News
recommends utilizing fertilizer as soon as the hail has passed. This will stimulate the plants and strengthen them as they recover. If your plants do not show sign of recovery after the first week, it's time to remove them and replant.
4. Be mindful of your location.
If you are still in the process of planting,
Mother Nature Network
recommends being mindful of where you place your seedlings. For instance, a southern slope will give your plants plenty of sun and protect it from strong northern winds. Even if you aren't starting your fall garden from scratch, you might want to consider doing some replanting, especially if windy storms regularly cause damage to your blooms.
5. Create a wind-breaking fence.
A wind-breaking fence can easily be created around your plants by attaching plastic around an existing garden fence. Punch a few holes in it, and it's ready to buffer the wind of the storm when it rolls through, according to the
Wooster Weekly News
. It may not be the most eye-pleasing sight, but it's a temporary way to ensure your fall garden survives the next storm.
6. Reinforce row coverings.
If you already use row covers on your plants, you may be keeping them warm during fall storms. However, it's hard to prevent damage from unpredictable hail. To give your blooms a better chance at surviving hail, reinforce your row covers. Add plastic to the top of the fabric material to keep the plants safe from any hail that may fall. Just make sure the plastic is weighted down and won't fly away once the storm arrives.
7. Protect your pots.
Not everyone uses their yard for gardening, but even if you use pots for planting, you need to prepare for severe autumn weather. If you know a storm is going to be coming through in the near future, take a look at the pots you have around your house. Move them up against the house and wrap the more fragile pots with cushioning material. It's best to avoid tarp, which can catch the wind and cause the pot to topple over. Consider using bricks or heavy stones to weigh down the pots and keep them from rolling.
8. Use buckets.
If you have spare buckets lying around your house, consider using them to cover your plants before a storm. These common household items are perfect for creating a wind barrier and stopping rain from overwatering your plants when it starts pouring. Of course, you'll also want to make sure that the buckets do not fly away in the event of strong wind. However, buckets can be a quick alternative when you haven't had time to put out row coverings.
9. Pack your soil tight.
To give your plants the best chance of staying rooted before a storm, you can pack soil tightly around its stem, according to
Endeavor Exteriors
. Doing so can help the plants remain upright, even in the strongest winds.
10. Create a blanket barrier over beds.
If you have time to prep for a storm before it arrives, place a few stakes in the ground. Then, secure an old blanket over the plants, holding it in place with the stakes. Although this may not be as secure or permanent as row coverings, it's a quick and easy solution to keeping your garden safe during stormy weather. Although autumn comes with beautiful colors, courtesy of Mother Nature, the weather isn't always ideal. This doesn't have to stop you from gardening, and fall storms may even teach you a thing or two about protecting your plants in the future. Before you say no to planting those gorgeous mums, think about these 10 storm preparation tips. In the end, you might find it easier than you thought to maintain your garden or yard through the fall.