Old tin cans are probably some of the most unglamorous items lying around the house. They probably still smell like beets, have partial labels attached to them and may remind you of Depression Era-soccer ball stand-ins (a game of "kick the can" anyone?). But when redecorated and refashioned, tin cans can make excellent penholders, bowls, candleholders and even luminaries, to name a few creations. Following are 15 ways to reuse tin cans that are as practical as they are pretty.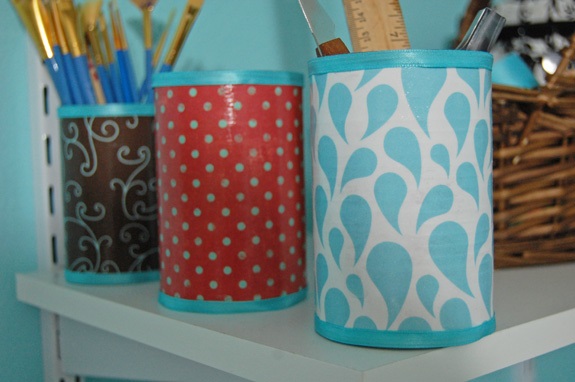 1. Tin can storage containers
Tin cans make great supply holders for schoolwork or craft projects, as this picture shows. These were decorated by attaching heavier scrapbooking paper to the cans using Mod Podge. The customization potential is endless. You can find the full tutorial with photos at
The Ornament Girl
.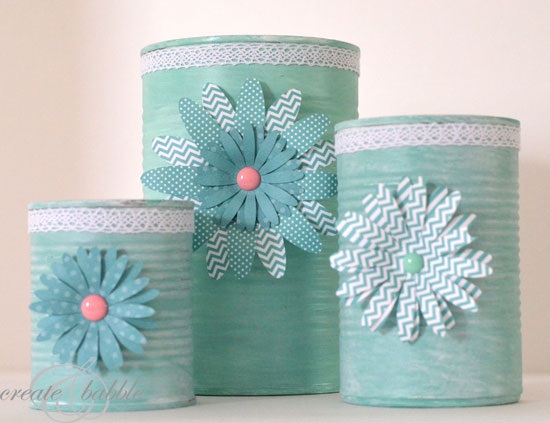 2. Flower tin cans
Here's another great example of how beautiful tin cans look after some crafting. It's like an ugly ducking story. These were hand painted with some latex paint, ribbon was attached and the paper flowers were attached to the can with magnets. You can find the full tutorial at
Or So She Says…
, which is a guest blog from
Create & Babble
. The tutorial even has a file for creating your own paper flowers to attach to the front of the can.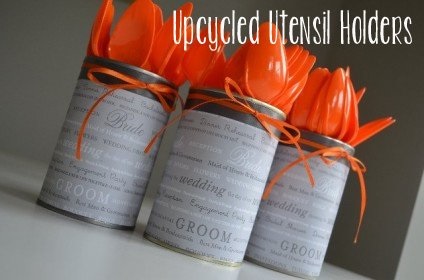 3. Tin can utensil holders
Here's an easy way to make use of your tin cans at a wedding or party. The paper was taped around the can, making it easy to remove the paper in case you want to have different themed paper on the cans in the future. Then the black ribbon was added using rubber cement, and the orange ribbon was tied around the can. You can find the full tutorial with photos at
The Wandmaker's Mother
.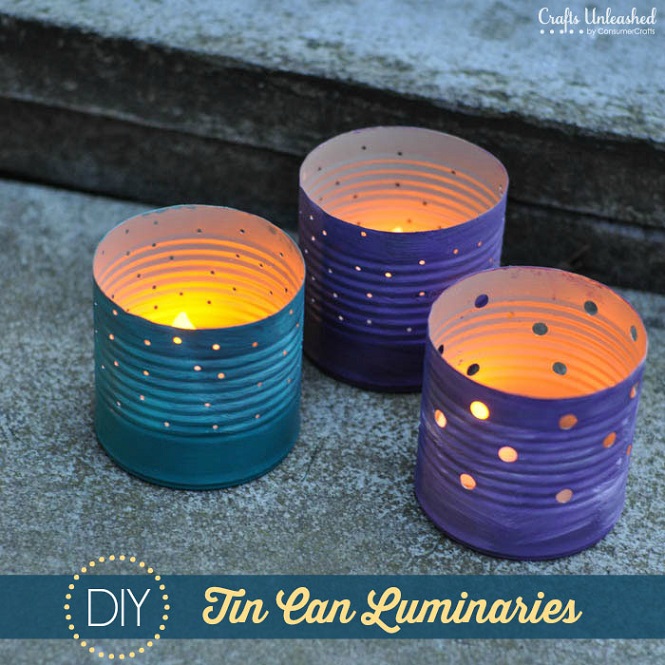 4. Tin can luminaries
This easy craft would make great accent lighting on a patio at cookouts or at dinner parties. This project is actually far easier than it looks. You can find the
full tutorial with photos at Crafts Unleashed
.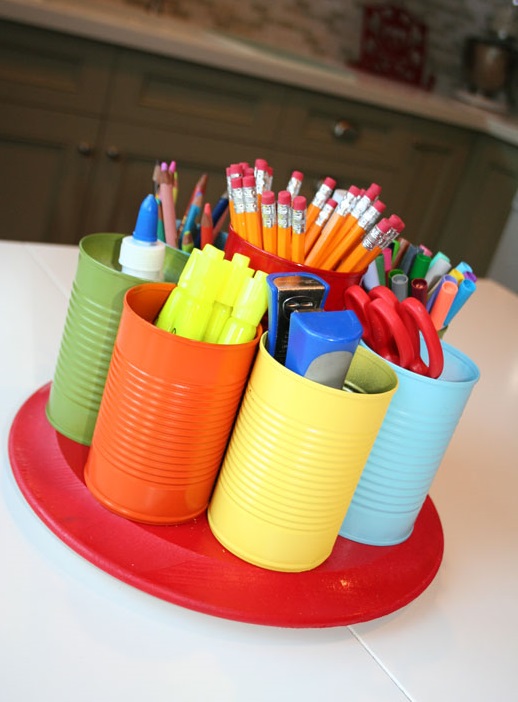 5. Tin can homework caddy
By this time of year, kids are back in school and your home may be one giant school supply explosion. This rotating supply caddy is great for accessing whatever you need at a moment's notice. The lazy Susan portion was purchased at a home store, and the tin cans were spray-painted. You can find the full tutorial at
Sandy Toes & Popsicles
.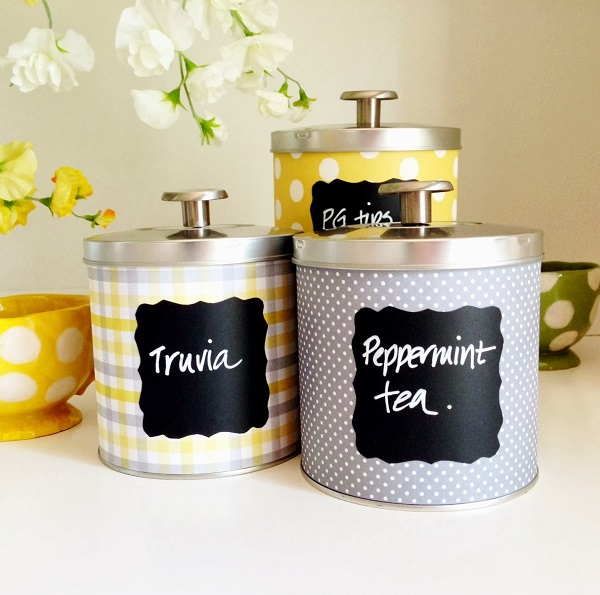 6. Tin can storage system
These large tin cans were beautifully repurposed into some storage containers that would sit beautifully on any shelf. These were decorated with some scrapbooking paper that was attached with a spray adhesive. The lids were even customized by screwing in the lid handles. You can see the tutorial with photos at
Happy Happy Nester
.
7. Tin can bowl
This gorgeous bowl really used to be a tin can. It was made out of a large restaurant-sized tin can by a quilling process. The natural silver and gold colors of the tin can's original material were left intact, which lends a distinctive shine. It was made by
CraftyPA at etsy
.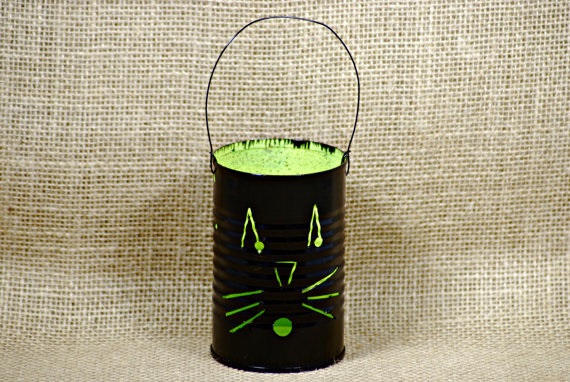 8. Black cat tin can luminary
With Halloween on the way, this would be perfect for decorating the home or as a lantern for a Halloween party. The black and citron colors make this a gorgeous, stark piece. It comes with a glass votive cup and tea light candle, and it was made by
SecondBliss at etsy
.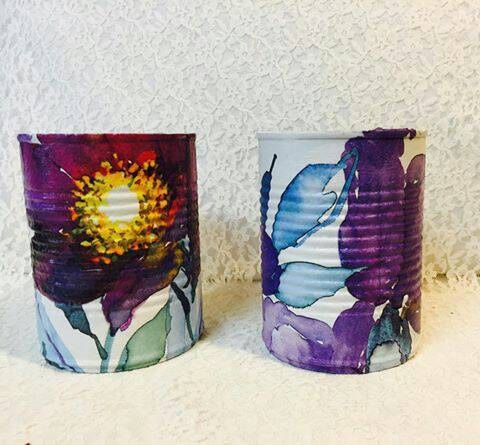 9. Watercolor tin cans
Add a rustic, artistic touch to your home with hand-painted tin cans. These cans were made by painting them with chalk paint and attaching napkins with a decoupage process. An outer sealant makes the whole piece durable. They'd be great for storing small items, or use the cans as display items. You can find them from
RuthShabbyChic
at etsy.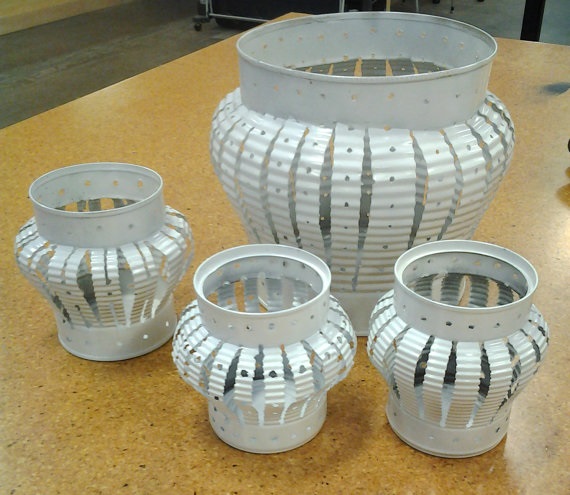 10. Tin can lanterns
These gorgeous lanterns would look great hanging on a patio or as a table centerpiece. They have a baked-on powder coating for durability indoors or out. These also come in a variety of colors, as well as different sizes depending on what the crafter has available at the time. They're made by
PeperIndustries
at etsy.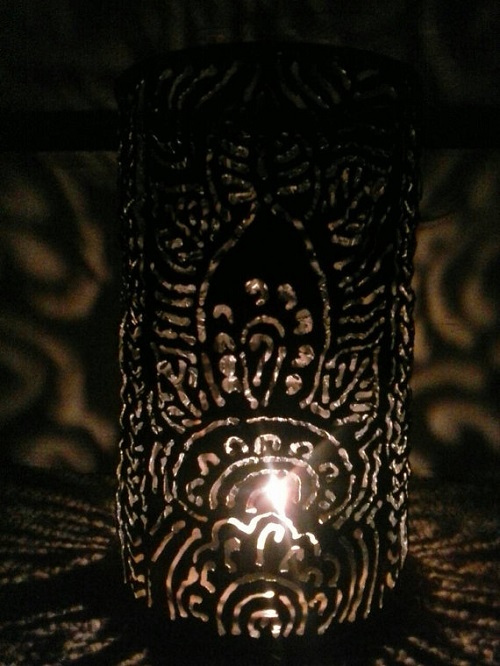 11. Mehndi tin can luminary
This gorgeous cut pattern was based off of a Mehndi henna pattern, which would lend an exotic look to the home. The photo shows some of the gorgeous shadows cast by the candle inside the can. This would look great as a table centerpiece. It was made by
ManifeStnStudio
at etsy.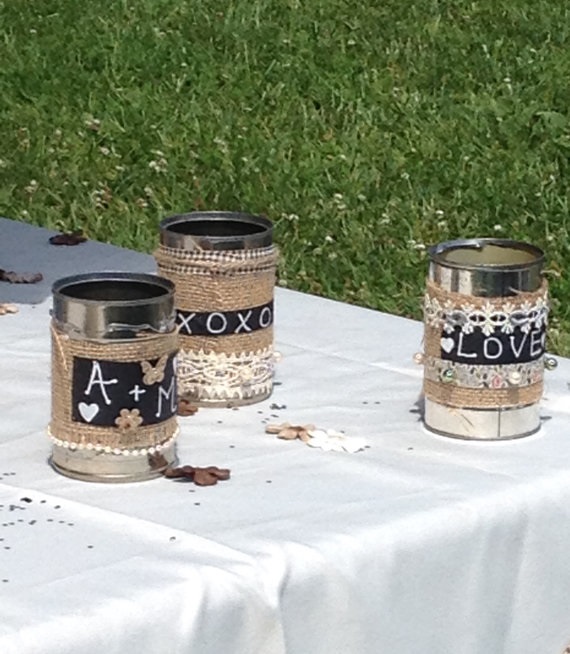 12. Customized tin can decorations
These burlap and chalkboard tin cans are great for personalized messages at a party, wedding or just around the home. They can be customized with names and initials, fun little messages or heartwarming words like in the photo. They're made by
Partyinthebarn
at etsy.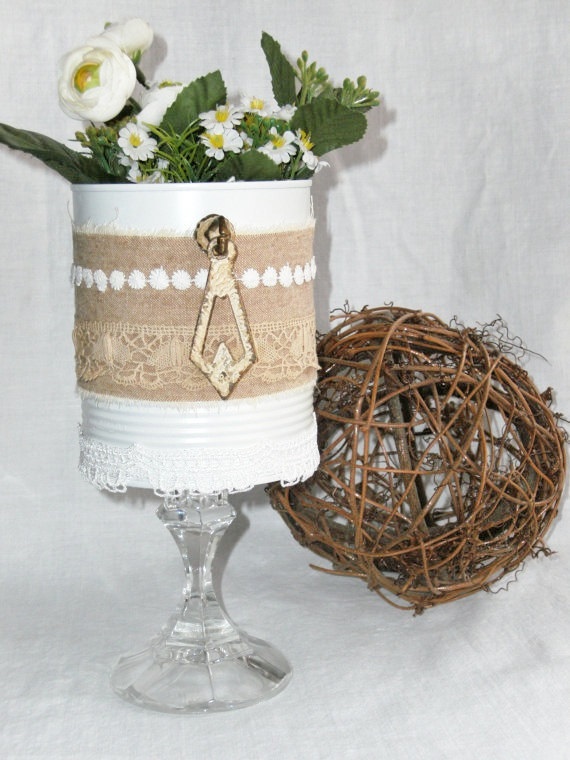 13. Flower vase tin can
You can even make rustic flower vases out of old tin cans. This would look great as a centerpiece at a country wedding or on the table in a rustic home. The bottom portion of the vase came from a repurposed glass candleholder. A jar inside to hold real flowers would project the can. It's made by
LittleBohoCottage at etsy
.
14. Rustic flower tin cans
These are great all-purpose cans for display or holding items. Use them as centerpieces at events or to hold art brushes, pencils, makeup brushes or anything you can think of that will fit. The cans are covered with vintage-print scrapbook paper, twine trim, burlap lace and the handmade denim rose. You can find them from
HomeMadeFunsies at etsy
.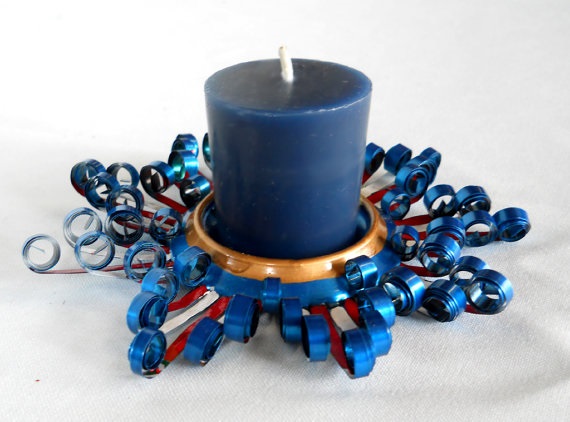 15. Patriotic tin can candleholder
Also from
CraftyPA at etsy
, this candleholder was made from a similar quilling process. The paintjob is gorgeous and the starburst design is reminiscent of Fourth of July fireworks.