Cutting boards are pretty boring. They're just a slab of wood used to, well, cut things on. Purely utilitarian, utterly nondescript and something you'd probably consider throwing out. Plus, you can find one in almost any home goods store and almost any antique shop. But cutting boards are also great for upcycling. They act as part classic kitchen-themed décor item, part reclaimed old wood and part decorative base that's easy to hang. Below are several artistic ways to keep old cutting boards out of the landfills, while gaining an artistic décor item.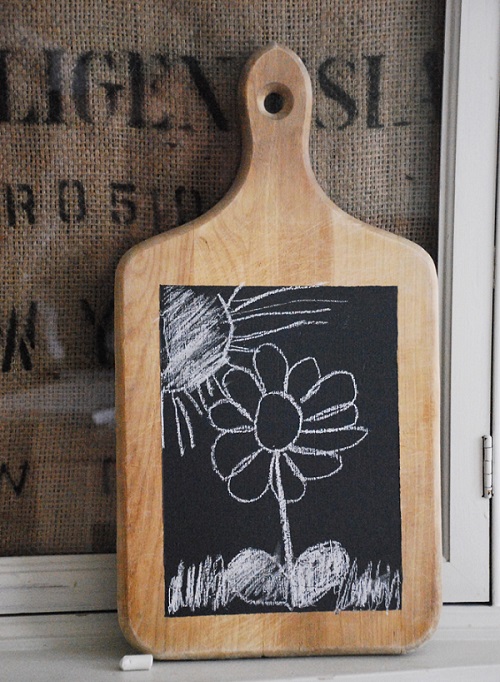 1. Chalk cutting board
This cutting board was repurposed into a new chalkboard. It'd be perfect hanging in a kitchen to write shopping lists and other notes on. It was made just with some chalkboard paint. You can find the full tutorial at
Mac Cutting Boards
.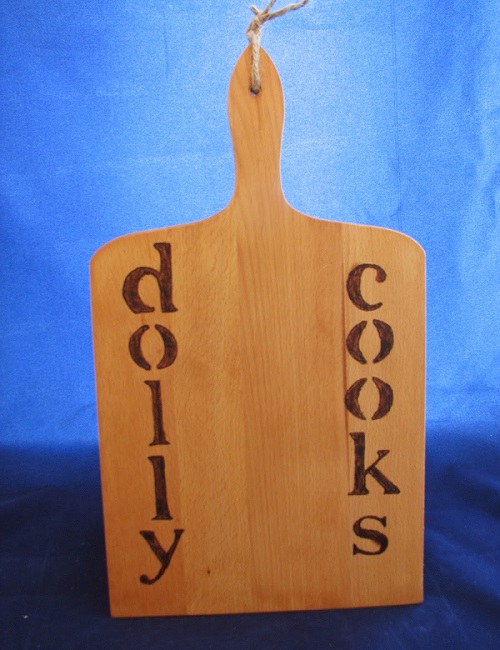 2. Stenciled board
This board was made by using a wood-burning tool to fill in some stenciled letters. The customization potential with this method is endless. You can find out more about the project at
Snug Harbor Bay
.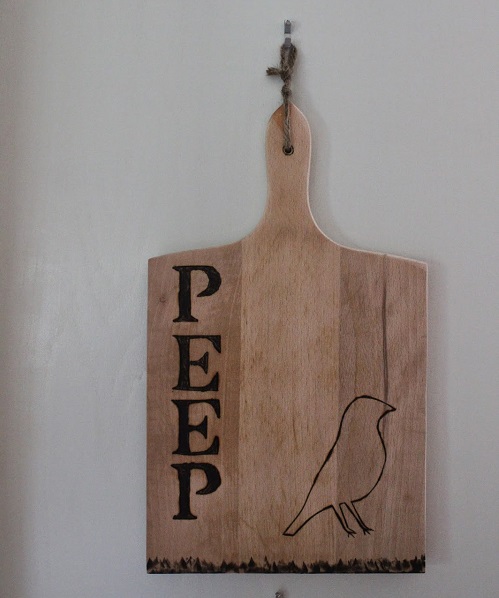 3. Stenciled board with picture
This photo, also from
Snug Harbor Bay
, shows just how well a wood-burning tool can create some cute pictures on an old cutting board. If you have a gift for drawing, it's certainly an option for old cutting boards. Or you could trace around an online (like a cookie cutter) and burn the image in over the traced outline. Either way, you'd be left with a classic, customized addition to your kitchen wall.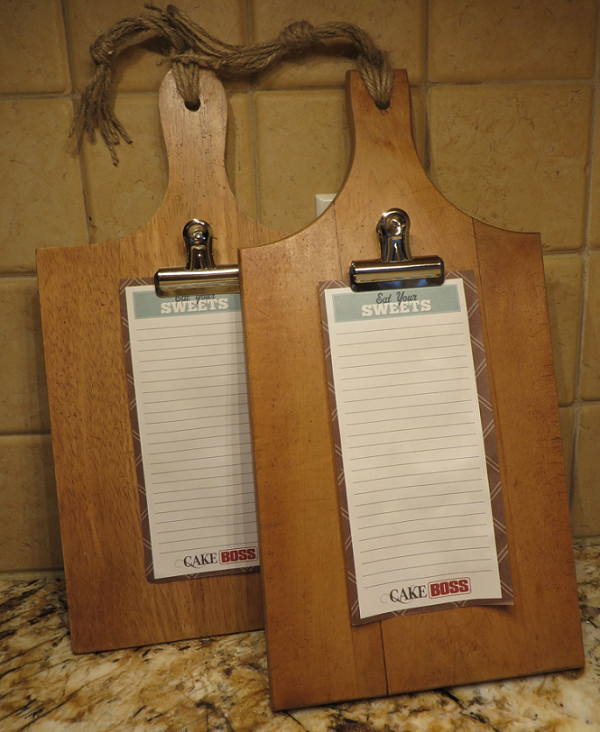 4. Cutting boards gone clipboards
If you have old cutting boards, they make clever and cute new clipboards. The wood was prepped and the clip attached with a wood screw. For the full tutorial, go to
Beckwith's Treasures
.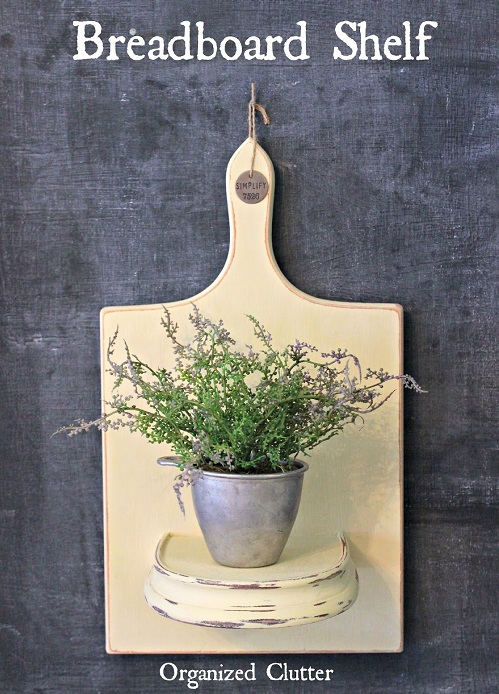 5. Breadboard shelf
This shelf was upcycled from a breadboard, but it could work with a cutting board all the same. A paint job, a saw and some screws made the bulk of this project. The piece would look great holding a plant, a small figurine or anything that will fit on the shelf. You can find the full tutorial with photos at
Organized Clutter
.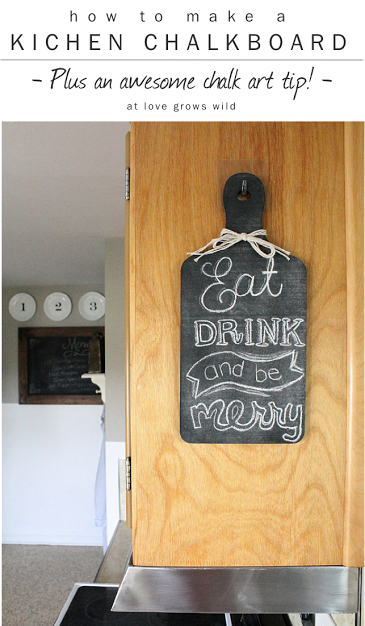 6. Chalkboard, whole
Here's another incarnation of a cutting board turned chalkboard. This photo shows that you can have a customizable sign once you're finished, rather than only a chalk-based notepad. This piece was created using Rust-Oleum chalkboard spray paint. You can find the full tutorial at
Love Grows Wild
.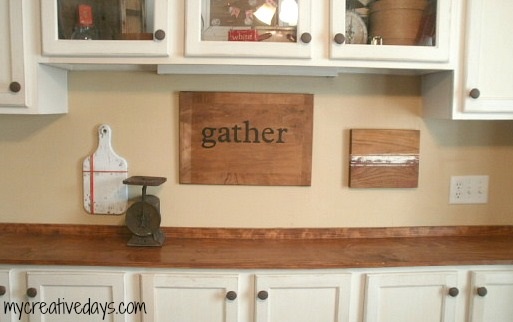 7. Repurposed cutting board collection
This photo shows that cutting boards go great in groups. The word "gather" was etched on with a black paint marker. The others were made with a clever, rustic-style paint job. You can learn about the full process at
My Creative Days
.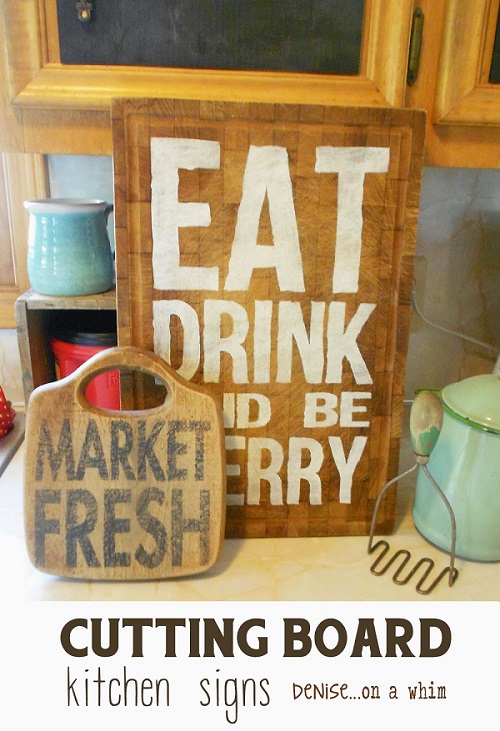 8. Cutting board kitchen signs
How awesome are these faux rustic kitchen signs? These were made from some cutting boards found at a rummage sale, and the letters are painted on. The worn look comes from some fine sandpaper. Go to Denise…on a
Whim
for the full project with photos.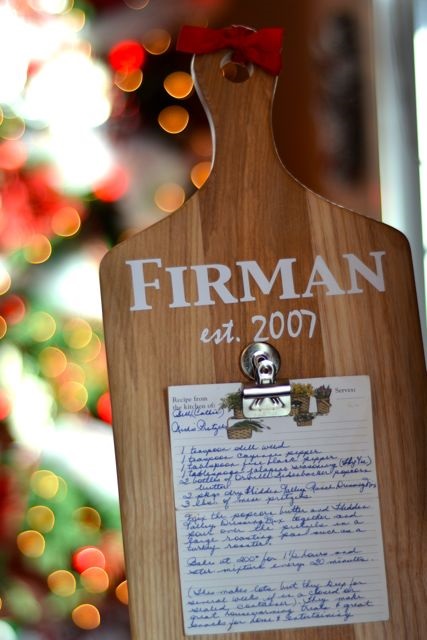 9. Personalized cutting board gift
If you need a good homemade gift, this project is right up your alley. The letters were just cut out of some vinyl, and the clip was hot-glued to the board. The lettering can be wonderfully customized for any type of person in your life: brother, sister, mother, father, teacher, baker, miniature boxer breeder … whatever works. You can see the full tutorial from
Newly Woodwards
.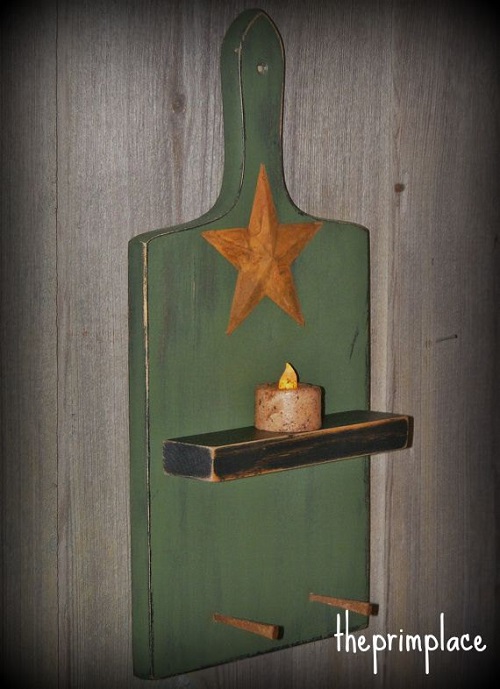 10. Rustic cutting board wall hanging
This piece would look great in any home with a rustic style to it. The rusty barn star, rusty nails at the bottom and distressed paint job give this piece a spot-on country look. Since it comes with a shelf and nail hooks, it's functional and decorative. It was made by
theprimplace at etsy
.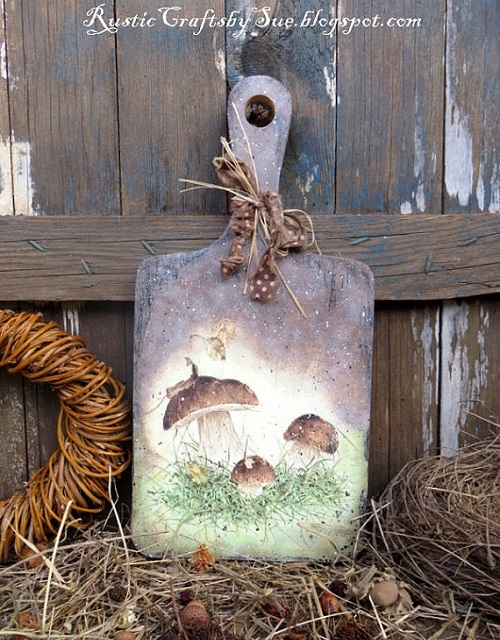 11. Mushroom cutting board
The art on this board really makes it one-of-a-kind. The added ribbon and straw tie at the top also gives it a little bit of a country, rustic feel. This was actually made with a decoupage technique to transfer the gorgeous autumn illustration onto the board. You can find it from
RusticCraftsbySue at etsy
.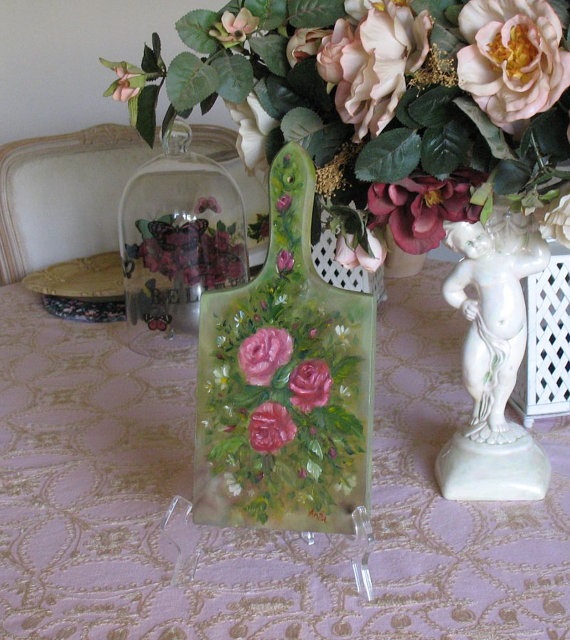 12. Hand-painted cutting board
Cutting boards also make excellent canvasses, and this upcycled product shows that well enough. It's painted on both sides, also. The gorgeous flower display would look great in a home with a vintage or classic feel. It was painted with professional grade oil paints and has a protected finish over the top. It was made by
vintageanita
at etsy.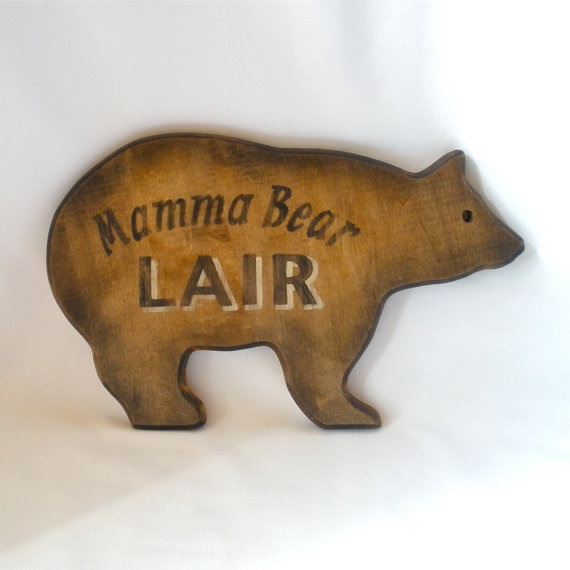 13. Upcycled bear cutting board
Add a bit of character to your home with this "Mamma Bear Lair" sign made from an upcycled cutting board. The crafter hand-painted and stained a bear-shaped cutting board. It'd be a great addition to just about any style of kitchen. It was made by
BigSkyPicker at etsy
.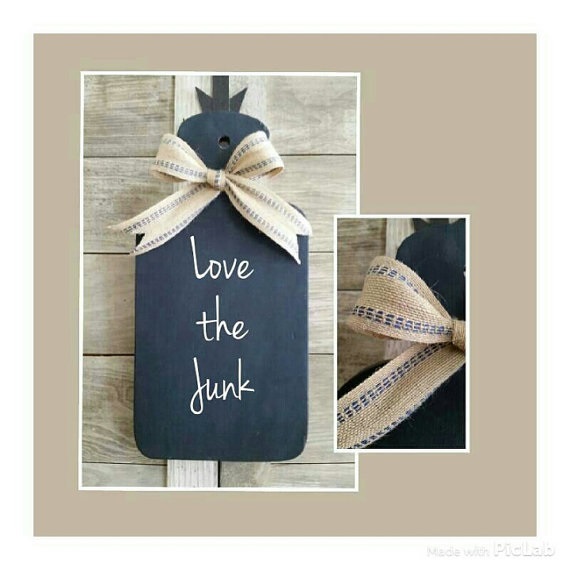 14. Chalk cutting board with ribbon
Here's another attractive chalkboard made from an upcycled cutting board. If you're not up for a DIY project, this one is currently available from
LoveTheJunk
at etsy. Again, chalkboards would be great as a customizable sign, an erasable notepad, something for the kids to draw on and hang or just use it for a shopping list reminder.
15. Red rooster wall hanging
Red brick acrylic paint transformed this old cutting board into a colorful wall hanging. The chalkboard is a perfect place to jot down notes, and this board even has a little pail attached for holding chalk. The rooster was added by decoupage, and the letters were hand-painted right on. It was made by
AllMyAdornments
at etsy.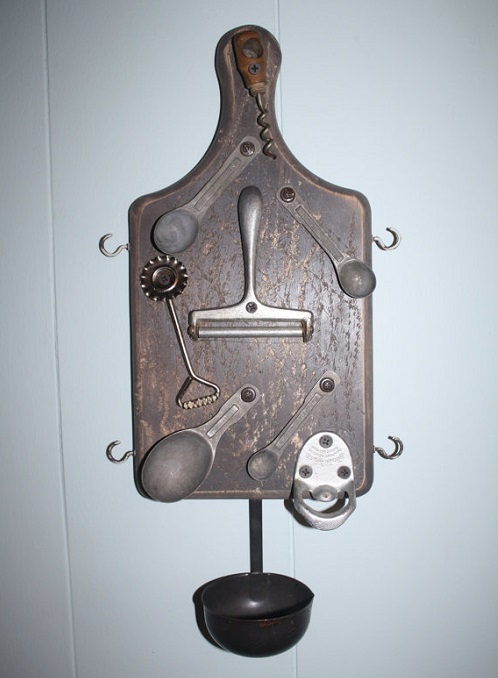 16. Kitchen gadget cutting board
How great would this piece be in a retro, rustic or even a steampunk home? The bottle opener is actually functional, and you can use the ladle to hold change or small doodads. You can find it from
Timaracs
at etsy.