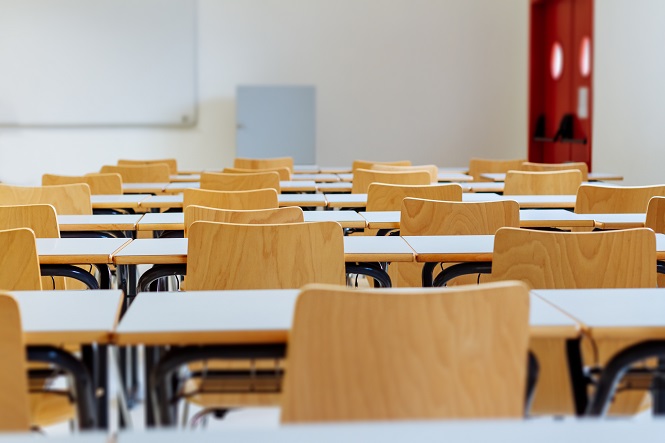 It's time to head back to school! Millions of students and teachers across the country are preparing for or having their first days of class, kicking off another wonderful year of learning. Students and their families are accustomed to purchasing the usual supplies, such as scissors, pencils and glue, but did you know that teachers must often provide their own supplies, too? This is especially true of additional learning materials in class, such as games or sensory items. Luckily, the majority of educators are quite creative and know how to turn nothing into something. If you're a teacher or have children that are students (from day care to high school), there are certain recyclables that should always be saved, as they tend to be versatile and easy to transform. Here are five recyclable items that teachers (and parents!) should
never
throw away.
1. Plastic bottle caps
Bottle caps of all shapes and sizes are super useful in the classroom. Milk jug tops are especially great, as they come in similar sizes and fun colors. They are also valuable as some milk producers offer incentives to schools for trading in caps. When used for educational purposes, bottle caps have a pretty impressive range of uses.
This blogger
used different sizes of caps to build a model solar system, teaching children about space. Plastic caps can also be used as reward tokens – for example, every time a student in class does a good deed, a cap goes in a large container. When the container is full, the class gets a special treat or reward.
2. Plastic bottles
If you're already saving the caps for your class or child's teacher, you may as well save the bottles too. All sizes of bottles, from tiny water containers to two-liters, can be repurposed in one way or another. Soda bottles make
excellent sensory toys
, as they can be filled in different ways. This allows children to explore all kinds of colors, substances and shapes. Milk jugs are also quite useful –
check out this site
for tons of ways to reuse and upcycle them.
3. Egg cartons
Another incredibly versatile recyclable is the egg carton. It's a good thing that teachers can use them in a million different ways – according to
Green Living Tips
, Americans ate an average of 248 eggs per person in 2011 (this is proportional as many people do not consume eggs). Cartons can be used by educators of all kinds for crafting, storage and even games.
The Vintage Mom has several different examples
of uses for egg cartons – you may want to try some at home.
4. Cardboard tubes
Depending on how large your household is, you may see a lot of cardboard paper towel and toilet paper rolls in the recycling bin. Don't let these useful items go, as there are several methods of reusing them. Cardboard tubes are perfect for storing pens, markers and pencils when combined and make one awesome
Olaf the snowman craft
. Don't feel weird about bringing a big bag of toilet paper rolls into your child's classroom – the teacher will probably be thrilled!
5. Cereal boxes
If you had to think back on how many cereal boxes you've recycled in your life, the number would likely be high (especially if you love a sugary late-night snack!). These boxes could live on, though, as a homemade guitar or even as
piñatas
(for real!). If you're still not convinced,
read this post
that has over 30 things you can make out of a cereal box. You'll surely be surprised by all that those cardboard containers can do.