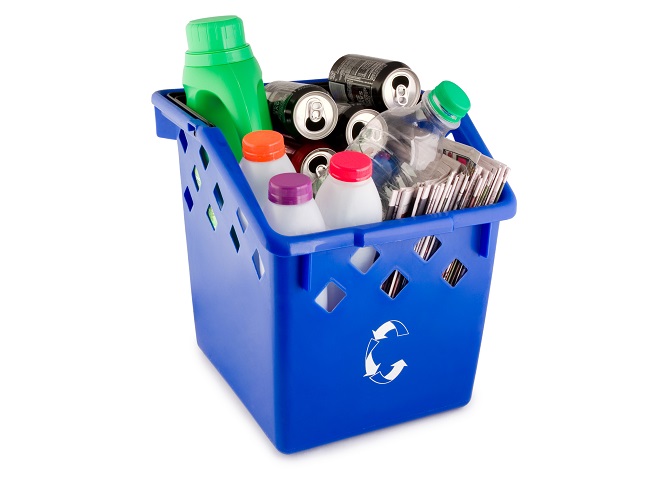 Nearly all crafters and eco-friendly consumers know that nearly everything can be repurposed into something completely different – old shoe boxes and rubber bands can be fashioned into guitars, while mason jars create excellent luminaries. But have you ever thought about making your own jewelry out of the recyclables in your blue bin? It turns out the concept is much easier than you'd think – you'll be upcycling in no time. Check out these five pieces of jewelry crafted from recyclables that you can make yourself!
1. Milk jug rings
Super cute and unique rings out of a discarded milk jug? Who would have thought! But this project is actually quite easy to do and will have all of your friends buzzing. Start by determining your ring size, if you don't already know. This can be done at home for this project by cutting a strip of paper and wrapping it around your finger. Tape the ends together and use it to trace a ring patter on a piece of cardboard, adding the designs you want on top. Use this pattern on a flat portion of a milk jug, taking an X-acto knife to cut out the intricate pieces – make sure you have a cutting mat or other protective surface underneath. For a bit of long-lasting color, add a touch of nail polish to the ends.
See the full instructions here
.
2. Toilet paper tube yarn cuff
This project will delight the kid in you – and the ones around you, especially since they can help create their very own yarn-weaved cuff bracelet. Cut toilet paper or paper towel tubes into varying widths, depending on the size you or your child desire. Once this is done, cut a small bit out for the opening. Next, take yarn of your choosing and begin to wrap the cuff, ensuring the end is secure. Once the first color is complete, glue the yarn tips to the inside of the roll. You can wear the cuff as is or weave in more yarn using a crafting needle.
Check out this step-by-step guide
for more information and inspiration.
3. Bubble wrap necklace
That bubble wrap that shows up in packaging is not just for your popping amusement – it can also be turned into gorgeous pearlescent beads to use in jewelry making.
This blogger
took pieces of bubble wrap and ironed them on no heat under parchment paper, causing the wrap to adhere together. After adding a few layers one by one, the result is a flat piece of plastic that can be used to trace circles or other shapes for beads. You can use the beads for necklaces, as the blogger did, or create your own earrings, bracelets or even charms. Prepare for a wish-list from your family come the holiday season.
4. Soda can earrings
Do you have brand loyalty to a certain soft drink, either current or vintage? Show your pride by crafting some cute soda can earrings. This project requires one soda can of your choosing, a small coin (this will be the base, so think about size), dimensional magic mod podge and a couple of crafting tools. Use the coin to trace the part of the can that you want to use for your earrings – then cut it out and hot glue to the coin. Adding a thin layer of mod podge will make the shape pop (no pun intended). Make sure to let the earrings dry overnight before attaching the earring backs, which are available at most craft stores.
See the full tutorial with photos here
.
5. Recycled paper beads
This family-friendly project will get those old newspapers and magazines out of the recycling bin and into some neat DIY jewelry. The process is easy but it does take time – take this as an opportunity to teach young crafters about delayed gratification. First, gather some newspapers and/or magazines and rip the paper into small pieces. Break down the fibers by covering the paper scraps with boiling water in a large pot. After about an hour, stir the paper and drain as much water as you can. Add a clear-finish, non-toxic glue to the pot and begin rolling into different ball shapes. Children will love this part because it's messy and creative at the same time. Give the beads a few days to dry, squishing out extra moisture as you go. When completely dry, the beads can be drilled and painted for use in necklaces, bracelets or any other craft you or your family desires.
See the full tutorial here
.