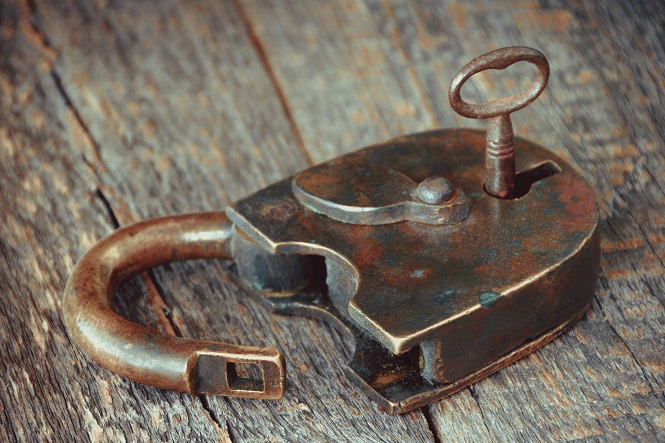 When most people think about locks, they probably imagine a deadbolt on their front door or some sort of padlock. While these may be some of the most common locks, vintage lock and key sets can still be found – both in older homes and at the flea market. They may still be functional or not, but either way old locks make quite the statement in the home and beyond. Check out these cool projects to upcycle locks; you will be on the hunt for them soon enough!
DIY Wind Chime
Add a vintage touch to your garden or deck by creating your own original wind chime using old locks and keys. Gather any small locks you may have or pick some up at the local antique mall. Use an embroidery hoop as the top and hang the locks (and keys if you have them) from it using thick string or a strong gauge wire. Make sure the locks are staggered so a unique sound will emerge. See how one blogger completed the project
here
.
Lock, Hinge and Latches Sensory Board
It's important for young children to practice their fine motor skills. What better way than with a
sensory board
filled with locks and latches for them to play with? This easy DIY project will offer your little one hours of fun – and perhaps a little quiet time for you. Grab a plank of wood the size of a large puzzle, then sand and paint it. Collect different types of locks, door hinges and lever latches – you can find them at big box home improvement stores, as well as hardware and antique shops. Then attach the pieces to the board with screws, ensuring everything is safe and secure to prevent choking.
Skeleton Key and Holder Plate Wall Hooks
Want a fun and original way to hang coats, scarves or bags? Vintage skeleton keys and their holder plates are perfect! Simply find a few holder plates and skeleton keys – they don't have to match initially. You can paint or re-finish the plates and keys if you would like (
as seen here
), or leave as is. Attach the sets to the wall using a strong adhesive, such as super glue. Make sure everything is dry before attempting to hang anything, though.
Padlock Drawer Pulls
Another adorable way to incorporate old locks into your home décor is by upcycling them into drawer pulls or knobs. Remove the old knobs if there are any and then replace with small hook screws. Attach padlocks to the hooks and voila – a basic chest of drawers becomes a steampunk storage system. Pro tip: Make sure the locks are not too heavy or they may fall out.
Vintage Lock and Key Necklace
Show the world that someone has the keys to your heart by designing a one-of-a-kind lock and key necklace! This project can be done in several ways, so feel free to get creative. Find some small locks and/or keys that are not too heavy – you don't want to strain your neck.
This Etsy seller
created their lock and key necklace out of several matching pieces. Attach them to a jewelry chain, which you can find at any crafting store. To make a romantic gift for a loved one, make two necklaces – one with a lock and the other a matching key – so that you can both show off your adoration.
Padlock Picture Holder
Want an easy yet unique way to display old pictures? Upcycle an old padlock into a picture holder using a lock, chalkboard paint, a key and a magnet. Paint the face of the padlock with the chalkboard paint –
this blogger
then wrote the year the photo was taken on hers. Using super glue, attach a key to a small magnet. You can then use the key magnet to attach a photo to the lock.