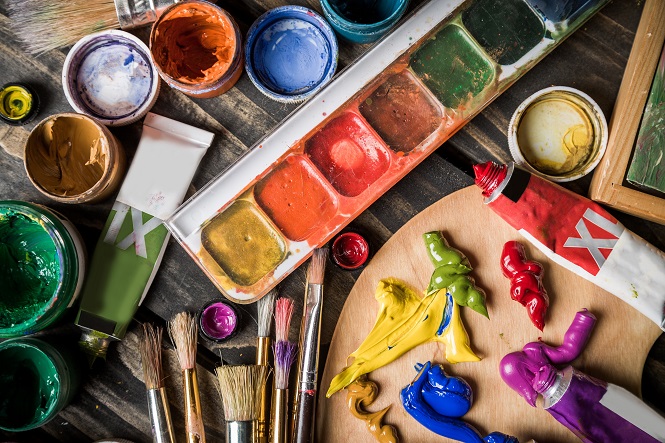 Fall is one of the most popular times of year for Americans to move. Whether buying a bigger home or moving into your own apartment for the first time, entering a new place is a chance to explore your space. Your home décor says a lot about you and allows your creative juices to flow. But decorating a space doesn't have to cost an arm and a leg – in fact, there are tons of different DIY projects you can make yourself. Check out these recycled art projects that bring your home from drab to fab!
Pringles can rock vase
Yes, you read that right – you can actually create a rustic rock-face vase using a Pringles can! Aside from the empty can (make sure to wipe any residue out), you'll also need leak seal rubber coat, spray adhesive, rocks, Mod Podge, grout and few other supplies. The idea is to seal the inside of the can to make it waterproof and then attach rocks to the outside. The grout will create a backsplash-type image. Check out the
full instructions here
and make your own!
Vintage pot cover clock
It seems that at one point or another we all come across a pot lid with no twin. Whether sitting on your cupboard or the shelf of the thrift store, put that pot lid to good use by
turning it into a wall clock
. Remove the handle from the lid and replace it with a clock face, either from the craft store or repurposed from a different clock. The project is that easy – all you need to do is pop in a battery and hang it up!
Mason jar table lanterns
Another easy DIY décor project is the mason jar table lantern. Create this rustic light using a clear (and clean) mason jar, twine, double stick tape and an electric votive candle. Take the lid off of the jar and attach the candle to the inside using the double-sided tape. Next, screw the jar back on the lid upside down, so that the lid is resting on the table. Wrap with twine and you've got a great table lantern ready to go!
Gold Leaf Honey Bear Pencil Holder
Let's be real – everyone wants a plastic honey bear container covered in gold leaf. Make it happen in a flash using a gold leaf starter kit (found at any craft store). The kit will contain sheets of gold leaf, which is like a fine paper. You glue it to the honey bear in layers, allowing each to dry before adding another. This step is messy so make sure to wear a craft apron! Once the bear is completely covered, use the sealant in the gold leaf kit as a top coat. When that is dry, you can fill the bear with pencils or flowers, or anything you want! Check out the
full instructions on this blog
.
Liquor Bottle Soap Dispenser
This will make the perfect addition to any cocktail lover's kitchen or bathroom, as it's made from an actual liquor bottle. Choose a decent-sized bottle (
this blogger
used a Jack Daniel's bottle) along with a bottle of liquid soap and a pump. Ensure the liquor bottle is rinsed clean before filling it with the liquid soap. Screw a soap pump on top where the lid would go and voila – you have a hip soap dispenser! Pro tip: Find a pump that does not bulge out at the spring, as it may not fit on a standard bottle neck.
Book Page Wall Wreath
Book worms will adore this wreath that is reminiscent of blooming flowers. Find a book (or three) that is missing its cover or other pages (no reason to rip up a good book!) and carefully remove the pages. Roll the pages into cones and staple closed – remember to be gentle so as not to damage the cones while in storage. Use a foam wreath as a base and hot glue to attach the paper cones in concentric circles, working from the outside in. As you get close to ending, you may need to shorten the inner cones just a bit in order for the layers to look right. Read the
full instructions here
.
Cereal Box and Duct Tape Office Supply Caddy
Perfect for the home office or a young student's work space,
this cute project
is a breeze to create. Grab three to five empty cardboard cereal boxes in different sizes, scissors and duct tape – it comes in tons of cool colors and designs nowadays! Place the boxes side by side and tape the bottoms together. Snip off the flaps of the cartons if you haven't already and continue to wrap with tape. For extra points, place some empty cardboard tubes in one of the boxes to help organize different colors of pens, pencils or markers.