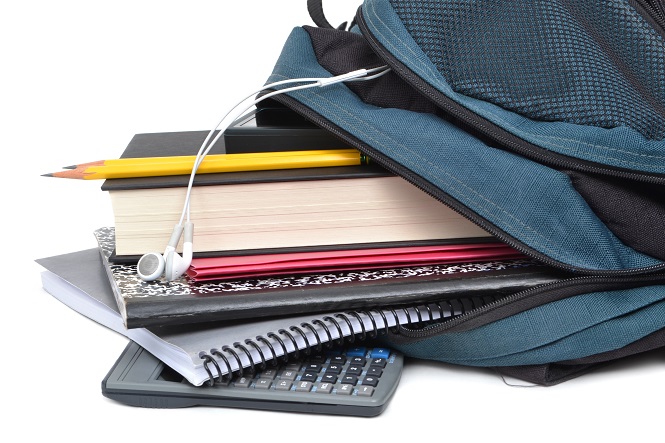 Odds are, you or your kids are already back in school, but it's still not too late to find some top-notch eco-friendly bags for school. Whether they are made from recycled materials, handmade, made with sustainable materials like hemp or tap into solar power, there are tons of eco-friendly bags to meet any need. Below are the top bags that are sure to get you through the school year in style, durability and, of course, sustainability.
Voltaic solar backpacks
Looking for an eco-friendly way to power your devices? These
backpacks from Voltaic
have solar panels built right into them so you can charge any handheld electronic device while you're on the go. The Converter Solar Backpack generates three-and-a-half Watts of power, requires four-and-a-half hours in the sun to charge a smart phone and you can get two hours of use from a smartphone for having the pack in the sun for one hour.
Timbuk2 eco-bags
This list wouldn't be complete without
Timbuk2
. These durable bags come with a lifetime warranty, the company recycles bags that you're done using and Timbuk2 has plenty of upcycled and recycled bags for sale, such as this
TerraCycle Upcycled Messenger Bag
made out of old U.S. Postal Service mail bags.
Road Warrior Hemp Backpack
You can't go wrong with
Rawganique
. This hemp backpack proves it. It sits at a roomy 11-inches wide, 15-inches tall and eight-inches deep. The bag comes in a calming, earthy brown and tan color scheme. According to Rawganique, "The Road Warrior Hemp Backpack is made from organically grown European hemp. Handcrafted in-house at the Rawganique Atelier in Europe. We grow, weave and sew each hemp backpack for true purity and environmental sustainability. Sweatshop-free. Chemical-free." You can also find a variety of other hemp backpack styles from Rawganique
here
.
Jute storage bag with recycling logo
Show your support for recycling while using a bag made out of
eco-friendly jute materials
(jute is a long vegetable fiber that makes strong threads). The handles are made out of cotton, and the inside is laminated for simple cleaning. Its flat-bottom design makes it perfect for storing vegetables from the farmer's market.
Patagonia backpacks
Patagonia
uses recycled polyester, as well as fleece made from post-consumer recycled plastic soda bottles, to make these bags. The company also works to promote fair labor practices and environmental responsibility through its supply chain. When you buy a Patagonia bag, you're supporting a green company.
Keen Harvest III Mini Messenger
This messenger bag was
made from repurposed and recycled materials
, specifically pre-consumer airbags that were locally harvested. The bag is even water-resistant.
DHOLE backpack
The
DHOLE bag
was made out of 900D REPREVE polyester, which was fashioned out of recycled water bottles. It's roomy (fits a 15-inch laptop), water-resistant and has convenient side pockets.
Palila II backpack
This backpack was also
made from recycled bottles
. It was made from REPREVE RPET (recycled polyethylene terephthalate) water bottles, contains non-toxic dyes and materials and fits up to a 15-inch laptop.
Lands' End durable tote
This durable tote bag
is great for carrying books or for trips to the farmer's market between college courses. Its durability means you'll be able to use it year after year, without investing in more materials for replacement bags. It's made from 24-ounce canvas, and the company reports that it has doubled the toughness at the bottom of the bag and the handles.
Bonobo Satchel
For more of a classy messenger bag style,
you can't miss this satchel
made from 100 percent recycled plastic bottles. It comes with a fleece, padded laptop compartment and can fit laptops up to 14.4 inches in width.
Fluf lunch bag
Ditch the paper bag lunch in favor of reusable bags. It's one of the best ways to cut waste out of the school day.
This organic cotton lunch bag
even ups the ante. In addition to being made out of 100 percent certified organic cotton, it was also printed with low-impact, azo-free dyes. The lining is phthalate-free, BPA-free and lead-free. It even comes preshrunk and machine washable for extensive reuse.
Engage Green backpack
Engage Green fashioned this pack
out of a polyester fiber made from 100-percent post-consumer PETE bottles. The company stated, "The fabric is chemically and functionally nearly identical to those made from non-recycled fabrics. The difference is that Engage Green bags are made without depleting the Earth's natural resources."
ECOBAGS lunch bag
This handy bag
was made from 100-percent recycled cotton. It's great for carrying lunches, or its basic design means it can be repurposed as a basic tote bag. The seams are doubled stitched, so it should last awhile.
Green Backpack
From the company that names its products in as straightforward of a manner as possible comes the
Green Backpack
, from the company named Green Backpack. The company stated that the bag is made out of 65 percent recycled material.
BAGGU backpack
This canvas backpack
was made out of 100 percent recycled cotton. The classic design is great for any age, and it comes with a roomy interior pocket and two exterior pockets for easy organization.
ECO laptop backpack
If you're looking for a backpack that sticks to natural, renewable materials like cotton,
this backpack
is right up your alley. It fits up to 17.3-inch laptops in a padded compartment, with additional sections for folders and notebooks.
Mobile Edge eco-friendly backpack
According to the product page for
this bag
, the "Sorona material is derived from corn, requiring 30 percent less energy to manufacture, reducing greenhouse emissions by 63 percent." It was made with lots of air travel in mind, as it's designed to be easily screened at airport checkpoints.
Jute rice bag backpack
This backpack
was handmade in Nepal out of old rice sacks. It has a colorful, rugged design to it and is a great reuse of eco-friendly jute materials.
Solar-powered study light backpack
These products from a young entrepreneur take solar backpacks a step further and make them from recycled plastic. The startup, called
Rethaka
, was formed by Thato Kgatlhanye and grew into the service called Repurpose School Bags. The service connects solar school bags and disadvantaged children who need the electricity at home. The solar panel on the backpack links to a charger. Once full, the charger can be hooked up to a lantern at home. It applies to more at-risk communities, but it's still worth noting. The founder is working on a luxury line for individuals.