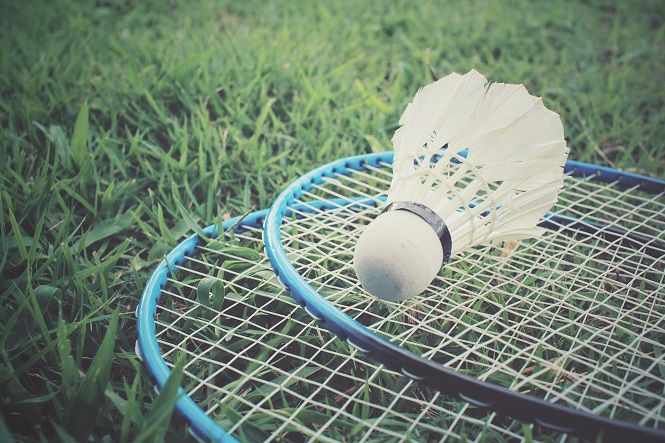 Fall has arrived, and with it, comes sweater weather and piles of multi-colored leaves. After spending the warm summer days playing lawn games, it's now back inside until spring the breaks. If you don't want to banish that backyard game equipment to the garage, try upcycling it into something else. Adding some vintage croquet mallets or badminton shuttlecocks to a home's décor is a great way to invite summer in all year long. Give some of these projects a shot and bring the outdoors inside!
Vintage Tennis Racket Mirror
Turn an old-school tennis or badminton racket into a unique conversation piece in a snap. Grab an older wooden racket from your basement or a thrift store. Then, bring the racket (or rackets if you're making a few) into a custom glass shop to get a mirror made that will fit inside the hollow area. Once your beveled-edge mirror is ready, use super glue to attach it to the strings inside the racket. Allow the glue to dry overnight before hanging on the wall. Check out full instructions on
this Apartment Therapy post
.
Golf Ball Garden Buggies
This cool craft
is great for all ages and will give a pop of cuteness to any garden. Create custom garden bugs out of unwanted golf balls using a few tools, wire and paint! First, gather up the golf balls and prep them for the project by washing, drying and drilling holes for the creature's arms, legs and antennae. Create the appendages using 20-gauge wire (younger children may need help with this part) after painting the balls to look like insects. Attach the legs using super glue and leave to dry for 24 hours. Feel free to get creative and use sticker, nuts and bolts or other small trinkets for the bugs' faces. When the creatures are finished, place in your garden next to the bird baths and garden gnomes.
Badminton Shuttlecock Lights Garland
Have a bunch of random badminton birdies lying around? Give them new life by attaching them to an LED light garland! Pick up a clear or white set of LED string lights from any big box retailer or home store. Next, gather as many shuttlecocks as there are light bulbs. Take off the soft caps and poke one hole through each birdie's skirt. Pass a light through the hole of each shuttlecock, returning the caps back once the lights are in. Once each light is covered, you're done! This hanging garland would look great on a porch or in a sports lover's den. Check out a
full tutorial here
.
Horseshoe-Handle Planter Box
Have some leftover wood scraps and a couple of horseshoes? Turn them into a rustic-looking planter box!
This easy project
requires only wood, two horseshoes and a few tools. Cut the wood into pieces for the sides and bottom of the planter, sanding and painting in the style you want after. Screw the horseshoes into the ends to make handles. Depending on how large the box is, you may need to add some extra wood at the bottom to reinforce it. Put some potted herbs or flowers – or whatever you want – in the box for decoration!
Croquet Mallet Hook
This simple project is awesome for croquet fans young and old. Gather a few vintage, wooden mallets and saw off the handle approximately two inches above where the head adjoins. Create bases for the hooks by cutting a wooden board to a size of 4"x5", sanding the edges and painting as desired. You will need one base per mallet hook. To attach the mallets to the boards, use double-ended screws. Once the mallets are firmly in place, hang the boards to the wall. You now have a lawn-game inspired place to hang towels, coats or whatever you want! See step-by-step instructions and photos
here
.