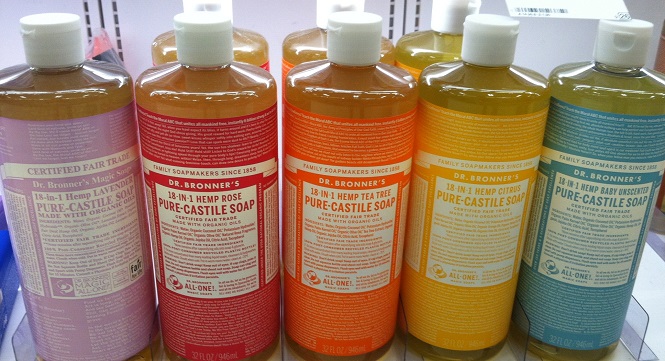 Personal care products are tricky. It's hard to know exactly what is in a product because either the ingredients are unpronounceable or, due to inadequate labeling regulations, completely abstruse, leaving us unaware of the ingredients that we are putting on our bodies. For example, consider "fragrance" in products. It's in everything from facial cleansers to deodorant to anti-aging creams. But federal law doesn't require companies to label any of the chemicals that make up the "fragrance" in the product. Recent research from the
Environmental Working Group
(EWG) and the
Campaign for Safe Cosmetics
found "an average of 14 chemicals in 17 name brand fragrance products, none of them listed on the label. Fragrances can contain hormone disruptors and are among the top 5 allergens in the world." What to do? Buy fragrance-free whenever and wherever possible. Here are some tips from the folks at EWG to help you make better skin care choices:
Avoid alpha and beta hydroxy acids (lactic acid and glycolic acid), which are especially prevalent in anti-aging products. Food and Drug Administration (FDA) studies have "linked these ingredients to UV-induced skin damage and potential increased risks of skin cancer." Appling a sunscreen regularly is the best way to avoid skin that is damaged by the sun.
Avoid "fragrance" in all products whenever possible, as noted above.
Zinc oxide and titanium dioxide nanoparticles appear to be among the safer and more effective active ingredients in U.S.-marketed sunscreen creams, because they do not penetrate the skin. But avoid sprays and powders containing these nanoparticles, which could penetrate your lungs and enter your bloodstream. Many other nanoparticles have received very little testing, yet they readily penetrate the skin and contaminate the body. Cosmetics manufacturers are not required to disclose the presence of nanoparticles in products.
Avoid petroleum distillates. Petroleum-extracted cosmetics ingredients are commonly found in mascara. According to EWG, petroleum distillates may cause contact dermatitis and are often contaminated with cancer-causing impurities. They are produced in oil refineries at the same time as automobile fuel, heating oil and chemical feedstocks. After learning this, I looked up the mascara I've been using forever, and I will now be using a different mascara.
Visit EWG's
Skin Deep website
for a whole list of ingredients to avoid in your personal care products.
Here are some of my favorite skin care product picks:
Dr. Bronner's Pure-Castile Soaps: These cleansers can be used for anything; washing your face, cleansing your body, washing your hair, cleaning your shower, and the list goes on. The company recently came out with a toothpaste as well. The Dr. Bronner's company cares about the health of its consumers and is thoughtful about its impact on the environment. The company uses organic, ethically-sourced, certified Fair Trade ingredients in its products.
DIY Products: Making your own cleanses, scrubs and lotions ensures you know exactly what's in them. This also makes sure that you are using a container that can be recycled or reused.
There are also a number of small mom-and-pop businesses on Etsy.com or probably in your area that pride themselves on using safe ingredients that work. For example, Brittany Sinclair is the founder of The Honey B Soap Company. She lists all the ingredients she uses to make her products and is very careful about those she chooses to use. She's a former high school science teacher and a mother of four, who really cares about the health and well-being of the people that use her products. I'm in love with her shampoo bars and shaving soaps; they last forever and really work.
Yes to Tomatoes Acne Control Gel Cleanser: I have a tween in the house and she needs a good cleanser to help control her pre-teen skin. This product is not only rated highly by EWG's Skin Deep Database, so I know it's a good choice for her health, but it also works for her skin.
Organic Essence: I adore these products. I discovered Organic Essence in 2008 when I was lucky enough to have a kind representative from the company send a few samples to me and have been using them ever since. Not only are the products made with great ingredients, all the packaging is 100-percent biodegradable and really does compost in my at-home bin. The label is printed with soy ink and affixed with an organic adhesive. The company recently came out with a deodorant that I will be ordering; I'll keep you updated.
There is no cosmetic for beauty like happiness. – Maria Mitchell