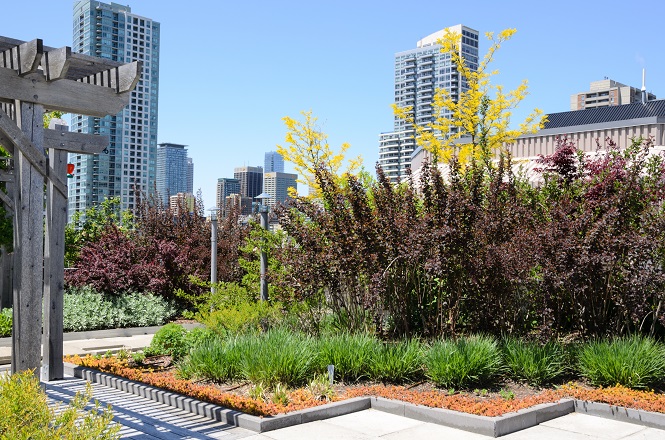 Since the early 2000s, the word "green" has become more common in our vocabulary as eco-friendly practices have grown in popularity. Today, there are classifications denoting green furniture, green jobs and, yes, even green weddings. Another descriptor within the environmentally friendly category is green roofing. The practice has been used for new and existing construction as consumers seek out alternatives to cut costs and energy consumption. While green roofs have been created in communities across the globe, they tend to be more easily adopted in progressively minded cities. By its very definition, a building needs a roof. But what differentiates a green roof from a traditional one? The folks at the nonprofit
Green Roofs for Healthy Cities
provide a succinct synopsis: "A green roof system is an extension of the existing roof, which involves a high quality water-proofing and root repellent system, a drainage system, filter cloth, a lightweight growing medium and plants." As is the case with so many green products and initiatives, green roofs are aimed at drawing on, and maximizing, the earth's resources.
Why consider a green roof?
As its name implies, a green roof offers a variety of ecologically minded benefits that are worth considering when new construction and home improvements come into consideration. A list of the plausible reasons behind a green roof includes:
Increasing agricultural space, which is especially beneficial in urban settings, where space of any kind is at a premium
Reduces the amount of stormwater runoff Filters a number of pollutants, including heavy metals out of rainwater
Technically speaking, adds thermal and mass resistance value – in other words, encourages energy efficiency
In general, they're more aesthetically appealing
Constructing a green roof can yield numerous tangible benefits and offer peace-of-mind you are doing your part to benefit the planet.
Green roofs as we know them today got their start in Europe
Most of today's modern green roofs are intricate systems, but the very earliest and simplest form of this eco-friendly method of sheltering a building can be traced back centuries ago. Historical accounts indicate sod roofs were used in lieu of traditional building materials in Northern Scandinavia as far back as the 1800s. Not surprisingly, the modern green roofing system we know and love today came to be in the progressive time period of the 1960s. But the practice did not begin in the U.S.; to the contrary, the modern green roofing movement got its start in Germany and, in the ensuing decades, made its way over to other European nations, including Norway, Italy, Austria, Hungary, Sweden, the U.K. and Greece. As
this article
from Michigan State University points out, the practice of green roofing buildings in Germany has been steady in the past half century. Between 10 and 15 percent of the country's roof qualify as "green" because of the environmentally sustainable features that have been implemented.
A slow, but steady, emergence has begun in the U.S.
More recently, residents on the other side of the pond are starting to take note of the benefits involving green roof installation. The emergence follows suit with other eco-friendly practices that are moving in a similar upward trajectory. Across the U.S., a number of notable businesses and organizations are joining residents interested in being less destructive to our natural resources. While participation is still microscopic, the urban jungle that is New York City's Manhattan has a few notable examples of green roofs, including one that was constructed in 2013 atop the Jarvis Center, a facility noted for holding assorted conventions. As
the New York Daily News
points out, it is the second largest in the U.S. The Jarvis Center's green roof encompasses nearly seven acres and is described as a mini forest. It took four years to construct and today is adorned by a variety of species of plantings such as mosses and ferns. Engineers associated with the Jarvis Center estimate the building's owners will pay 26 percent less in energy costs, moving forward. In the Michigan State University article, authors put the spotlight on Salt Lake City, Utah, where a convention center owned by the Church of Jesus Christ of Latter-day Saints more recently has transformed the popular facility's roof into one of the green variety. It sports a number of different types of shrubs and other greenery.
A 'dead mall' sprouts an innovative idea in Cupertino, California
Throughout the 1950s and 1960s, American consumers flocked to the suburbs and brought their newfound sense of disposable income in tow. To acknowledge this trend, developers constructed the "climate controlled" enclosed shopping mall. From one town to the next, these not-so-environmentally friendly dwellings spawned imitators across the U.S. But proving how circular trends and culture really are, the malls we visited in our youth through their heyday in the early 1990s have been dying slow, painful deaths. Once an anomaly, it is not uncommon to hear about so-called dead malls. But what becomes of these retail behemoths and their vast parking lots when it is no longer economically feasible to operate a sprawling retail metropolis? Unfortunately, many dead malls – particularly those in economically depressed communities — are being left to sit in a state of ruin, but there are some innovative ideas toward repurposing these relics of yesteryear. Case in point: New life is being breathed into the defunct Vallco Shopping Mall, a once-bustling retail giant that sat snugly near Apple's sprawling corporate headquarters in Cupertino, California. According to the website
Planet Save
, a creative and environmentally minded architect named Rafael Vinoly has visions of repurposing the Vallco property into a $3-billion mixed-use community, spanning an impressive 15 blocks, and will be adorned by a number of sustainably minded LEED features. Among those features: a green roof. If Vinoly's plans come to fruition, it could be the largest in the world. In its conceptual state, the green roof would feature an array of climate-appropriate, drought-resistant plants.