With trick-or-treaters coming this week, how are you going to spook them silly? Or at least make them giggle. Time's running out, after all. Still, your options don't have to come down to two choices: be the boring house with no decorations out or try to find Halloween decorations amid the encroaching Christmas merchandise. There are plenty of easy, quick DIY ways to add some Halloween flair to your door. And using recycled items for the materials in your crafts will keep your decorations nice and eco-friendly.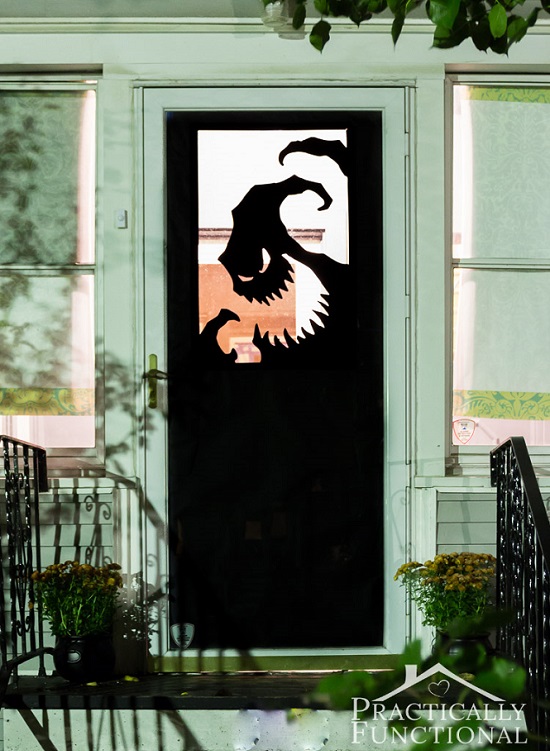 1. Spooky ghost door
This simple and effective door design will be the perfect way to add some fright to trick-or-treating. The design was cut using a Silhouette Cameo cutting machine, which uses
software to cut pre-designed images
. In this case, the crafter made an excellent choice with Oogie Boogie. The rest of the door was covered with black paper and adhesive vinyl. You can see the full tutorial at
Practically Functional
.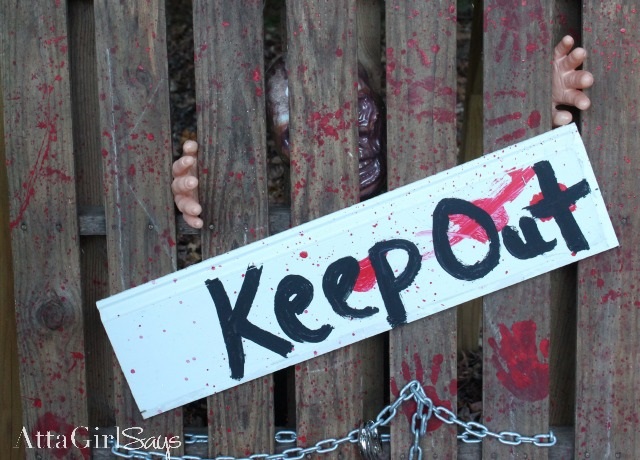 2. Keep out sign
This decorating idea comes from
AttaGirlSays
. You can easily draw the sign on some repurposed moulding or fence pickets. A little white paint as a base, some red for faux blood splotches and black for the "keep out" lettering, then you're set. The spooky face and doll hands in the back are a nice, creepy touch. It's a great use for old kids toys or spooky Halloween masks.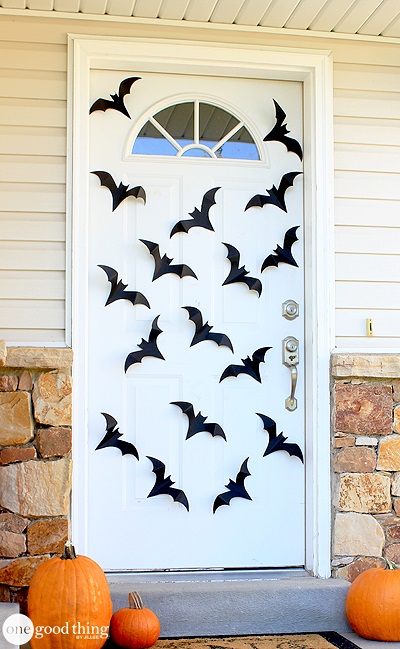 3. Bat door
Here's a project that's easy, quick and packed with a lot of character. These bats were also made on a Silhouette Cameo machine. Otherwise, you could also hand-cut them on some black high-gloss paper. Tape the bats to the door, and you're ready for trick-or-treat. You can find the full tutorial, complete with printable bat template, at
One Good Thing by Jillee
.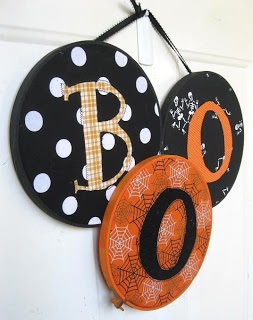 4. Boo door hanging
If you want something more understated that you can use again and again, this door hanger will make a good project. It was made using embroidery hoops and fabric scraps. It's great for upcycling old Halloween fabric, if you have any around. There's a little stitching with this project, but it's basic and easy sewing. You can find the full tutorial at
Peek-A-Boo Pages
.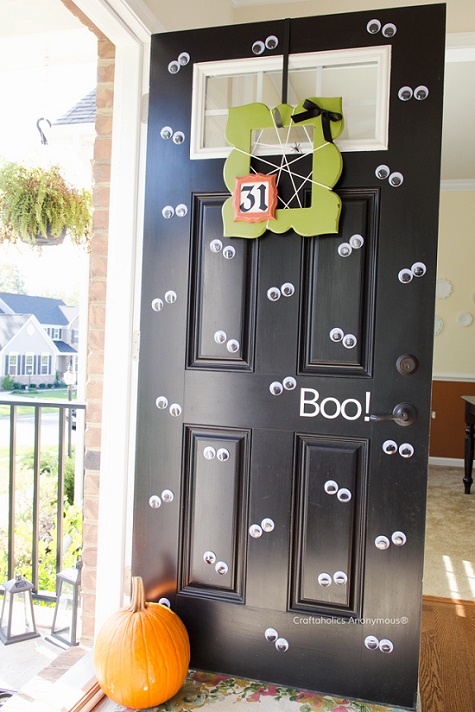 5. Googly eye door
Make your trick-or-treaters think ghosts are peering out your doorway with this easy project. The eyes were just attached to the door with restickable dot adhesive. You can also customize it with Halloween decals and any Halloween hangings you have around. And you can reuse the eyes next year! The full tutorial is at
Craftaholics Anonymous
.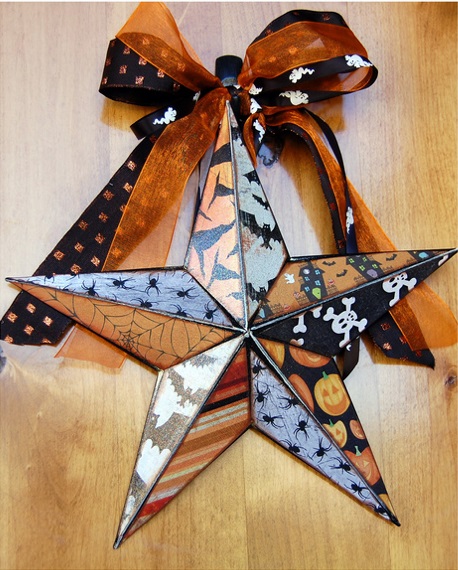 6. Halloween star
Here's another great craft that can be reused next year. If you have any Halloween scrapbook paper lying around, this is the perfect project to upcycle it. The scrapbook paper was added to a metal star door hanging using Mod Podge. A little Halloween ribbon, and it'll look like you bought the decoration from the store that way. The tutorial is at
NoBiggie
.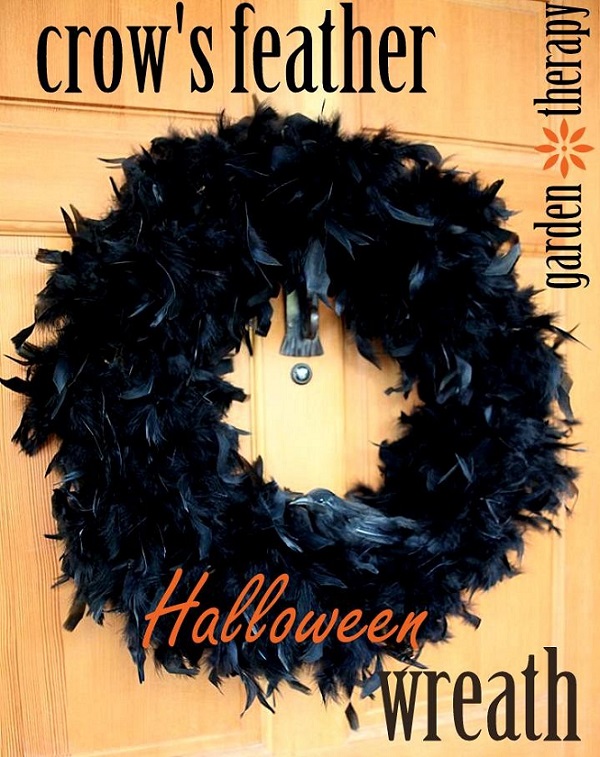 7. Crow's feather wreath
This project couldn't be easier and would look perfect on Halloween night. The crafter wrapped two black feather boas around a grapevine wreath. The ends of the boas are secured with black pipe cleaners. Then the crow was also attached with pipe cleaners, as well. You can find the full tutorial with photos at
Garden Therapy
.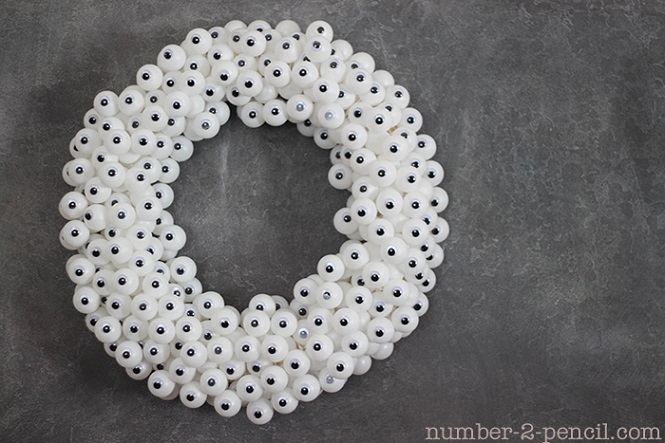 8. Googly eye wreath
Add some spooky whimsy to your door with this wreath. All you'll need to do is hot glue some ping pong balls to a foam wreath base, and hot glue some googly eyes onto the ping pong balls. You can see the full project photos and tutorial at
No. 2 Pencil
.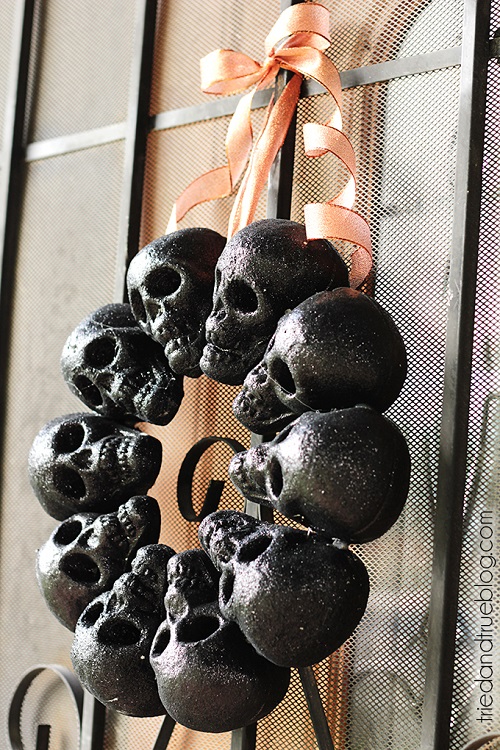 9. Skull wreath
How's this for something that's creepy and fun? You'll need to find some foam mini skulls (those shouldn't be too hard to find at craft stores this time of year), attach them to each other with a sturdy wire and tie the wire together. A little ribbon and hot glue adds the finishing touch. You can find the full tutorial at
Tried & True
.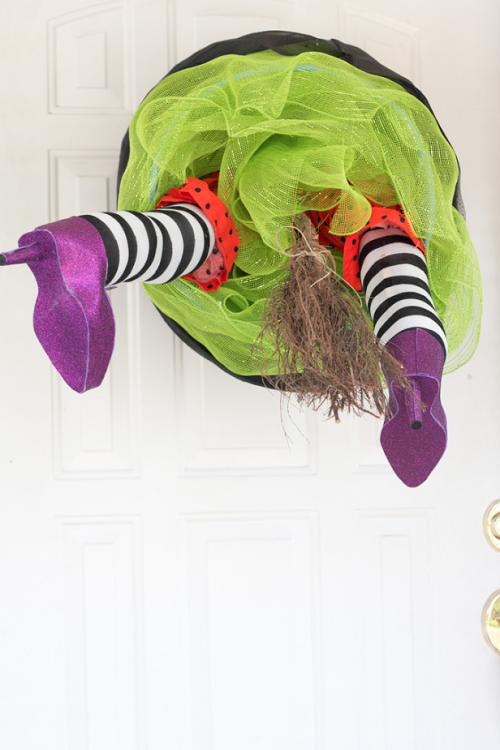 10. Witch door hanging
Don't feel like you need to run to the store if you want a crashed witch decoration. This was made out of an old laundry basket! Some creative effort with fabric, tights, glitter craft foam and a broom will give you a witch in no time. You can see the full project at
The Alison Show
.