There's nothing like some kids' crafts to while away a Saturday afternoon, especially since the weather is getting colder. And with Halloween quickly approaching, it's a great excuse to make some Halloween-themed home and party decorations. Plus, making these items yourself means you can reuse old cardboard, use recycled paper or have a new use for those old food cans, so crafting is the perfect way to get some sustainable fun in your life (and save a few dollars!). Below are some craft projects that are great to do with kids while incorporating sustainable materials into your Halloween fun.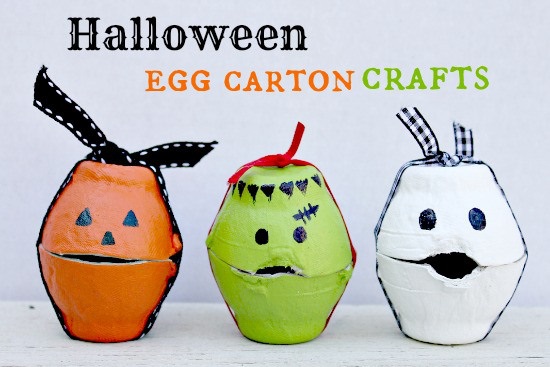 1. Egg carton treat boxes
These adorable little boxes would be great sitting out at a party for folks to nab treats from. They'd also make a fun party craft or a great party favor to take home (stuffed with treats, or course). These were made by cutting out pieces of an egg carton, painting them with fun Halloween character designs and adding some ribbon to keep the treats in. You can find the full
tutorial with photos at The Centsible Life
.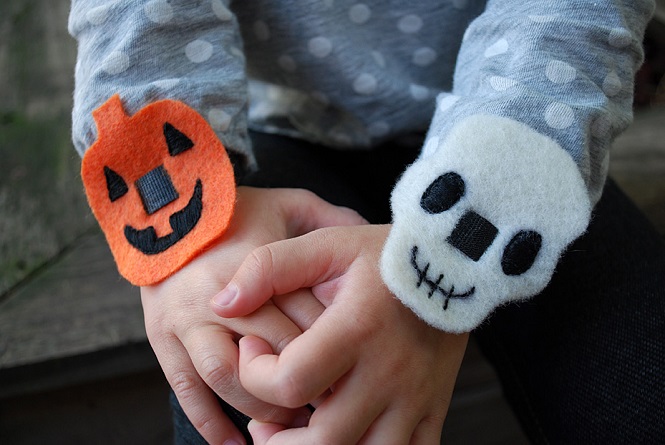 2. No-sew Halloween bracelets
Here's another craft that would make a great party activity for kids. Or they'd be great for wearing to a Halloween party. This easy project is basically just made using felt and Velcro. Plus, they are so small you could easily reuse felt scraps from other projects to keep it sustainable. You can view the
full tutorial at Merrimentdesign
.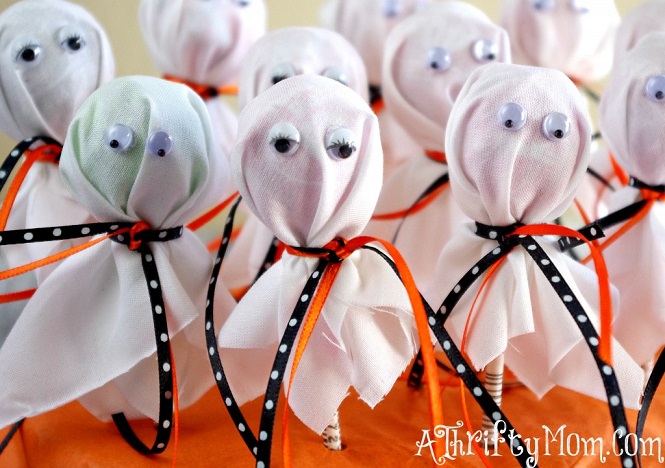 3. Lollipop ghosts
This is another easy craft that would be great for a Halloween party favor. The base of these little guys is just a Tootsie Roll Pop. Then some fabric, ribbon and googly eyes were added. You can view the full
tutorial at A Thrifty Mom
. There is also a tutorial there for a cute pipe cleaner spider that holds lollipops (hint: When looking for fabric for these, consider using cut-up old Halloween costumes from last year or other spare materials).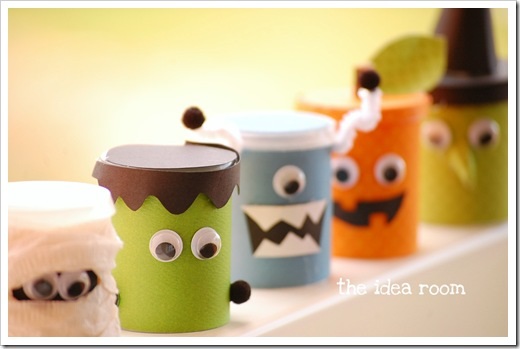 4. Halloween play dough
Here's a project that's fun to make and play with afterwards. The homemade play dough recipe just calls for flour, salt, cream of tartar and powdered fruit drink like Kool-Aid. You can make it sustainable by sourcing organic ingredients. The play dough was then put into some reusable containers and decorated primarily with construction paper. You can find the full tutorial at
The Idea Room
.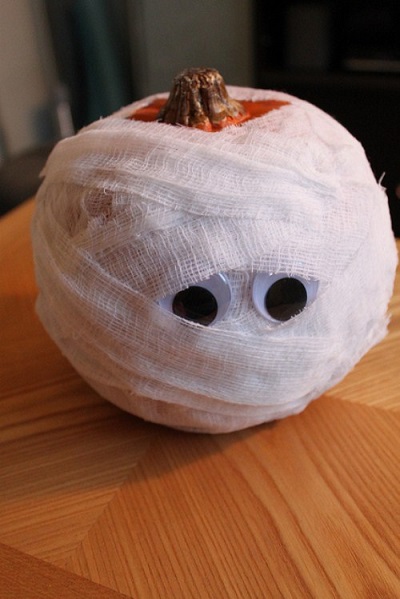 5. Cheesecloth pumpkin
This pumpkin is but one idea for cheesecloth Halloween crafts that the blogger recommended. You can also drape cheesecloth over a hanger to fashion a ghost and make faux jack-o-lanterns. For a ton of Halloween-themed crafts to do with kids, head over to
this post at Celeb Baby Laundry
.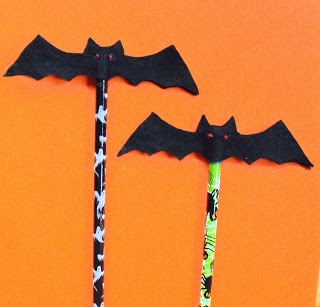 6. Bat pencil toppers
This cute idea would be great for school Halloween parties. These were cut from black felt and simply glued to Halloween-themed pencils. You can see the full
tutorial with photos at Twig & Toadstool
. Again, the small size of this craft means it's perfect for reusing scraps of felt you might have lying around from any other craft project. It's always a good idea to think of what you can reuse in any craft.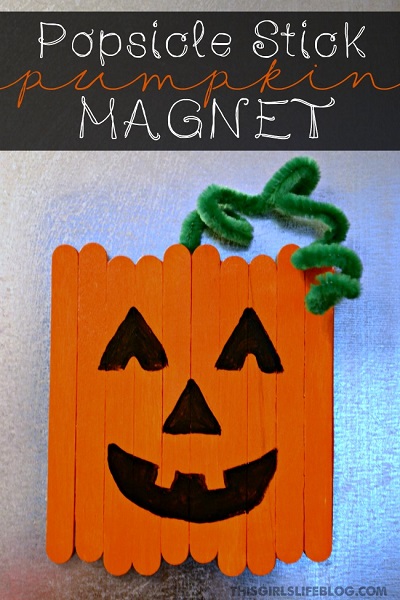 7. Pumpkin magnet
This is a great upcycle for old Popsicle sticks. They were painted with crafter's paint and hot glued together. A magnet attached to the back makes it the perfect addition to the refrigerator in fall. You can see the full
tutorial at This Girl's Life Blog
.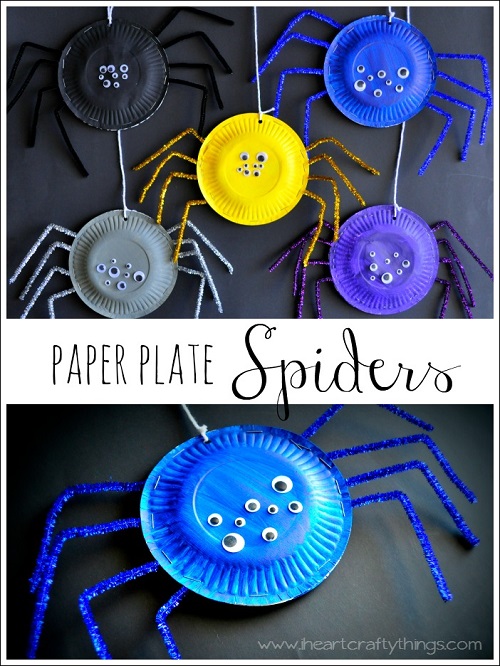 8. Paper plate spiders
These adorable spiders are perfect for hanging at a Halloween party. And they can be reused each year. It's the perfect way to get more life out of any paper plates you may have accumulated, rather than simply eating one meal off them and throwing them away. You can see the full
tutorial at I Heart Crafty Things
.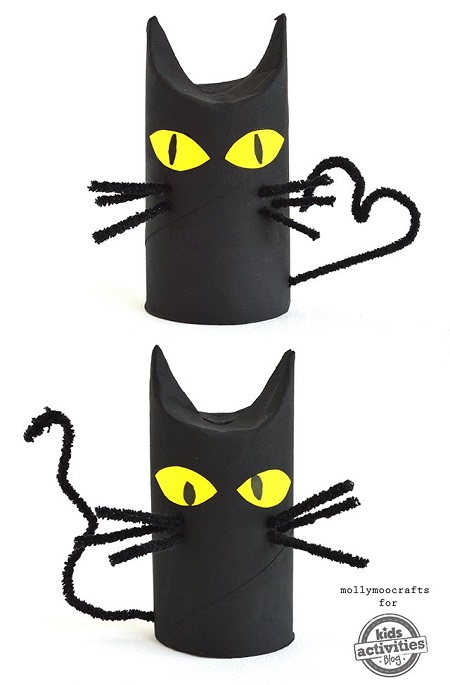 9. Toilet roll black cats
This is a cute way to upcycle those old toilet paper rolls. These would look adorable around the home in October or at a Halloween party. You can find the full tutorial at
Kids Activities Blog
.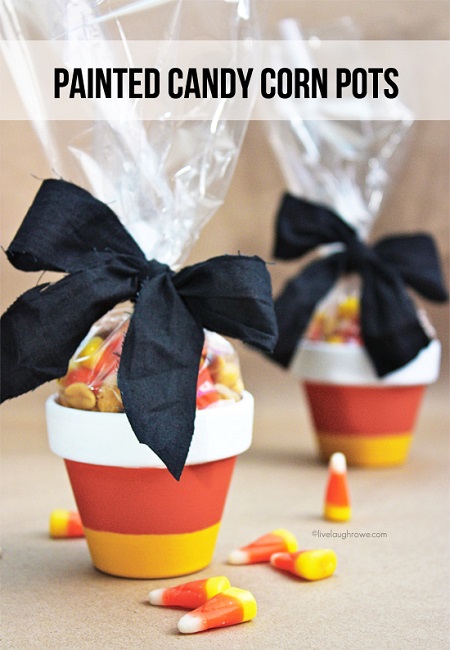 10. Candy corn pots
This is an adorable way to upcycle old pots, if you have any lying around. The pots were painted with acrylic paint, and the treats inside make this project a great party favor. You can see more of the project at
Live Laugh Rowe
.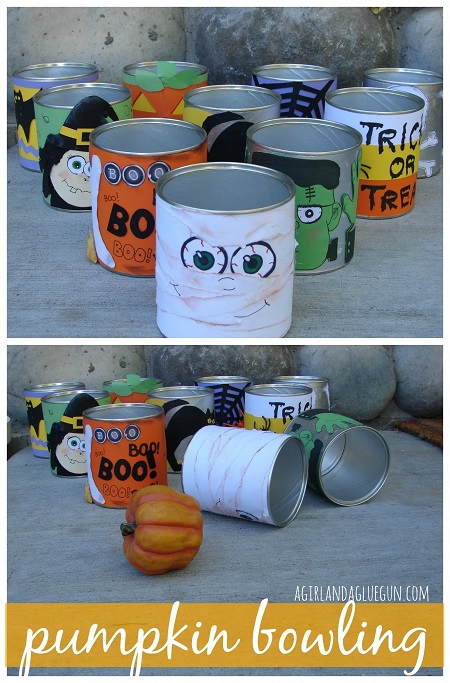 11. Pumpkin bowling
Here's a great use for old food cans. This is actually an idea for entertaining 25 kids during a Halloween party. The crafter decorated the cans herself with Halloween drawings. You can either draw them yourself or find some printables. She then filled the cans with candy, had the kids bowl a gourd or small pumpkin at the cans and then the kids got the treats out of the cans they were able to knock down. Genius. You can find the full tutorial with photos at
A Girl and a Glue Gun
.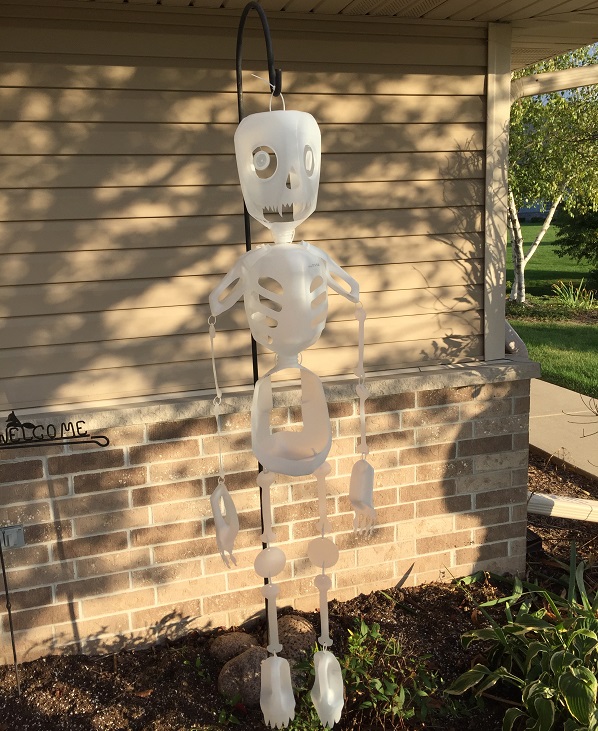 12. Milk jug skeleton
This photo actually came from my mother-in-law. She bought this cute skeleton at a farmers market. It's made entirely from old milk jugs, so it's a great way to reuse your recyclables. If you'd like to make your own, there's a
similar template here
. The project requires cutting out the pattern with craft scissors, so this would be a good project for older kids with strong hands.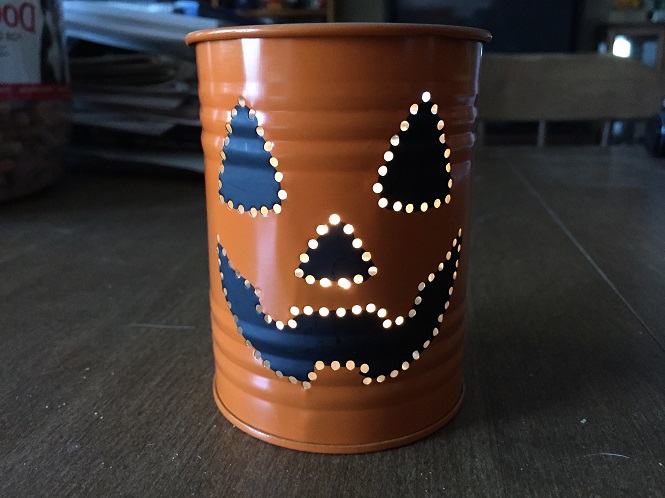 13. Can jack-o'-lantern luminary
This specific can also came from the in-laws. There's a few ways to get holes into the can. One way is the nail-and-hammer method, which you can
view in a video tutorial here
. This method looks to be the most popular DIY method. Otherwise, there are tons of commercial metal hole punchers on the market you can consider. The hole punching may be too dangerous for some kids, but kids could still have fun painting the can with acrylic paint after the holes have been punched.