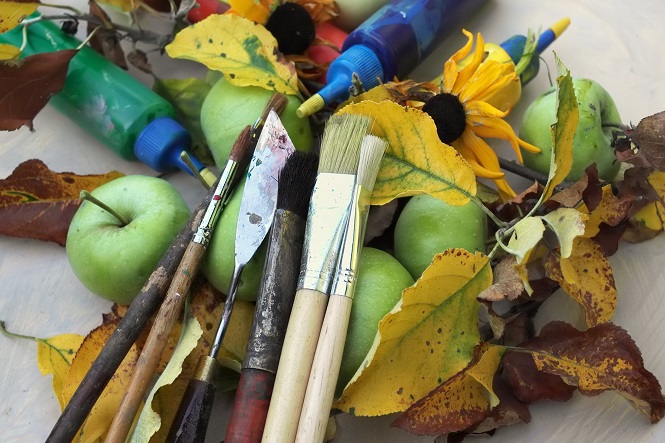 Want to get your little ones into the fall spirit? Try one of these great fall-themed crafts for kids – they'll love getting to express their creativity while at the same time learning about the season.
Toilet paper roll leaf stamping tree
Ask any early childhood educator what one recyclable they use the most and many will say the cardboard tube.
This cute fall tree project
lets kids practice their motor skills while also creating a neat seasonal representation. Squish the toilet paper tubes into an oval leaf shape, then let the kids use them as stampers with orange, red and yellow tempera paint. Give them a picture of a bare tree – or draw one – and let them finish it, giving it as many leaves as they want.
Fall tree "snow globe"
Children of all ages love snow globes, also known as sensory jars. Watching snow or other materials float around is a source of great amusement. Create a
fall tree globe
using faux autumn leaves (available at craft stores), a mason jar, one small tree branch, water and glycerin. Begin by attaching the branch to the lid of the jar using a strong adhesive. Add some leaves to the branch using hot glue, making sure to save some that can float. Fill the jar with a mix of water and glycerin and then attach the lid. Flip the jar over and start shaking to see a fall wonderland!
Handprint acorn craft
Another symbol of autumn is the acorn. Children can create their own acorn prints using two colors of brown finger paint. Start by using a lighter brown for the bottom of the acorn. Let the kids place their hands in the paint and then press it onto a piece of white paper. Have them paint the top of the acorn in a darker brown – feel free to help out younger crafters. Let the prints dry overnight and then display with pride.
Popsicle stick scarecrow
Need a silly scarecrow to liven up the refrigerator door? This adorable popsicle stick craft is easy and fun. Give each child eight popsicle sticks and a rectangle-shaped piece of cardstock or cardboard. Have the kids glue seven of the sticks to the paper, with the eighth one used as the brim of the scarecrow's hat (
see example here
). The hat will be painted brown, while the face and hair can be made out of construction paper and/or markers. Attach a magnet sticker to the back and slap it on the freezer door!
Salt dough leaf bowls
Salt dough is an excellent way to let children build their own ornaments, sculptures and dishes. In this project, kids will make their own leaf print bowls using salt dough and an actual leaf that they find. After a nature walk where each child can collect a special leaf, take out some dough and have the kids roll it flat like sugar cookie dough. Then, help them to gently press the leaf into the dough, removing the access around it. Carefully peel the leaf off and drape the dough over an upside-down oven-safe bowl coated with non-stick cooking spray first. After about two hours in an oven at 250 degrees Fahrenheit, the leaf bowls will be formed. See the
full instructions here
.
Pinecone snowy owl
This cute craft is so simple; your kids will want to make a bunch! Turn a ponderosa pinecone into
a snowy owl
by stuffing shreds of cotton balls into the crevices. Children will love building their own owl as it can be as fluffy or bald as they want. Add google eyes (available at any craft store) and a beak made out of construction paper. Bonus points for little wings made out of white pipe cleaners. Since pinecones tend to be sticky from tree sap, allow them to dry out or pick up some cheap replicas at the craft store to avoid the mess.
Harvest corn sun catchers
Children are often learning about harvests during this time of year, and
this corn sun catcher project
is adorable and original. The "corn" is actually bubble wrap – little ones will love painting it yellow, brown and red to resemble sweet corn. Once the paint is dry, cut corn cob shapes out of the bubble wrap, gluing on some green construction paper on the outside to resemble the stalk. Children can add faces with markers and google eyes to complete the project. Place on a sunny window to let the corn shine.
Fall crayon rubbings
This classic craft is a staple of all childhood classrooms and can help teach kids about how leaves work. Go on a nature walk, encouraging your children to gather different types and colors of leaves. If they're a bit damp, lay them on newspaper to dry out. Once the leaves are dry, have the kids cover their leaves with tracing paper and rub crayon all over it. The shapes will magically appear, with the veins in the leaves looking darker. Explain how leaves are part of a living being and that those "veins" help to keep them alive.