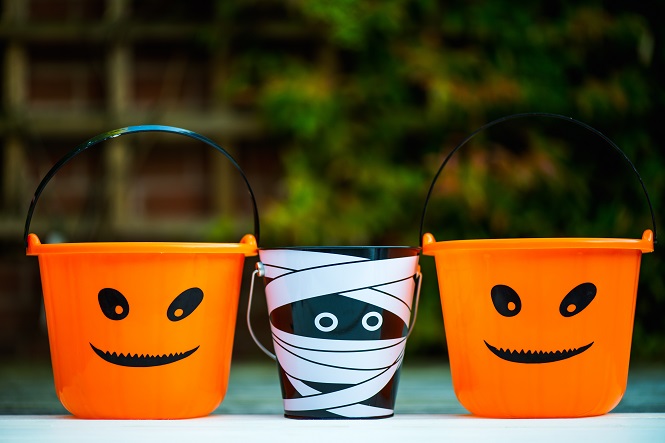 Good ol' Halloween, when we open our doors to the neighbors and give out free food. In some ways, the spooky day of death is more generous than Thanksgiving or even Christmas. But Halloween is a bit of a nightmare, and not because of all the horror movies and zombie lawn decorations. If you're trying to buy in bulk to cut back on the individually wrapped waste of plastic that is our modern consumer culture, your only option is often to be the mean house that doesn't give out candy. Thanks to the (mostly) urban myth of people
poisoning Halloween candy
, it's now a given that we need to pass out the corporate-sanctioned, factory-sealed sweets. While that might mean more parents at ease, it also means big waste. Halloween itself is a massive industry. This
infographic
gives a look at just how massive. To summarize, 158 million Americans participate in Halloween, and 95 percent of them buy candy. The amount spent on candy for Halloween alone totals more than $2 billion annually. That's 600 million pounds of candy, the weight equal to six Titanic ships. That's a lot of candy, and a lot of wrappers. Wrappers that aren't approved for tossing in the recycling bin. Yet that doesn't mean Halloween candy wrappers need to end up in landfills. There are several ways individuals are putting the little nuisances to use.
Turning wrappers into cash
Luckily, wrappers don't always have to end up in the trash. In 2012,
Mother Nature Network reported
on TerraCycle's Candy Wrapper Brigade, which took candy wrappers, donated money or gifts to the organization that turned them in and made the wrappers into new items. Sadly, the
program is closed currently
, but it shows how such a recycling system could work. Terracycle does have other active programs listed at their site. Plus, who knows, there may be a similar, smaller program in your area. Or, if you're really ambitious, start one. Another option may be to donate the wrappers to local crafters who might be able to upcycle them. You might also try upcycling wrappers yourself and selling your items at craft fairs or on etsy.
How to upcycle candy wrappers
Candy wrappers are surprisingly versatile crafting items. Their colorful designs and fun pop culture logos and characters make great additions to craft projects. Here are just a few ideas:
Decoupage
It's easy enough to get some wrappers and decoupage glue, then go to town. The glory of decoupage is that you can apply it to anything. Make a Skittles-themed table, a Snickers notebook, a candy-themed candy bowl or a Tootsie Roll bracelet.
Candy wrapper barrettes
This would be a project for larger wrappers, but it's still a cute idea nonetheless. You end up with colorful hairpieces that look more like abstract art, rather than actually having "trash" in your hair. You can
find the tutorial here
.
Wrapper napkin ring/garland
With some creative origami, you can easily use those old wrappers to make a shiny, surprisingly classy napkin ring. The instructions are over
here
. You can also use a similar process to make a gum wrapper garland, which you can
learn to make here
. These are great ideas for the approaching holidays after Halloween.
Practice origami
If you want to get more traditional with origami patterns, learn how to make origami butterflies, rings and flowers out of candy wrappers
here
.
Candy wrapper house
A gingerbread-sized home is a great idea for using all those old wrappers. By gluing the wrappers to a cardboard box, you have a fun and easy craft for kids. This
tutorial comes from Martha Stewart
.