Halloween is less than a month away, and you know what that means: time to start thinking about what costume to wear. If there are two things all great costumes have in common, it's ingenuity and creativity. So why not get really creative and use old materials in a new costume? From metal juice lids to milk jugs, you'll be surprised what recycled materials can easily fit into creative, classy Halloween costumes.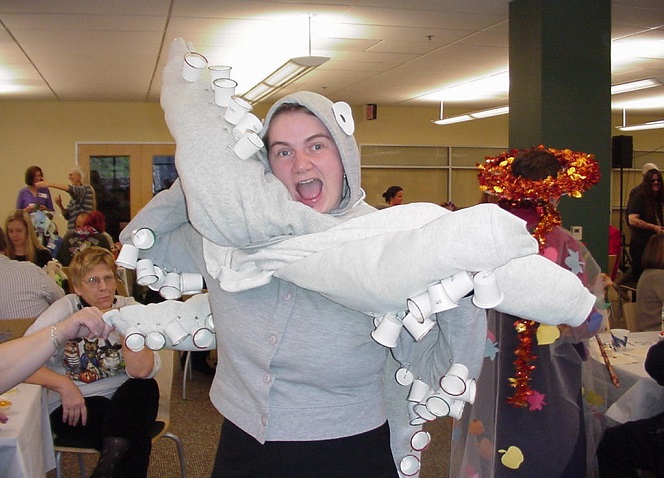 1. Keurig cup octopus
This idea comes from the blog
Trashmagination
. Blogger Carla Brown made this costume in 2002 after gathering up the little plastic nuisances we know as k-cups. If you look closely, she used them as the suckers on her fleece octopus tentacles. The tentacles themselves are made out of gray sweaters.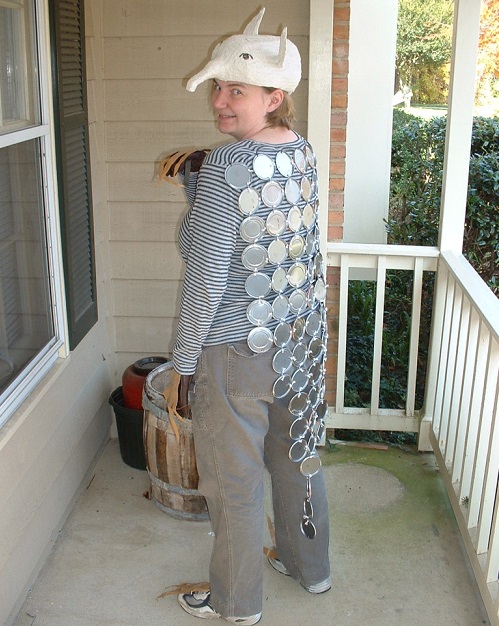 2. Tin can armadillo
Also from Trashmagination, this armadillo costume makes great reuse of those pesky tin can tops. Specifically, these are the metal lids of frozen orange juice concentrate containers. The lids are attached with twist ties (a great use for those annoying pieces that come off the bread bags). The armadillo head was even made out of a milk jug, which was covered in papier-mâché to give it that armadillo shape.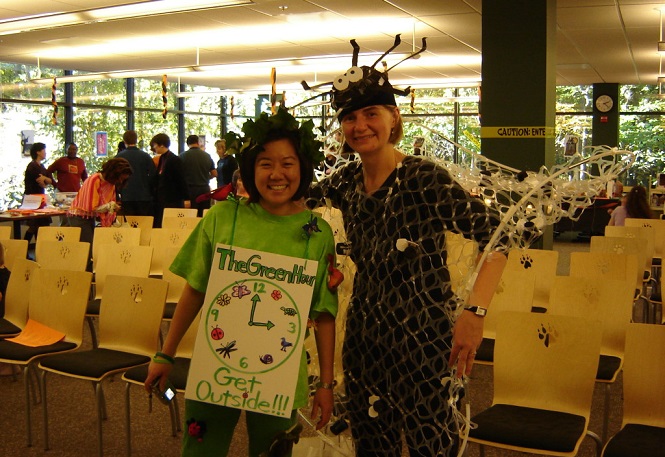 3. Plastic ring spider web
A third idea from Trashmagination, this spider costume was made by tying six-pack plastic rings together with twist ties. The hoop was made from plastic tent poles. The spider hat was made from two black containers from frozen lunches, and the eyes are two yogurt container lids. The small flies on the costume were made from k-cups with yogurt container wings. Now that's putting your trash to use!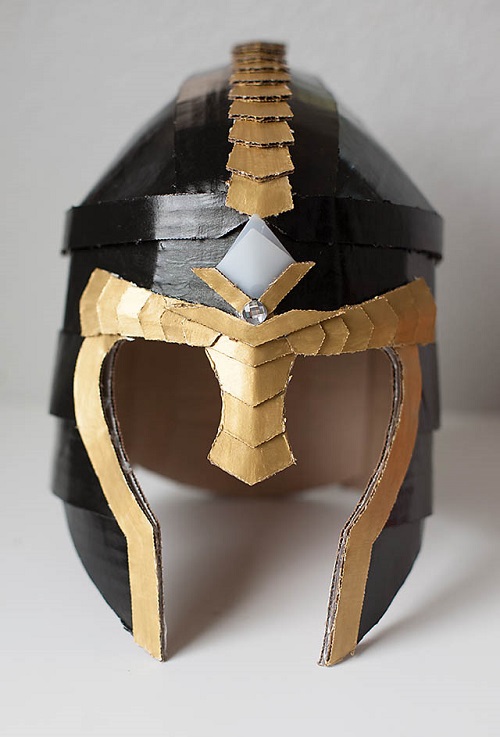 4. Cardboard warrior mask
Have some old cardboard lying around? Sure you do, we all do. This clever design makes great use of some old boxes. It's perfect for gladiator or Spartan warrior costumes. You can find the full project with photos at
All For The Boys
.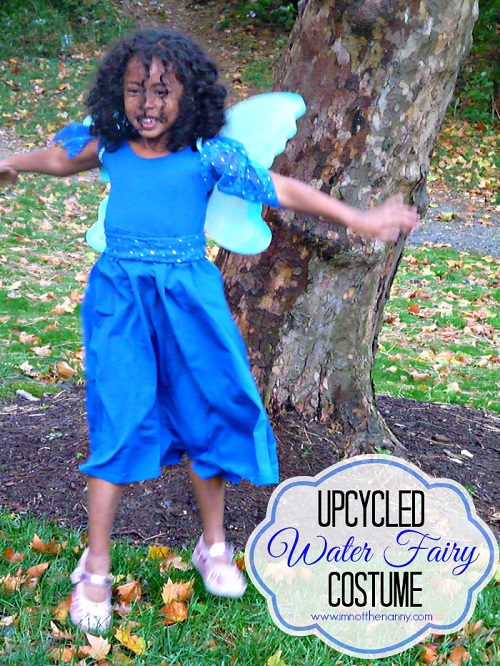 5. Upcycled water fairy costume
Believe it or not, this was made from an old dress and sweater. They were cleverly tailored into a new costume that would be great for any child with a whimsical side. All you need is an old blue dress and a shirt or sweater with some sparkles on it. And it took the crafter less than two hours to make. You can view the
full details from Thien-Kim Lam at I'm Not the Nanny
.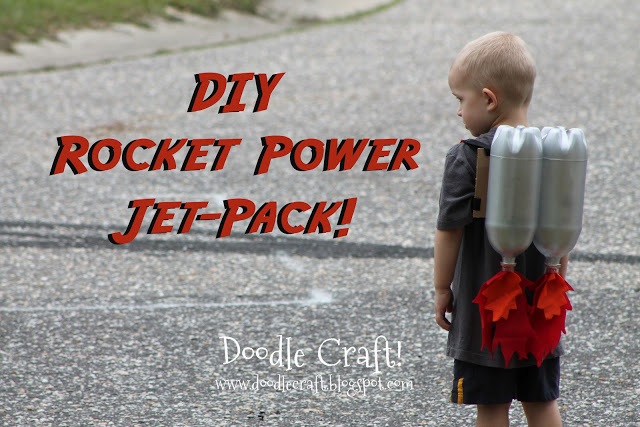 6. Sci-fi jet pack
This jetpack was made with two two-liter bottles. They were mounted to a bit of cardboard for stability and spray painted gray. A creative addition of felt on the bottom makes them look like a real jet pack with flames. You can find the
full details with photos at Doodlecraft
.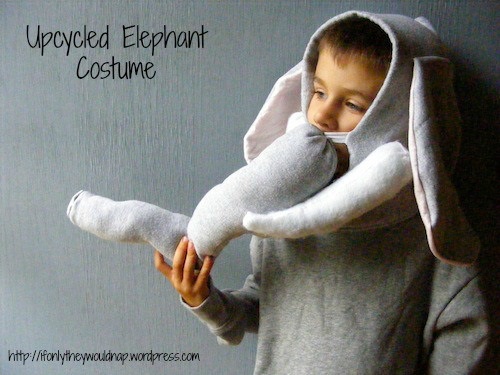 7. Upcycled elephant costume
This adorable costume was made using an old sweater and an old t-shirt. There's even an old wire coat hanger in there to give the outfit some shape. You can find the
full tutorial with photos at If Only They Would Nap
….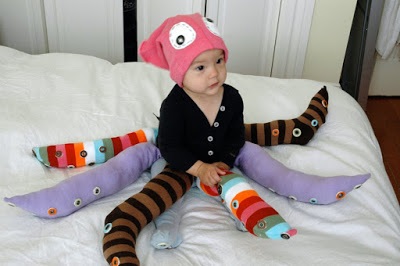 8. Baby octopus costume
If you have some old, colorful socks you're not using anymore, and a baby, this is a cute idea for a Halloween party. The suction cups are actually rivets off of an old belt, although buttons could also work. The legs were just stuffed with cotton balls. You can find additional photos and information on the project at
Mom Inc Daily
.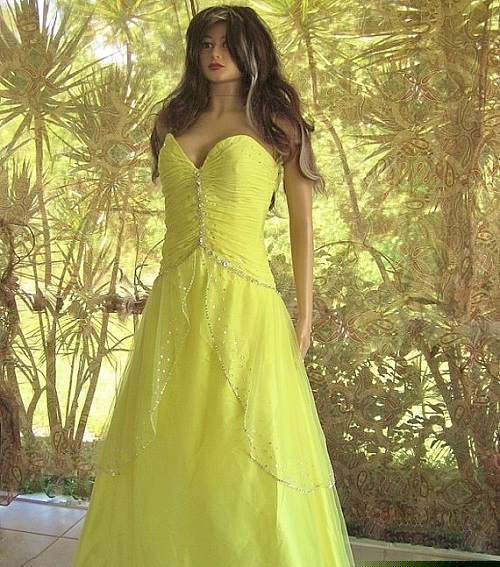 9. Fairytale costume
This is a used Southern belle prom dress but would look good as a dress for a princess costume. It goes to show how old clothes can be repurposed into new Halloween character outfits with the right hair and maybe some accessories. You don't have to go out and buy that exact new dress that matches the movie. Ball gowns are ball gowns. This one is being
sold by NicoleAshmore at etsy
.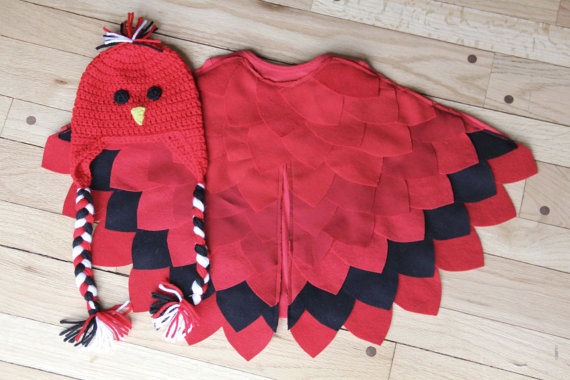 10. Baby cardinal costume
This costume was made from 100-percent repurposed wool from old wool sweaters and suits. It includes a red onesie, the hat and the feather cape. Each comes unique, since the design is governed by which used wool is available on any given day. Custom orders are also available for this item. It's made by
RepurposedWoolStudio at etsy
.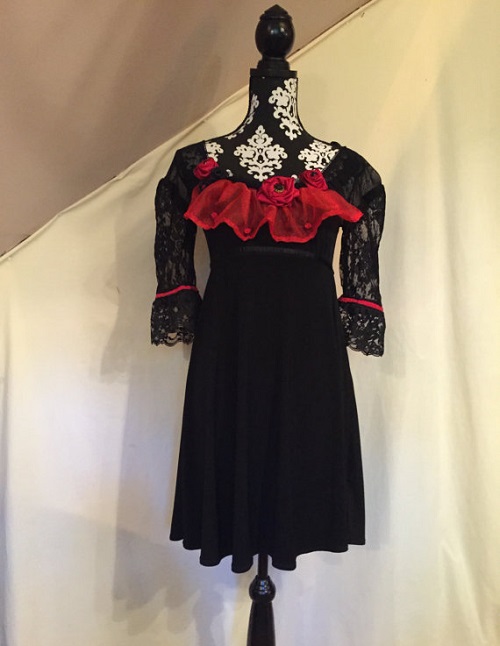 11. Upcycled Goth dress
This little black dress was embellished for reuse during Halloween, or any part of the year, if that's your style. Specifically for Halloween, it would work as a vampire or Gothic character dress. The bodice was embellished with black and red ribbon roses. It was
made by TheDenimGypsy at etsy
.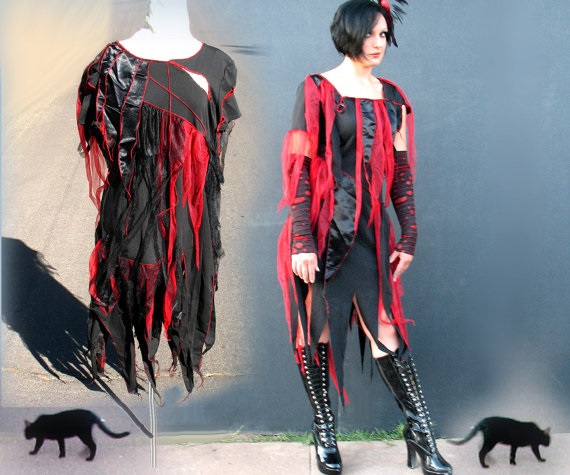 12. Bloody zombie attire
Going as a zombie for Halloween? This old dress was given a tattered look to mirror the horror genre's monsters of choice. It's
made by RunzwithScissors at etsy
.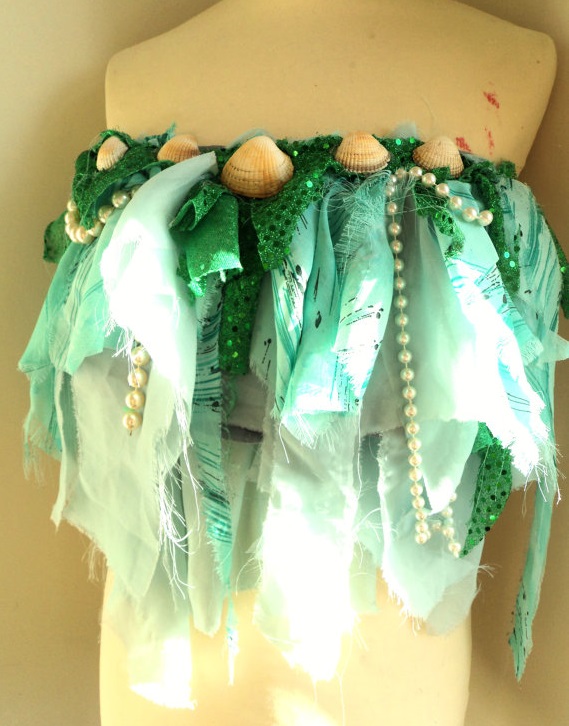 13. Mermaid top
This top came from upcycled clothing. As the crafter stated, "I try to recycle clothing and fabrics as much as possible in my designs to ensure they have a positive impact on the environment." The base tops are used clothing and the crafter attaches cut-offs from other fabric projects. It's
made by meggiebread at etsy
.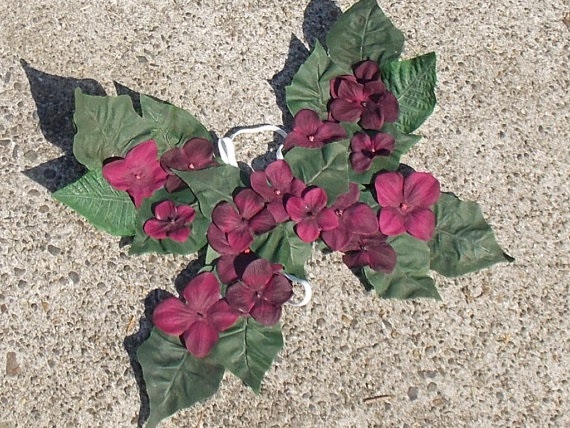 14. Fairy wings from milk jugs
Milk jugs are actually the base of these wings, which were then covered by faux flowers and leaves so the piece still looks whimsical and classy. It's
made by FairyFlowerDreams at etsy
.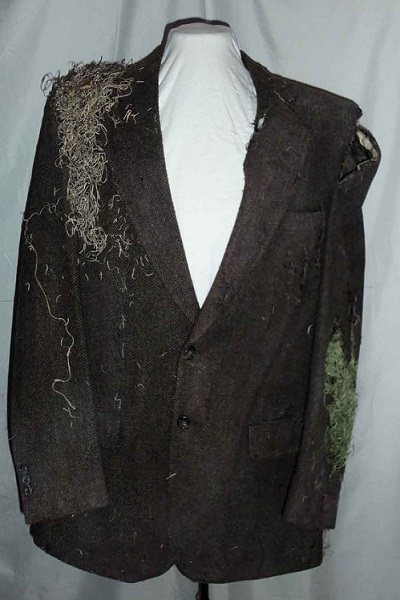 15. Zombie jacket
Here's an excellent use of an old suit jacket. It was distressed and fake moss was added to make it look like its wearer has just risen out of a grave. You can find it from
NouveauOrleans at etsy
.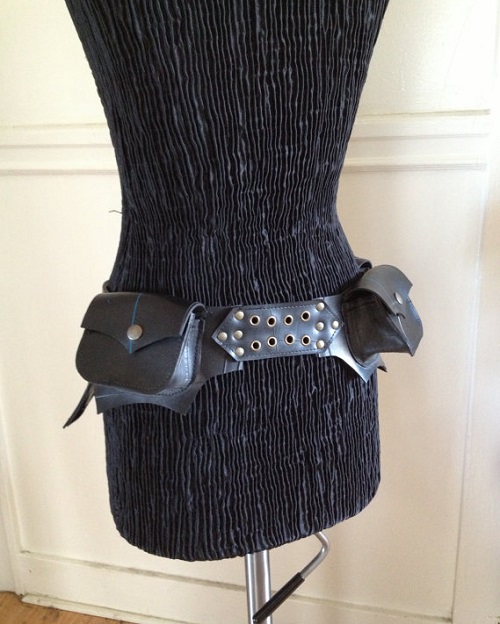 16. Recycled rubber utility belt
This belt was made from blown-out, old inner tubes. It would go great with any Batman-type costume, or maybe any type of adventurer outfit. It can be highly customized, as well. You can
find it from KrakenWhip at etsy
.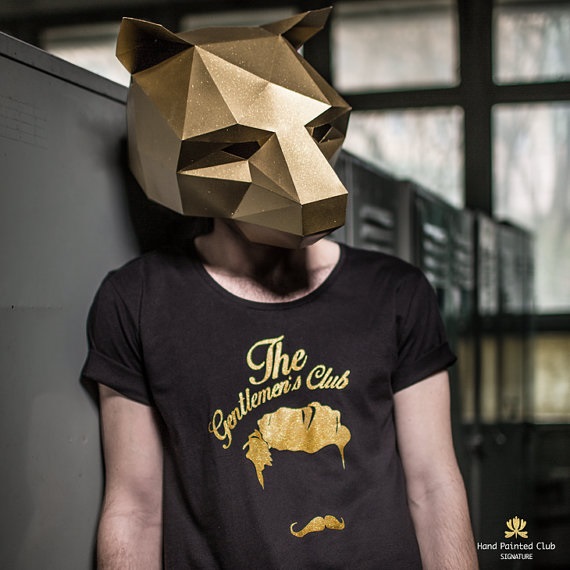 17. Bear mask pattern
If you've been meaning to reuse that old cardboard, Halloween is the perfect time to do it. This is actually a downloadable pattern off etsy,
offered from Wintercr
oft. And there are quite a few patterns to choose from. The photo is from
Gold Bear Photography by Pawel Smolinski
.