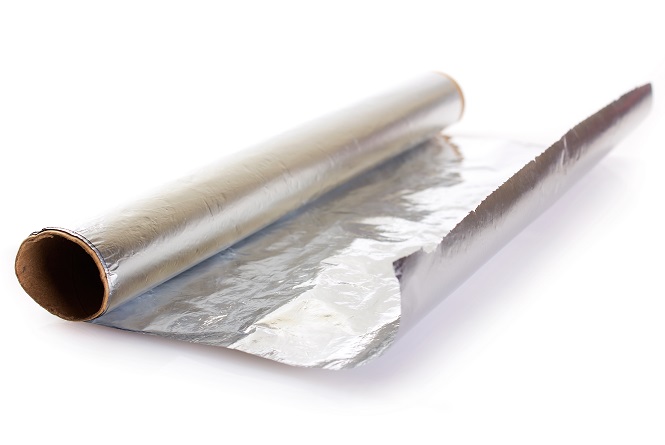 Cans, furniture and other products made from aluminum are very easy to recycle. In fact, aluminum and other metals are among the easiest items to recycle because they can be melted and turned back into new products almost indefinitely. It is highly energy and resource intensive to create new aluminum, so it is definitely worth recycling the metal whenever possible. One of the biggest departures from the "aluminum is easy to recycle" rule is aluminum foil. The main challenge to recycling aluminum foil is that it is often contaminated with food waste. Grease and oils can damage recycling equipment and create an inferior end product, so food-affected waste has to be thrown away (all that food will also cause the foil to smell really bad, which will make the staff at your local recycling center very unhappy). Some communities accept aluminum foil in their recycling bins as long as it is clean. Others are not willing to take that risk. We have some advice for dedicated recyclers who really want to keep their aluminum foil out of landfills. We also share a couple of ways to decrease your use of aluminum foil.
How is aluminum foil made?
Aluminum foil is made of sheets of aluminum that are rolled very, very thin. Those sheets are wound onto a cardboard tube and stored in a cardboard box until you are ready to use them. The vast majority of aluminum foil manufactured in the United States is used to wrap food at home or in food service. Here a few fun facts about aluminum foil from the
Aluminum Association
:
It was used in candy wrappers as early as 1913, when Life Savers were wrapped in sheets of foil.

About 7 billion containers of aluminum foil are produced every year. That equals 220 containers every second.

Aluminum is a great conductor of heat. If you cover a pan with aluminum foil and leave it in the oven for a long time, the foil will cool much faster than glass or steel once you pull the pan out of the oven. That makes it easy to pull back a corner to check on your food – although, then you have to be careful of hot steam.

Aluminum foil is great in the kitchen, but it is also used in insulation, electronics and for art and decorative purposes.
How to recycle aluminum foil
Your first step is to make sure your aluminum foil is devoid of food waste. You can rinse off small bits of food, like cookie crumbs and fruit or vegetable juice. The foil may discolor if you use hot water, but that is totally normal. If the foil is very heavily soiled with oily or greasy foods like meat, frosting, gravy or butter, it will need to go in the trash. Your second step is to determine if your curbside recycling program accepts aluminum foil. If you live in Austin, Raleigh or Washington, D.C., you can place clean aluminum foil in your recycling bin. If you live in Seattle, San Antonio or Richmond (VA), you will need to find another way to recycle your aluminum foil. Before placing any foil in your recycling bin, crumple it into a ball so it will not get torn or stuck in the recycling machinery. Do not take each individual piece and ball it up so that you have several tiny spheres. Instead, save up your aluminum foil and make a ball that is at least two inches in diameter. And again, make sure it is clean before you place it in your recycling bin. Keep in mind that several food products come with aluminum foil attached. Many yogurt containers have aluminum foil over the lids. K-cups also have aluminum foil lids. If you can recycle sheets of aluminum foil, chances are high you can recycle these items as well. Check with your recycling company to see if they can take other types of clean aluminum food storage products, like pie pans and turkey roasters, too. I reuse my clean aluminum foil whenever possible. Pieces with absolutely no food on them get folded up and put in the fridge until I need them next time. Pieces with food on them stay on my large pan until I am ready to put leftovers on a smaller plate. At that point, the foil can still be used to cover the plate.
Buy recycled aluminum foil
There are several companies that make aluminum foil from 100-percent recycled metal. They include If You Care, Kirkland and Reynolds. If you need to use aluminum foil at home or in your business, buying recycled aluminum foil is a great way to decrease your carbon footprint.
Alternatives to aluminum foil
One way to throw away less aluminum foil is to find other ways to cover dishes of fresh food and leftovers. The best way to do this is to use some type of reusable dish. Tupperware containers or other plastic storage containers can hold anything from small bits of leftovers to entire cakes. Some Pyrex dishes come with plastic lids for covering up pans of brownies or lasagnas. You can also use leftover containers from cottage cheese, sour cream and other food products for storage. When it comes to choosing between aluminum foil and cling wrap, I always choose aluminum foil because it is easier to reuse when I am ready to put my pan away. Cling wrap is impossible to recycle, so aluminum foil is definitely a better bet if you live somewhere where it can be recycled.