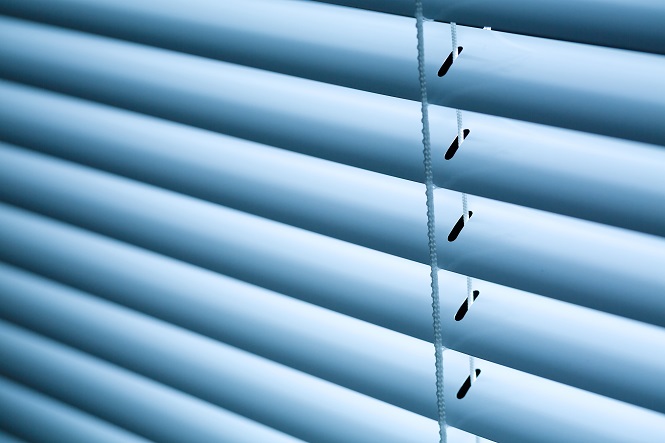 Window blinds are a must in many homes. They do a great job of blocking light and providing privacy. Good-quality blinds look nice and can add to your home's ambiance. Recycling window blinds is a mixed bag. Some are surprisingly easy to recycle. Others must go in the trash or find a new home with someone who can reuse them. We offer a handy guide to recycling and reusing blinds of all types. We also share some information about eco-friendly blinds designed to help your whole house be greener by saving you energy.
What are blinds made of?
Windows blinds are also known as Roman shades, cellulose shades, honeycomb shades, exterior shades, roller shades, pleated shades and vertical blinds. Just as they have many names, they can be made with many different materials. Aluminum, wood and fabric (including cotton and polyester) are among the most common things to find in window blinds. They can also be made with plastic and a combination of several different materials. Make sure you know the composition of your blinds before you start looking for a place to recycle them. Blinds that look like they are made of wood may actually be a wood/plastic mixture. Blinds that look like they are made of fabric may have a plastic coating on them, especially if they are intended for outdoor use. See if your blinds have some type of label on them that describes their composition, or look for the manual that came with the blinds.
How to recycle blinds
Blinds.com
has a terrific summary of how to recycle blinds made from various materials. According to their website, metal blinds are the easiest type to recycle. Aluminum and other metals (such as copper and steel) are among the most recyclable items in your home because there is so much infrastructure in place to handle them. Recycling aluminum is also a very smart thing to do for the planet. It means less mining and less energy needed to produce new aluminum. According to Keep America Beautiful, a manufacturer can make 20 cans from recycled material with the energy needed to produce one can using virgin ore. To recycle aluminum blinds, take them to a recycling center with an aluminum recycling bin. You should remove all the strings from the blinds before you place them in the recycling container. You should also wash them before you recycle them. The easiest way to wash blinds (whether you are recycling them or keeping them) is to spray them down with the hose. Wood blinds cannot be recycled. Why? They are made of treated wood, which is never recyclable. The main way to recycle wood is to turn it into mulch or compost. For obvious reasons, you would not want products like stain, paint or varnish in your mulch or compost. As a result, only wood that has never been treated with any type of chemical can be recycled. Blinds.com also has some cute suggestions for upcycling your wood blinds if you prefer to go that route. The slats can be used to make plant markers, decorate a dresser or create a sunburst behind a large wall clock. Try using the slats of wood window blinds in any project that calls for used pieces of wood cut to the same size. Blinds made of plastic, a plastic/wood mixture, or textiles will need to be thrown away if you cannot find a place to reuse them.
How to reuse blinds
Window blinds that are still in good shape may be perfect for Habitat for Humanity ReStores or other stores that sell used building materials. Call up your local nonprofit building supply centers and see if they can take them, or see if they have a list of acceptable items on their website. There are plenty of other ways to dispose of good-quality used blinds. Put them up on Craigslist or Freecycle. Ask around to see if friends need them. Find out if another nonprofit is in need of new blinds for its office. Another idea is to see if you can put them somewhere else in your house. Your garage, art studio or spare bedroom might be a great place for your blinds.
Energy saving blinds
One of the biggest contributors to climate change is energy production. And one of the biggest energy consumers in the United States is our buildings. If we can make our homes more energy efficient, we can go a long way toward slowing the devastating effects of climate change. Your windows play a major role in keeping your house warm or cold. Hot and cold air can seep in through the windows, forcing you turn on the heat or air conditioning to keep your surroundings comfortable. Windows lacking some type of covering allow in plenty of sunlight, which can heat up your house on an already warm day. When you go to replace your blinds, talk to a local company that specializes in eco-friendly options to see how a new set of blinds can reduce your home's energy usage and save you money. There are many attractive and affordable options out there. The added advantage is that many of these blinds do a great job of keeping your bedroom dark on even the sunniest mornings. You might also look into blinds that are made from more eco-friendly materials. Manufacturers sell blinds made from bamboo, woven reeds and grasses, and fabrics that are not made with petroleum products. These products may not be any easier to recycle, but at least you can feel better about your purchases when you make them. Or stick with reliable aluminum blinds that you know can find a good home at your local recycling center when you no longer want them.