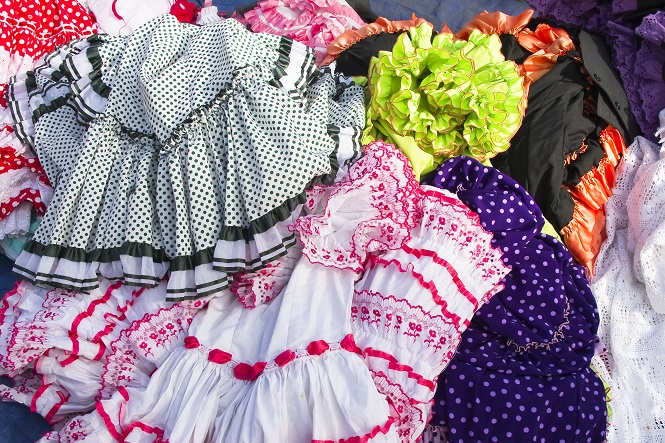 Halloween costumes are a big deal in the United States. The
National Retail Federation
does an annual survey to measure consumer spending around Halloween. Its 2014 survey found more than two-thirds of Americans planned to buy costumes. Of the $2.8 billion people were expected to spend on costumes, $1.4 billion was for adult costumes, $1.1 billion was for children's costumes and $350 million was for the ever-growing category of pet costumes. With all these Halloween costumes floating around, it seems like someone would have come up with a good way to recycle them. But that is not the case. Clothing and textiles are notoriously hard to recycle, and Halloween costumes are no exception. They are often made with low-value materials like polyester so they will remain cheap for buyers. In addition, they often have a mix of materials (including feathers, fake hair and plastic adornments), making them even harder to recycle. But not all hope is lost. People who want to do the green thing after Halloween can sell or otherwise reuse costumes in good shape. You might also consider buying or making a Halloween costume with easy-to-reuse items.
Why should you recycle Halloween costumes?
There are many reasons to recycle Halloween costumes. From an environmental perspective, Halloween costumes that go in the trash will sit in a landfill for a very long time. Polyester costumes are made from petroleum products, meaning they will not decompose. Even cotton costumes are unlikely to break down in landfills in a short period of time. Since Halloween costumes are so popular, chances are someone else will want your Halloween costume. Why make them purchase a brand-new costume made from brand-new materials? Decreasing the amount of new stuff people have to buy is always a great thing to do for the environment. If you can sell your Halloween costume, you can earn back some of the money you spent on it. That will help your family budget.
How to reuse Halloween costumes
The easiest way to reuse your Halloween costume is to donate it or sell it. Halloween costumes are big business for thrift stores. As long as your costume is in good shape, they should be happy to take it off your hands. That is true of adult costumes (as long as they are not
too
adult), children's costumes and pet costumes. Make sure you wash the costume before donating it. The vast majority of thrift stores do not have any way to wash clothing before placing it on racks. You can try selling your Halloween costume on a site like Craigslist. It is a great destination for people seeking inexpensive "fancy dress" outfits. Remember that you may be able to sell Halloween costume accessories, such as fake axes or swords, online as well. Another option is to see if you can swap Halloween costumes with a friend. If your pal is the same size as you, you can rock her witch or superhero costume the following year. If your kids are sick of their clown or cowboy/cowgirl costumes, your nieces or nephews may be happy to wear it in the future. Some communities organize costume swaps where residents can exchange Halloween costumes. This
costume swap in Franklin, Indiana
, or
this one at Ohio University in Athens
can serve as a template if you are interested in planning a similar event in your area. If you would like to see your children's old Halloween costumes go to kids who cannot afford them, you can donate your costume to an organization like
'Ween Dream
. You can mail new and gently used Halloween costumes to it at any point throughout the year, and the organization will distribute them to people who need them. Would a local high school drama department be interested in part or all of your Halloween costume? Old-fashioned dresses, zoot suits, wigs and props may come in handy for plays and musicals. If you have a pet costume you want to get rid of, check with a local animal shelter. It might organize a pet parade or other event where your costume could come in handy.
How to make a Halloween costume from recycled materials
You can make Halloween costumes from all kinds of recyclable or reusable materials. Inhabitat suggests
eight costumes that can be constructed from cardboard boxes
. Make a hat, halo or body wrap out of tinfoil. String together plastic bottles to make yourself a jellyfish or
octopus
costume. Turn yourself into a Christmas tree by wrapping yourself in holiday lights. Pinterest and other websites abound with
ideas for costumes
you can make from recycled materials. You can make them with materials you already have at home, clothes you can buy at thrift stores and a little ingenuity. You may even have everyday clothes that can employed in your Halloween costume. This year my daughter is dressing up as a scarecrow. I bought her a boy's flannel shirt, a pair of corduroy pants, a sash and a hat. I fully expect to add the first two items to her regular wardrobe after Halloween. Some people predict that
Kim Davis, the Kentucky county clerk
who denied marriage licenses to gay and lesbian couples, will be among the most popular Halloween costumes this year. That will not require an over-the-top outfit. Or put on a favorite dress or suit with some scary makeup and tell people you died on the way to the prom. Or you can wear anything you want and use the famous Wednesday Addams line: "I am a serial killer. They look just like everyone else."