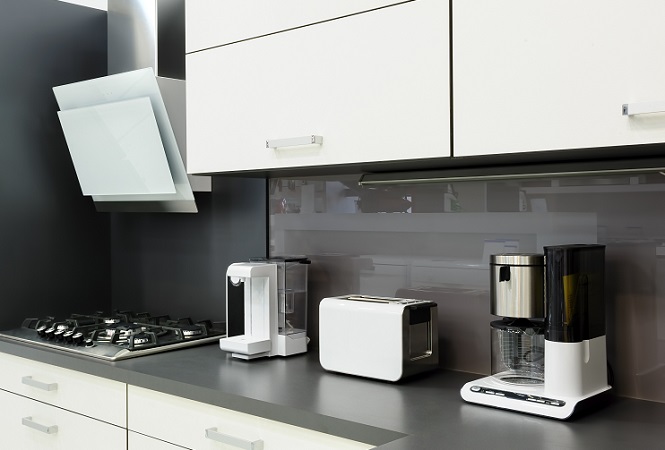 How many small appliances do you own? I did a quick count of the items in my house and came up with 15. I use a toaster nearly every day, but I also own a rice cooker, two mixers, a food processor and several other kitchen appliances. We keep an iron for clothes in the hall closet, and we have electric toothbrushes in the bathroom. Even though I love small appliances, I hesitate to buy more of them because they are so difficult to recycle. Unlike major appliances, which are mostly metal with a few other items mixed in, small appliances are complex machines made up of a variety of parts. They are also small, which means even if they contain metal, there is not much value to them. Can you recycle small appliances? It depends on the appliance and the recycling programs available in your community. Chances are that you can recycle some part of your small appliance if you are willing to disassemble it. But if your small appliance is still working, the easier alternative may be to get it to someone who can reuse it.
Recycle small appliances made by Hamilton Beach
Hamilton Beach
is one of very few manufacturers that offers a take-back program for its small appliances. To return a non-working Hamilton Beach appliance, mail it to the address listed on the company's website. There is no charge to recycle your small appliance, although you will have to pay the cost of postage. Hamilton Beach sells a wide variety of small appliances, including mixers, blenders, coffeemakers, electric kettles, juicers, food processors, deep fryers, electric grills and griddles, popcorn poppers, slow cookers, rice cookers, toasters, ice cream makers, toaster ovens and irons. The next time you are in the market for one of these items, consider buying it from Hamilton Beach knowing that you can recycle the appliance at the end of its usable life.
How to recycle coffeemakers
Seattle Coffee Gear
has an espresso machine recycling program. They also accept espresso grinders for recycling. They take each machine apart and pull out all the parts that can be recycled. Everything else goes in the trash, but it tries to minimize what goes to landfills as much as possible. People interested in learning about its recycling program should email the company for details.
How to recycle slow cooker crocks
Slow cookers are tough to recycle. However, the
San Francisco Chronicle points out
that the sturdy ceramic crocks inside slow cookers can be reused in a variety of ways. They make nice planters. You can use them as serving dishes, pet bowls or storage containers. My favorite idea was to use them as fermentation crocks when making things like pickles, kimchee or sauerkraut. When our slow cooker broke recently, we bought an identical one and kept the crock from our old one. If the crock or lid from our new one ever breaks, we will have a backup. We can also use the second one if the main one is dirty or holding leftovers.
How to recycle other small appliances
It is unlikely that you will be able to place small appliances in your curbside recycling bin for recycling. However, you may be able to take them to a recycling center. Any community with a permanent electronics recycling collection center can take small appliances for recycling. You may think of these centers as the place to take goods like computers, printers and televisions. However, most can take just about anything that runs on batteries or has a power cord. Check with your local e-waste recycling center for more details. If your town does not have an e-waste collection center, it may offer other e-waste recycling solutions. Many solid waste districts schedule special collection events at various times throughout the year. Nonprofits, churches and schools may sponsor e-waste collection days. Check with private businesses to see if they offer electronic recycling services. If nothing else, you can increase your ability to recycle some small appliances by deconstructing them.
Power cords
are fairly easy to recycle if you can find a place that takes them (like a local metal recycler). They are also fairly easy to remove. All you need is a strong pair of wire cutters. If your appliance has pieces that are mostly metal, you can check with your local recycling company and see if you can place them in its metal recycling bin. Some examples are mixing bowls, the beaters from mixers, toasters and the cooking pans from rice cookers.
How to reuse small appliances
If your small appliances are still working, consider donating them to a thrift store, selling them at a garage sale or putting them on Craigslist. Plenty of people are looking for good deals on small appliances and are happy to buy secondhand. That is especially true if you have a high-value item like an expensive espresso machine, a Vitamix blender or a Kitchenaide stand mixer. Depending on the type of small appliance you are looking to get rid of, you might also be able to donate it to a charity that can use it rather than selling it. Cooking programs for youth might be interested in things like mixers, blenders and food processors. Small homeless shelters might appreciate items like toasters, coffeemakers and electric kettles. If your item no longer works, consider looking for a volunteer-run program that will help you repair it. In my community, the Repair2Reuse Café attends fairs and festivals to help people fix juicers, griddles, ice cream makers and other small appliances. Reusing these items will save you the cost of having to buy a new appliance. It can also save your item from an eternity in a landfill.