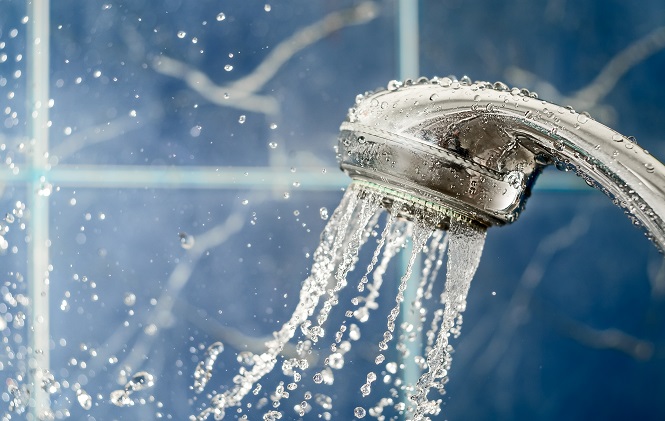 Good news, we've finally made it to The Future (aka the present). Controlling the home's lighting, heating, cooling, cooking devices and cleaning bots are no longer the wild initial visions of Walt Disney's
Experimental Prototype Community of Tomorrow
(you may know it as EPCOT), the quirky setting for The Jetsons or the optimistic visions from mid-20th century science fiction. Smart, integrated homes are now part of our common lexicon. So it makes sense to apply the smart device concept to water conservation, especially in the shower.
Annual droughts don't seem to be going away
any time soon, and the average shower uses 15-25 gallons of water for a five-minute shower, with 40 gallons being used in 10 minutes. The average bath
requires 37 gallons of water
. Luckily, there are plenty of ways to control water usage in the shower.
EvaDrop Smart Shower
The current device that is all the rage is the
EvaDrop
, which claims to save 50 percent of a home's water consumption by controlling shower water usage. Everyone cannot get enough of this thing, with it being featured across all the major media outlets. It's with good reason, and why it bears mentioning here. The device saves water, but not in the low-pressure, sad way that water-saving showerheads of old would. The sensor system adjusts water based on individual needs. It can tell if you're near the shower using the water, and then will blast the water at 100 percent. While you step away and are shampooing, it gives an 80 percent flow. It gives a 70 percent flow for messing with soap, and it adjusts to a 40 percent flow when you're farthest from the showerhead doing an activity like shaving. The device also shuts off water flow once you get to your desired temperature so that you don't waste water before you get into the shower. It even notifies you when the shower is ready. There is also a timer to tell you when you're taking too long in the shower. It's controlled via a smartphone app so users can adjust it to fit a variety of shower types and preferences. You can install it easily between the wall and the showerhead, no wall-cutting and heavy remodeling required. The device even encourages social participation for change. You can track usage changes with others and monitor water usage over the whole EvaDrop community, if you want. Think of it like a group-based weight loss challenge. The Indiegogo page currently states that the company is pushing to start shipping the product in December of this year. It's currently selling for a $109 late bird special rate, although one will run around $149 without shipping.
e-Shower/ Nebia showerheads
These devices are more of an install-it-and-forget-about-it model. They require no energy outputs. According to
Nebia's site
, its device works by their H2MICRO™ technology, which "atomizes water into millions of droplets to create 10 times more surface area than a regular shower. More water comes in contact with your body leaving your skin feeling clean and hydrated." This product is currently available for pre-order. The
e-Shower
works by drawing air into the system, creating turbulence in the water. That creates nanobubbles in the water, which is supposed to save water by 70 percent. This product was also successfully funded and is now available for pre-order.
Amphiro Smart Meter for Shower
You can also invest in a simple water meter that will measure energy usage specifically in the shower. A device like the
Amphiro Smart Meter
has a digital display showing energy consumption, water temperature, energy efficiency and water consumption. It requires no tools to install and fits with any handheld showerhead. Sometimes, all it takes is that objective reminder to reduce your water consumption. If smart devices aren't in your immediate future due to cost or technology preferences, make sure to look for showerheads that still save.
EPA's WaterSense Program
For saving water in the shower, try looking for the popular labeling method promoted by the EPA. When shopping for showerheads, make sure to watch for the
WaterSense label
. Products with this label have been subjected to rigorous performance criteria so that you can save water while getting a great shower experience. According to the WaterSense program, "The average household could save more than 2,300 gallons per year by installing WaterSense labeled showerheads… If every household in the United States installed WaterSense labeled showerheads, we could save more than $1.5 billion in water utility bills and more than 250 billion gallons of water annually, which could supply more than 2.5 million U.S. homes with their water needs for a year. In addition, we could avoid about $2.5 billion in energy costs for heating water." And even if you're going for the smart devices, it certainly doesn't hurt to start with a decent water-saving showerhead.