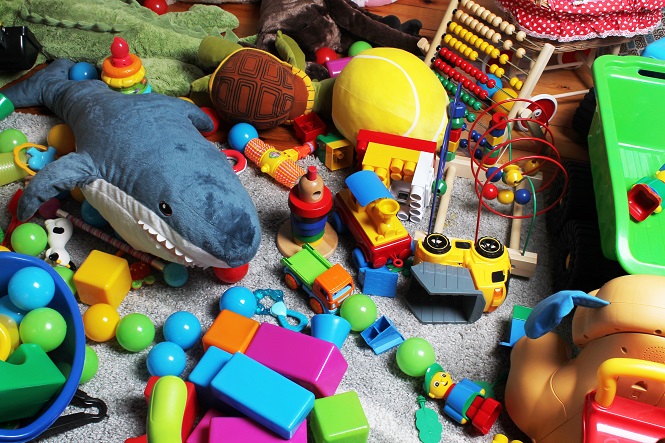 Everyone was a child at one point in their life – or maybe they still are. What that often means is a mountain of toys, some of which haven't been played with in eons. When sorting out old toys, organize into three piles: keep, donate and upcycle! This will help teach your family the power of sharing when they donate and upcycling when using toys to DIY. Try one of these ways to reuse old toys today.
Rubber Ducky Succulent Planters
Have a few extra rubber duckies lay around? Give them a new purpose by turning them into small succulent planters! Use an X-acto knife to carefully cut out the backs of the ducks, from behind the head to the tail. If you have a dremel tool, use it to gently sand the opening. Fill the cavity with soil and a small succulent plant. Ta-da! Talk about a creative upcycle. This project can also be done with old plastic dinosaurs or other rubber/plastic tools. See the full directions
here
.
Toy Animal Snow Globes
Maybe that teething toy giraffe or plastic dinosaur has run its course – keep the memories alive by turning them into glitter snow globes! After collecting your animal figures, grab a mason jar and waterproof super glue or epoxy. Attach the animal to the inside of the lid using the waterproof adhesive and allow to dry. Fill the glass jar almost to the top, and then add a few drops of glycerin and some glitter. Use the adhesive to secure the jar lid to the jar – allow to dry before turning over and shaking up the snow! See full instructions
here
.
Crayon Candles
Any family with children have dozens of broken crayons here and there. Transform these wasted sticks of wax into cool candles! Gather all of the broken or nearly finished crayons from around the house, candle wax and wicks, Dixie cups, popsicle sticks and glass votive candle holders – small mason jars or juice glasses work fine. Remove any leftover paper from the crayons. Then, fill a Dixie cup with wax and microwave for around one minute. Ensure all of the wax is fully melted, then pour a thin layer of the wax into the bottom of each votive and place the candle wick in the center. Once the wax has hardened, begin melting the crayons by color in Dixie cups. Let cool for about a minute and then pour into the votive holders. Let dry for around half an hour and repeat with remaining colors. See the full step-by-step guide
here
.
Race Car Mirror
Plenty of kids own a random assortment of small race cars, from Hot Wheels to Micro Machines. While most people grow out of their fondness for racing these cars around the rug, they may still bring back fond memories. By creating a
mirror frame with classic cars
, the toys can be immortalized in a mature manner. Grab an oval-shaped mirror and enough toy cars to frame it. Spray paint them gold or another fun color, then let dry. After this, arrange them around the mirror and attach with super glue. Hang proudly and let those memories live!
Pool Noodle Garlands
Kids of all ages love pool noodles – the always fun and affordable toy makes swim time and beyond a blast. Most families have at least a few pool noodles that could use replacing, but remember, the old ones can still be enjoyed. Craft
pool noodle garlands
using two pool noodles (try to find ones in fun shapes), fishing line and beads. Begin by using a serrated knife to slice the noodles into two-inch thick pieces. Thread the pieces together with the beads, ensuring you have a couple of base beads at the bottom. Use beads between noodle pieces for a jazzy touch, leaving about six inches to create a hanging loop. The result is a fun garland that is perfect for patios and pools alike.
Toy Wreath
A great way to commemorate favorite toys of yesteryear is by creating a wreath featuring all of the classics that want to be remembered. Pick up a foam wreath at a craft store and then gather toys that are considered important. Involve your kids by letting them choose pieces they've grown out of yet still feel sentimental about. Arrange the toys on the wreath and attach with a permanent adhesive. The toys may be spray-painted or left as is – artist's choice.
LEGO Kitchen Utensil Holder
Everyone loves LEGOs – they're fun and versatile – and while nowadays the majority of LEGOs come in sets, random blocks can always be found. Involve the entire family in creating utensil holders for the kitchen and beyond. Build a large rectangular structure with a hollow inside for the utensils. Feel free to super-glue the blocks together in order to ensure a sturdy holder. This post from
the kitchn
will help to inspire your inner-child.