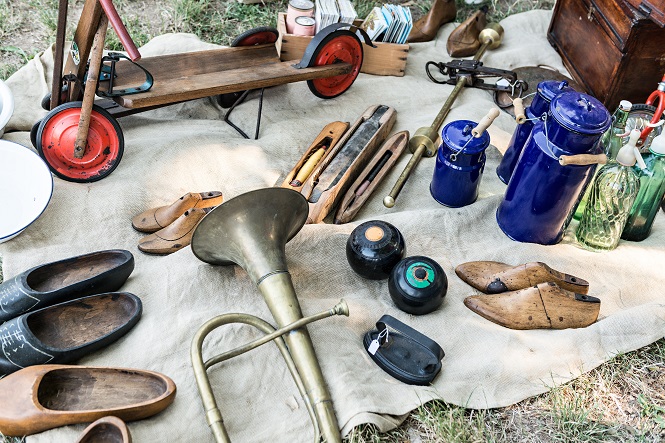 Nearly every family has this situation: detritus floating down the generations, mooring in basements and closets. Some of the items are cherished, like an old family necklace that generations of women wore on their wedding day. Other items are bulky, tacky and musty, like that chest of mothballs that once contained dresses, possibly. And the fact of the matter is that we just don't value family heirlooms and antiques the way we used to. The
Wall Street Journal
ran an article on why no one wants heirlooms and secondhand furniture, for instance. People would rather buy cheap, light furniture from Ikea instead of having to lug around bulky, large furniture with dated designs. The furniture industry even has a name for those pieces: "brown furniture." The article included a woman who wanted to downsize all her possessions so she could move into an apartment in the city. She commented on how tedious the project was and at one point just dialed a service to throw her unwanted possessions into a dumpster. "It made me feel terrible," the woman told The Wall Street Journal. "I should have been able to give them away to someone who needs them." Despite the turning tides against heirlooms, especially furniture, the process of getting rid of your old junk doesn't have to be tedious, time-consuming or wasteful. Below are plenty of ideas that will be easy, fun or both.
Donate your junk
When in doubt,
freecycle.org
. You post your item and give it to others for no charge. You join local groups, which are moderated by people within your community. The group runs a robust service with over 9 million users around the world and 5,270 groups. You can also give your items to basic resell stores like Goodwill. There are also Planet Aid drop-off boxes, Purple Heart, Rawhide, Habitat for Humanity Re-use Stores, etc. A lot of groups will take your stuff if you remember where to look. Many of these services will also come and get bulkier items if you schedule a pick-up.
Give your stuff to charities
There's probably a hidden market in your area of people just clamoring for free stuff: charities and nonprofits. Find a cause you support, call up the corresponding nonprofit and see what stuff it could use. Many may need items for their offices or other operations. Or they may know how to give the items away on your behalf, as is the case with many organizations that give to the needy.
Have a garage sale
If you have a free weekend, garage sales are still popular. Even if large, bulky items aren't all the rage, collectors may be out looking for antique items. Or someone could just want that old end table for $5. And who knows? Maybe someone would really take that old, bulky trunk. The only thing you really have to lose is time, and you could end up making some side cash while you're at it.
See if the recycling center will take it
Whatever you do, don't dumpster your old stuff. Check to see if your local recycling center will take bulky furniture. Some cities have a bulk pick-up date, some require you to schedule a pick-up and others require you to drop off your items. You can find a searchable directory for local recycling centers
here
.
Sell your items
Smaller items like antique collectibles could potentially be worth something. You never know. There is a wide array of ways to sell your items. There are auctions, online retailers like eBay, antique stores or private sales through a broker. You can find a good article outlining the pros and cons of each
here
. If you do make some money, a great idea may be to give some of that money to a charity, since it might not have been money you were figuring you'd get anyway.
Find a new way to display heirlooms
There are dozens and dozens of ways to display old family heirlooms. This method will also force you to keep just what you want to display so you can recycle the rest. One of the best display methods is to get a shadowbox and arrange the items in an attractive fashion. Memo boards could work if most of the items are flat, or a smaller photo book could work as well.
Upcycle your antiques and heirlooms
If you're creative enough, there's a new use for anything. Have an old toy truck? Make a
planter
. There's also this
rolling pin towel holder
and this
fall decoration vintage rake
. Those are just a few basic ideas. Here are some general ideas for common types of antiques:
Furniture
Have some outdated furniture? If the base is still in good shape, consider getting it reupholstered. You can choose patterns that are more modern or to your tastes. After all, the shape of a couch is generally the shape of a couch. It's usually the upholstery that's the problem. Also, don't be afraid to get creative with some paint and wallpaper, like in this project
here
. An old bedside table was transformed into a funky bright blue piece with a textured interior.
Suitcases/trunks
Suitcases are wonderfully versatile items in the upcycling world. I've seen
suitcase cabinets
,
suitcase shelving
and
suitcase tables
.
Jewelry
Old jewelry can be literal and figurative gems. If you're not emotionally attached to the item, simply take it apart and use the beads and gems in craft projects. Make brand
new necklaces
. Sew a vintage broach to a new dress design. Glue the old vintage jewelry pieces to a picture frame and put a picture in the frame of the person who owned the jewelry.
Photos
It's common to end up with dozens of old, bulky photo albums. Of all the antique items, these are the ones most worth keeping. But what happens when you don't know who is in the vast majority of the pictures anymore and neither does anyone else because the album is just that old? If you're really trying to save room, at that point it may be worth salvaging the pictures of people you do recognize and recycling the rest. The salvaged pictures could be put in some custom frames, placed into a creative scrapbook or even decoupaged to something meaningful that person kept, like an old journal.
Chinaware
Old fine china doesn't have to just take up space on a shelf. Add new, oddball designs to them like these
bug plates
or make a
vintage cake stand
.
Clothes
Upcycle projects for old clothing runs the gamut. You can find some interesting tutorials
here
.