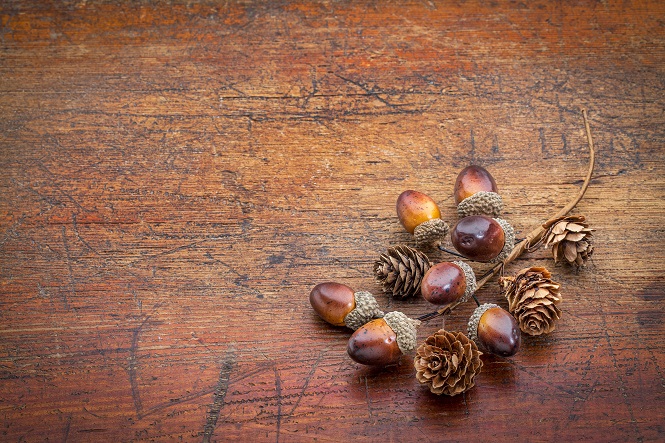 Fall is upon us, and along with changing leaves and frosty mornings comes an overflow of acorns. While these tiny tree nuts are an essential symbol of autumn, they may become a nuisance for folks tired of them littering the yard. Instead of being crabby, get crafty and turn those acorns into something fun! Try one of these creative ways to use them.
Acorn Shadowbox
Shadowboxes are uber-hip and this seasonal box will be
the perfect addition to your festive home
. Gather some larger acorns from the yard or pick some wooden ones up at a craft store. Paint the shadowbox and acorns in colors of your choosing – use a piece of scrapbooking paper to make the back of the box pop. Once everything is dry, attach the acorns inside with hot glue, and that's it!
Autumn Boxes
If you have some plain wooden or paper boxes, you can jazz them up by adding acorn caps! Take some acorns and polish them with butcher's wax, if you want extra shine. Drill a 1/8-inch hole on the side of the acorn and another matching one through the lid of the box. Line up the two holes and fasten the acorn on with a ½-inch brass screw. Now your home décor will be right in line with the season, and you didn't spend a dime. See this
Martha Stewart story
for more.
Glittered Acorn Wreath
Want to add some autumn glam to your front door? Build your own
glittered acorn wreath
! Begin by gathering around 50 acorns – rinse them off and bake at 350 degrees for 20 minutes. While the acorns are cooling, grab some wire – you can always remove a layer from an existing wire wreath form. Drill small holes through the sides of each acorn and begin stringing through the wire ring. Use a pair of pliers to bend the ends of the wire to make hooks and then attach to each other to complete the ring. Once the wreath is done, apply a small dab of white glue to the tip of each acorn and sprinkle glitter on top. Tie a burlap bow on the top and you're done!
Acorn Mason Jar Votive
It wouldn't be fall without the glow of candles offering warmth and light as the days get shorter. Make a festive display using a mason jar, acorns, a clear glass votive holder and an electric tea light. Place the tea light into glass votive and put inside of the mason jar. Surround the votive with acorns, stacking them evenly in layers so that they hide candle. Light it up, place on the mantle and enjoy the spirit of the season.
Acorn Vase
Want to bring new life into an old vase or coffee can? Decorate it with acorns for a fun fall look in your home. Feel free to paint the vase first to match the acorns. Attach the acorns one by one using hot glue, ensuring they all fit – it's kind of like a puzzle. Also, make sure none of the acorns extend below the bottom of the vase or it may tip over. Add some festive flowers and show it off.