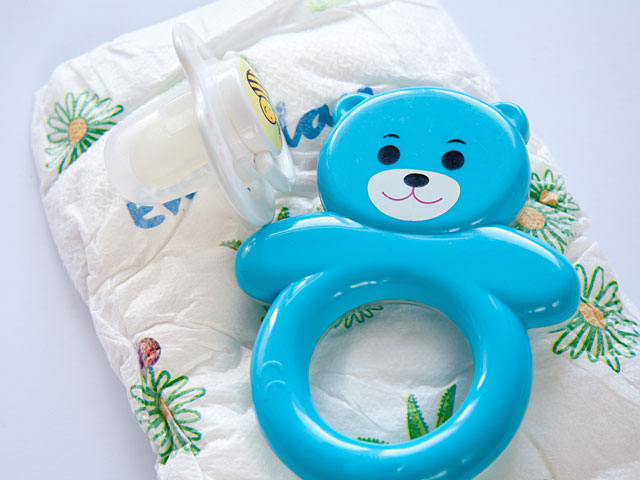 When it comes to eco-friendly products, assorted images likely cross your mind — cleaning solutions and clothing seem to be the most popular — but here's a fun fact: There are environmentally-minded companies bringing baby products to the marketplace.
This is a worthy tidbit of information for new and expecting parents, in addition to adults who just plain enjoy spoiling children. (Trying to be ultra-cool and popular with my niece and nephews, "Uncle Dave" falls into the latter category.)
Some of these earth-friendly products are innovative and eye-catching. But it is also worth noting they are the result of a conservation-minded approach — and, of course, a dash of creativity tossed in for good measure.
Below are five ways companies are making products that are not only kind to the youngest members of society, but to the planet as a whole:
1. A milk jug can be transformed into a child's toy.
As this article on the blog site Inhabitots points out, Green Toys was established on the premise of recycling old plastic milk containers and using the repurposed materials to create toys tots most certainly will enjoy!
The age-old saying about one person's trash being another person's treasure definitely holds true in this instance. Some of Green Toys' products include a mock tea set and, if you want to go all out, a full-fledged cookware and dining set. Some of the company's other products include a sandbox play set and an indoor gardening kit.
2. There's an opportunity to deal with that crappy situation in an eco-friendly way.
One of the most obvious ways of going green (in the environmental sense!) comes as you make diaper-related decisions for your young one. Traditional disposable diapers might reduce the unpleasant aspect of what obviously is one of the most selfless acts of caring for a young one.
But as this article in Parents magazine aptly points out, "Disposable diapers are a mom's best friend, and one of the earth's worst enemies." Citing a statistic from the Clean Air Council, the authors at Parents point out Americans on any given day toss 49 million diapers in the trash. Yikes!
Cloth diapers were long ago mentioned as one eco-friendly option, though they have lost favor with some consumers because the intensive clean-up effort that typically ensues. The Parents article points out a series of less messy, more eco-friendly diaper options that either reduce or eliminate the chemicals frequently found in traditional disposable diapers.
The list of alternatives includes Earth's Best Organic, which contain such natural materials as corn and wheat; Seventh Generation, which is made from a chlorine-free wood pulp and nontoxic absorbent gel; and Nature BabyCare, which contains 70 percent natural ingredients.
3. There is a 'formula' for being a good steward of the environment.
For very obvious reasons, the quality and healthfulness of infant formula is incredibly important for mothers who choose not to or are unable to breastfeed their baby. Various studies have been conducted on the quality of formula over the years, and there have been assertions traditional formulas are not as healthy as once thought.
To avoid formulas laden with such ingredients as lactose, high fructose corn syrup, glucose and maltodextrose (all used to sweeten various infant formula products), consider an organic substitute.
"Choose powdered formula over liquid formula to avoid the possibility of finding BPA (Bisphenol A) in your baby's food," Maryruth Belsey Priebe at Ecolife writes. "Look for certified organic formulas, such as those with the USDA Organic logo."
In her write-up, Belsey Priebe points to several companies specializing in selling certified organic infant formula: Bright Beginnings, Parent's Choice and Similac Advance.
4. You can 'wipe' away baby purchases that are less-than-kind to the environment.
This is a companion to No. 2 on the list. Baby wipes, of course, are used as an accompaniment to diapers when it's time to clean a certain area that is prone to getting messy. Unfortunately, chemical-laden wipes do not degrade all that quickly — a point that's become an issue in some municipalities' sewer systems. (In 2013, I wrote about one suburban Milwaukee community dealing with this issue.)
This article on the website Gimme the Good Stuff looks at some of the eco-friendly baby wipe alternatives. Cloth rags are one option — in fact, they are the best option! — but like their diaper counterpart, the clean-up effort is just as unpleasant.
As awareness of the lack biodegradability has become more widespread, manufacturers have begun taking note. A sampling of some earth-friendly alternatives includes Bum Boosa Bamboo Baby Wipes, Jackson Reece Herbal and Biodegradable Wipes and Water Wipes.
5. You can make a fashion statement that says you care about the planet.
As is the case with clothing for children and adults, there are plenty of earth-friendly options for dressing your toddler — a point laid out succinctly by the folks at One Green Planet.
The website's authors make this note: Deciding what we put on our backs is one of the most important decisions from a chemical ingestion standpoint. "Often, we forget that after food, clothing is one of our biggest sources of exposure to chemicals and pesticides," the authors of One Green Planet write. "Dozens of different chemicals and pesticides are used to grow crops like cotton."
A growing number of entrepreneurial outfits (no pun intended) are sprouting up to serve parents and other adults interested in purchasing environmentally responsible clothing for infants and children.
Piggy Pajamas, a clothing and bedding line devoted to nightware, is made with 100-percent pure organic cotton and lacks the toxic chemicals that are found in some traditional items.
Another mainstay in this particular market segment is Positively Organic Baby Clothes, which takes its mission statement to the next level by touting a promise all of its products are made by sweatshop free labor.