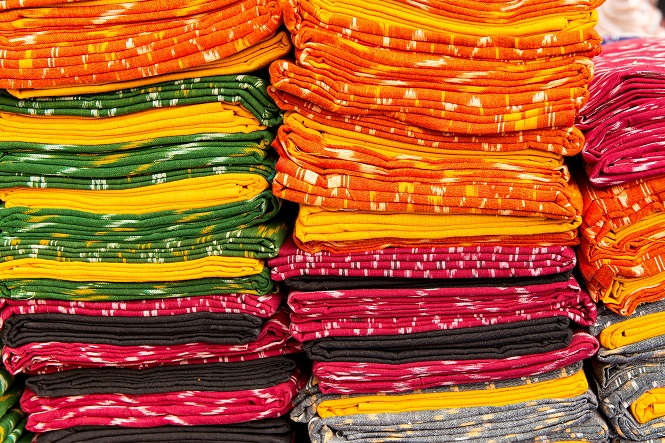 Did you know that according to the
Council for Textile Recycling
(CTR), the average American throws away 70 pounds of clothing and other textiles every year? This clothing nearly always ends up in landfills, which the EPA estimates to occupy nearly
5 percent of all landfill space
. Most people don't realize there are ways textiles can be reused or recycled. Fortunately, where there's a will, there's a way.
Donate
The majority of Americans who wish to clean out their closets often end up donating or re-selling any pieces they find that are still in good condition. Organizations such as
The Epilepsy Foundation
or
Goodwill-Easter Seals
are prevalent in most communities, giving citizens the chance to do a little good with their unwanted clothing. Some groups sort and resell donated items in their own stores, while others sell the textiles to processing companies in order to fundraise. Items that may not be fit to sell could still be of good use in countries marred by poverty.
Re-using
For fabric items that are worn, stained or otherwise unwearable, there could still be a bit of life in those fibers. Old towels make perfect cleaning rags when cut into squares while a stained, oversized shirt is handy when doing any sort of painting or other messy activities. Even tattered denim can be turned into a
soft baby book
or a
cool snack bag
. Think outside of the box before tossing out fabric – check out
this article from Good Housekeeping
featuring some interesting ways to re-purpose unwanted textiles. Bonus points for including your family, as you will be modeling sustainability and creativity.
Recycling
While it may seem odd, it actually
is
possible to recycle many types of fabrics. The Council for Textile Recycling (CTR) is a nonprofit organization dedicated to keeping clothes, shoes and other fabrics out of landfills. The group's goal is to achieve zero-textile waste going to landfills by the year 2037. Doing so takes great efforts to raise awareness of the issue and connect cities with fabric recycling processors. Due to the increased knowledge on the potentials of textile recycling, more and more municipalities are beginning to allow fabric materials to be thrown into the blue bin right alongside the glass jars and plastic milk jugs. The textile recycling process is much like other materials – fabrics are sorted by type, and their destiny becomes clear. This
infographic
shows where the items you recycled go; nearly half of the clothing, shoes and other materials end up being sent overseas in order to help those in dire need of these things. The rest is shredded and mixed with other fibers to create new items such as carpet padding and home insulation. By the end, only 5 percent of the recycled fabrics end up as waste.
How Consumers Can Help
There are lots of different ways to promote fabric recycling. Begin by sorting through any and all clothing, linens and other fabrics in your home that are unwanted. Check to see if your municipality or recycling provider allows the collection of textiles. If not, search for a donation spot. Don't forget to be creative and see if any of these materials could be of use to you, albeit in a different way than originally intended. Nearly anything can be turned into something else – see
this website
for some inspiration.