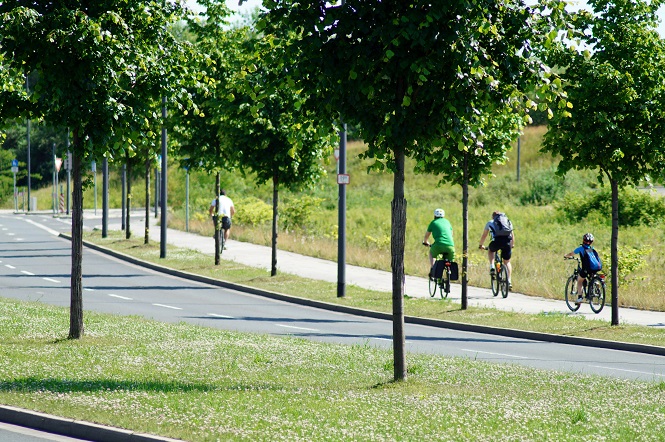 When it comes to climate change, major metropolitan areas are often a large source of greenhouse gases. Emissions from cars and buses, high energy needs, and concerns about air quality are only some of the sustainability issues large cities face. Luckily, several major cities across the country are fighting back, pushing for reduced greenhouse gas emissions, increases in recycling and compost and other ambitious sustainability goals. Here are five unique U.S. cities fighting climate change.
Atlanta, Georgia
This southern metropolitan area is home to nearly half a million people and is a beacon in the region's fight against global warming. The
Atlanta Office of Sustainability
recently introduced a citywide initiative called
Power to Change
. The program developed a basis for measurable sustainability action focusing on 10 unique impact areas, including materials management, energy efficient and water management. Since the initiative's introduction, the city has improved its energy efficiency but still lags on recycling. Atlanta hopes to achieve a 90 percent waste-to-landfill rate by the year 2020. This may be a bit challenging, though, as the city currently has a 30 percent recycling participation rate, four points less than the national average.
Boulder, Colorado
Boulder is a beautiful city surrounded by gorgeous mountains and lush trees. However, this bustling burg also gets
70 percent of its electricity
from the burning of coal. Concerned about the environmental risks associated with coal-burning plants, the city adopted a
unique carbon tax
on the use of fossil fuels for electricity. This first-of-its-kind policy encourages homeowners and businesses to switch to sustainable energy sources. Boulder currently receives around $1.8 million annually, with funds going to implementing the
Boulder Climate Action Plan
. The plan is a set of city-funded services designed to fight climate change by reducing greenhouse gas emissions, promoting recycling programs and other sustainability-related goals.
Chicago, Illinois
The great city of Chicago is known by most as the "Windy City," but did you know its official motto is actually "City in a Garden?" This picture-perfect description is what Chicago is striving to embody. Mayor Rahm Emanuel launched
Sustainable Chicago 2015
, a citywide sustainability initiative, which is organized into seven categories related to sustainability, including clean energy, water and wastewater, economic development and, of course, climate change. According to Emanuel, "A sustainable Chicago is a city that spends less on energy use with each passing year, creates good-paying jobs in up-and-coming industries, responsibly maintains and upgrades its infrastructure and ensures every Chicagoan has the opportunity to live a healthy and active lifestyle."
Minneapolis, Minnesota
Considered one of the most bike-friendly cities in the nation – there are
over 160 miles of bikeways
– Minneapolis has long been a leader in health and sustainability efforts. Former Mayor Rybak invested hundreds of thousands of dollars in the city's water initiatives.
TAP MPLS
is a recently-introduced city initiative aimed to increase the number of citizens drinking tap water. Its website states that producing bottled water requires nearly 17 million barrels of oil per year. The initiative promotes the notion that using tap water is a greener way to quench your thirst!
Washington, D.C.
When most people think of our nation's capital, images of the White House, Congress and lots of memorials often manifest. But the District of Columbia is not
all
about government – the city is also a pioneer in the fight against climate change. Launched in 2012,
Sustainable DC
is a citywide initiative focusing on four major challenges – jobs and the economy, health and wellness, equity and diversity, and climate and environment. It offers seven unique solutions to these challenges, most of which are focused on energy, food, waste and water, and the built environment. Additionally, the District recently issued an updated
Climate Action Plan
, outlining measures to reduce emissions by 80 percent by the year 2050. While this goal may seem lofty, the District is confident it can make it happen.