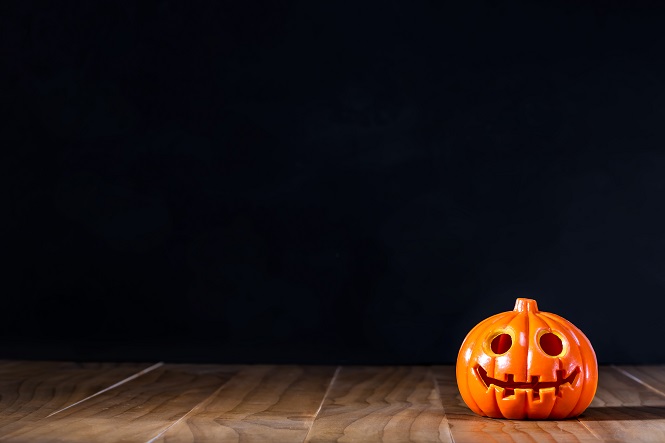 Americans are seriously into Halloween. The National Retail Federation (via
an article on CNN
) says U.S. consumers spent $6.9 billion on Halloween items in 2013 and were likely to spend closer to $7.4 billion in 2014. People spend most of their money on costumes and candy, but a chunk goes to Halloween decorations. Forty-six percent of Americans decorate their homes and yards for the holiday. The only holiday where decorating is more popular is Christmas. You have lots of options when it comes to choosing Halloween decorations: plastic statues, fake tombstones, inflatable ghouls and goblins for the yard, signs and wall hangings, even old-fashioned jack-o-lanterns. You have fewer options when it comes to recycling these items. We looked into how to recycle several common Halloween decorations. In almost all cases, reuse was actually a better option.
How to recycle jack-o-lanterns
One of the most popular Halloween decorations is a pumpkin carved into a jack-o-lantern. Small pumpkins, gourds and colorful ears of dried corn on the cob also make great holiday decorations. Jack-o-lanterns can be placed in your compost bin when you are finished with them. So can all other food items, although you can probably incorporate things like gourds into your Thanksgiving decorations as well. To make use of your entire pumpkin, try roasting the seeds soon after you scoop them out of the pumpkin. I like them with a little butter and seasoning salt, but you can try dozens of delicious recipes like these from
Serious Eats
.
How to recycle Halloween light strings
People seriously into Halloween decorations can buy all kinds of light strings (like those you would put on a Christmas tree) that are perfect for Halloween. There are lights with green, orange and purple LED bulbs. There are strings with light covers shaped like pumpkins, ghosts and candy corn. There are light strings shaped like spider webs with giant spiders in the middle of them. If the lights suddenly stop working, or you tire of them and want to get rid of them, you should be able to recycle them through one of the many companies that accept Christmas lights for recycling. Holiday LEDs and Christmas Light Source are a few examples. Their primary business is to sell new energy-efficient LED lights, but they also take back old Christmas lights.
How to recycle inflatable Halloween decorations
Or more appropriately, how not to recycle them. As far as I can tell, inflatable yard decorations cannot be recycled. They are typically made of nylon. The great thing about nylon is it's extremely durable and will keep your ghouls and zombies upright and waving at passersby no matter how hard it is raining. The bad thing about nylon is that it is very difficult to recycle. If your inflatable Halloween decorations are punctured or otherwise destroyed, plan to throw them in the trash. You might be able to recycle the fan and any other electronics through your local electronics recycling facility (use
RecycleNation's Recycle Search
tool to find an electronics recycler near you). If your inflatable Halloween decorations are still in worker order, try selling them on Craigslist or donating them to a thrift store.
How to recycle plastic Halloween decorations
There are many great-looking Halloween decorations made from plastic, such as skeletons or bones that can hang from your ceiling or door; witches with waving arms and cackling voices thanks to battery packs; orange plastic pumpkins for holding Halloween candy. But given their plastic composition, these items are very difficult to recycle. Throw in the fact that many of them also include bits of metal or textiles, and they get even harder to recycle. If they are not reusable, you will almost certainly need to place them in the trash. If you do that, make sure you remove any batteries first and recycle them (or better yet, use rechargeable batteries since alkaline batteries can be tricky to recycle). If any of your plastic Halloween decorations are reusable, consider donating them to a thrift store or selling them at a garage sale. Someone else is sure to love your light-up ghost statues or candy bowl with a hand that grabs at unsuspecting trick-or-treaters.
How to recycle wood, ceramic and glass Halloween decorations
These are all categories of products that are quite difficult to recycle as well. Wood can be recycled if it is untreated, but what are the chances your Halloween decorations will have no paint or varnish of any type on them? Put them in the trash or donate them when you are finished with them. Cute Halloween statues and figurines made of ceramic or glass are also unrecyclable. Ceramic cannot be recycled under any circumstance, and the only type of glass that can be recycled is bottle glass. See if you can find a way to reuse these items.