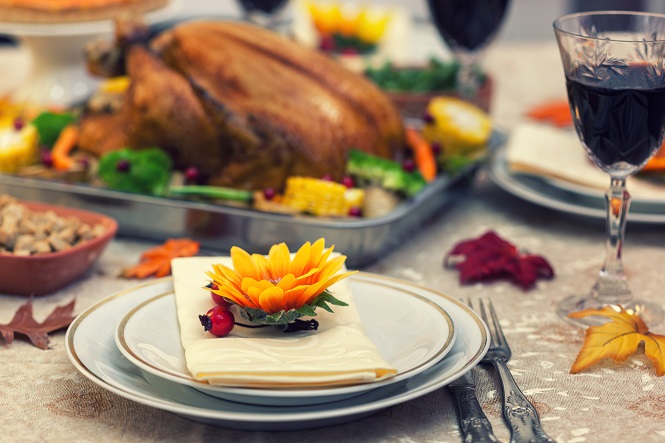 If you're hosting Thanksgiving for your friends and family, there's a good chance that you're going to have a lot of cleanup to do once the festivities are over. Furthermore, there are going to be plenty of leftovers to handle. How can you prevent Thanksgiving dinner remnants from going to waste? Luckily, you still have a couple of weeks before Turkey Day arrives. This means there are plenty of steps you can take to ensure you have the least wasteful Thanksgiving possible.
Tackling Your Guest List
How many family members do you have flying in from across the country? Are you inviting your neighbors or your close friends? Closely examining your guest list can be critical to reducing waste on Thanksgiving. When you over-buy for invited guests who don't show up, you're left with unused paper products and leftovers no one wants to eat. To make it easier on yourself, give your guests an R.S.V.P. date and politely ask for a response before the big day. In turn, you'll know exactly how much you need to buy before you set the table for too many people.
Turkey Talk
Knowing how many people will be coming to your event is helpful for turkey shopping. Instead of being left with huge portions of the bird at the end of dinner, you can shop for a smaller size, depending on how many guests R.S.V.P. However, there are additional steps you can take to make the star of Thanksgiving dinner a bit greener. Consider looking for a bird that doesn't come from an industrialized farm. Farming practices for industrially bred turkeys are usually harmful to the animals, according to
Huffington Post
. Birds that come from heritage farms may be your best bet, as they are typically free of artificial additives and supposedly tastier. Heritage farms usually breed turkeys over the course of decades and stay away from industrial practices that reduce the quality of life for the animals.
Going Vegetarian
If the thought of having a poorly treated turkey at Thanksgiving makes you sad, why not go vegetarian? You might even have some vegetarian or vegan guests coming to dinner, and a meat-free dish may cater to their palettes. Incorporating more vegetables into your Thanksgiving dinner is also an ideal way to give back to your local farming community. By making it a point to buy ingredients from local farmers, you can support producers in your area.
Trimming Your Shopping List
Once you have an idea of how many guests you need to serve, you can make adjustments to your food shopping list to reduce waste. However, waste doesn't just come in the form of leftovers that no one wants to take home. Sometimes, it can be ingredients that are used for one dish, then left to expire in a cabinet. When possible,
SustainableAmerica.org
recommends planning for recipes that require special ingredients. Make it a point to only buy what you need, and do a little research on how to preserve any unused remainders.
Preparing for Scraps
There is bound to be a heap of scraps once your Thanksgiving dinner comes to an end. Some of these items, such as bones or vegetable peelings, simply aren't worth including in your leftovers. However, this doesn't mean that they need to go to waste. Bones and peelings are ideal for making items, such as stock. You can also consider using some of your scraps for any compost you have going out in the yard. Whenever possible, try to think of ways to use inedible leftovers before immediately going for the trash bin. If you do not have a compost pile at home, visit
FindaComposter.com
to locate one in your area. This website has a directory of composters who are authorized to receive food waste when you don't have a composter of your own.
Tackling Leftovers
Most people look forward to Thanksgiving for the leftovers, so make sure you take advantage of the opportunity to send your guests home with any uneaten food. This is also the perfect time to get creative with leftovers and develop new meals. For instance, you can use stale bread to create your own croutons for salads. Mashed potatoes and broth can combine to create a hearty potato soup. Making new meals is ideal for people who especially don't like having Thanksgiving dinner all over again, days after the big event.
Recycling and Reducing Energy Use
If you're having numerous people over for Thanksgiving, you may already be thinking about how to reduce the cleanup. In turn, you might want to opt for disposable plates, cups, utensils and napkins. If this is the case, you'll want to be extra careful about what goes to waste come Thanksgiving Day. To improve your recycling efforts, you might want to assign a separate bin for disposable paper and plastic items. This will ensure your guests know where to throw away their used products once they've finished eating. If you're willing to brave the cleanup and utilize reusable cups, plates and utensils, don't skip the dishwasher. It may seem like hand-washing is the energy-saving way to go, but research has shown otherwise. A study released in 2012 found that hand-washing 12 place settings uses an average of 27 gallons of water and 2.5 kilowatt-hours of energy. A
dishwasher uses just four gallons of water
and 1 kWh of energy. However, some types of plates must be hand-washed so make sure to check to see if your dishes are dishwasher-safe. If you're afraid of food sticking to your dishes, give them a good scraping over the trash bin before you load them into the dishwasher. Try to avoid rinsing or soaking them to save water. Thanksgiving can be a wasteful holiday, but it doesn't have to end up this way. With a little preparation, you can ensure you go green on Turkey Day. Additionally, you may just be able to encourage some of your friends and family to be more eco-conscious around this time of the year. In the end, the environment (and turkeys) will thank you.