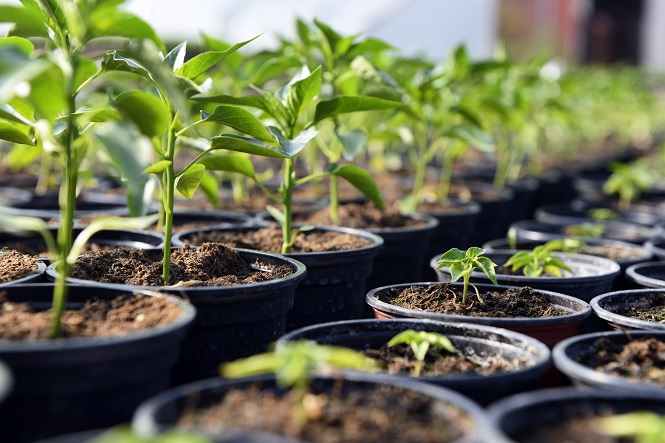 The human population doesn't seem to be plateauing or shrinking anytime soon. We're at about 7 billion humans currently, and we're expected to get to
9.6 billion by 2050
. What that means is more mouths to feed, and less space to do it in. Some estimates state that we could need
60 percent more food
than we need today by 2050. Enter urban greenhouse farming. It makes the most of local, sustainable food sources and uses less space than a traditional farm would. The nature of the greenhouse, which protects crops from the elements and magnifies sunlight, means crops can also be produced year round. It might just be the answer to our growing population.
Barge farms: food production of the future
Folks have big plans for the greenhouse. Quartz reported on the
Jellyfish Barge
. Made of wood, containing a plastic dome and floating on a base of recycled drums, it also desalinates seawater to irrigate and grow plants. Solar panels outside of the dome heat water and cause it to evaporate. The barge then collects the evaporated, clean water. The water is recycled repeatedly in a hydroponic system, and the plants are grown in a bed of clay that's enriched by mineral nutrients. "The water the barge produces is distilled, like the one we all use for ironing," Cristiana Favretto, co-founder of the group who came up with the concept, explained to Quartz. The group is called Studiomobile and worked with Professor Stefano Mancuso, a botanist from the University of Florence, to develop the concept. "So initially we were adding solutions of mineral nutrients," added Favretto. "After several tests, Mancuso understood that we could replace them with seawater. In fact, if we add up to 15 percent of seawater, we can obtain a larger water mass and increase the crops' nutritional value, without altering their flavor." The barge's estimated monthly output is astonishing: 1,200 plants, which includes practically anything you could want like strawberries, tomatoes, spinach and mint. Corn and tubers would be grown on the outdoor section of the barge. Considering dire warnings that rising sea levels could eat up current land, coastal areas could benefit most from the barge farm. Land that was once residential areas, later consumed by ocean, could then be turned into productive farm space. But that's not all that's on the horizon for urban greenhouses.
Local greenhouse farming with Bright Farms
Another system to keep an eye on is
Bright Farms
, which seeks to increase local greenhouse farming. The company builds and operates greenhouse farms. It primarily sees itself as a better supply chain model. According to the company website, "Our state-of-the-art greenhouse farms allow us to grow millions of thousands of pounds of the freshest, most flavorful local produce year-round. Each farm is designed to conserve land, water, eliminate agricultural runoff and reduce greenhouse gas emission from transportation. Plus, each farm creates green-collar jobs for local farmers and keeps more dollars in the community." Bright Farms works by setting up partnerships with local grocers to get their fresh produce into the hands of local residents. These partnerships fund greenhouse building.
The Guardian
wrote, "Essentially, BrightFarms first secures a supermarket partner and enters into a long-term contract, which it calls a produce purchase agreement (PPA), which commits the retailer to buy produce from the greenhouse." The company has current locations in Elkwood, Virginia; Kansas City, Missouri; and Bucks Country, Pennsylvania. Plans are in the works to come to Rochelle, Illinois.
Lufa Farms takes to the roof
You can't get more urban than the operations of
Lufa Farms
. The company turned a 32,000-square-foot office rooftop in Montreal into a fully functional greenhouse farm. It started selling produce in early 2011. It grows cucumbers, peppers, tomatoes and other produce year-round. Imagine all that wasted rooftop space in major cities being turned into production space for healthy, local and organic produce. No more desperate scrounging for local, fresh and high quality produce in the middle of December. In 2013, Lufa Farms opened Laval, a large-scale rooftop greenhouse. It was built in partnership with Montoni Group and KUBO. Lufa Farm's website states Laval successfully produces 120 metric tons of produce annually.
Other companies to watch
While Lufa Farms and Bright Farms are by far the most prominent in the media, there are some other companies out there doing amazing things for urban gardening:
Gotham Greens
: This company
operates urban greenhouses
to produce pesticide-free produce year-round in three locations in New York City and one location in Chicago.
TerraSphere
: Focuses on
vertical farming technology
, which minimizes space needed to produce year-round indoor crops.
Brooklyn Grange
: This company has the
world's largest rooftop farm
. It has two buildings in New York City, with farms that make up 2.5 acres and produce more than 50,000 pounds of organic produce each year. It also has an apiary with 30 natural honey beehives. Impressed by what urban gardening can accomplish? Get involved!
Create your own urban garden
Are you in one of the areas where urban gardening hasn't quite taken off yet? You can also make your own greenhouse and reap the benefits of year-round fresh produce. You can start by finding a local gardening group to help you get started through meetup.com, or your local agricultural college may have some resources. These sources may also help you brainstorm ways to get large-scale urban greenhouse gardening into your area. You might also try contacting some of the well-known greenhouse companies to try to get them to expand into your area. To build your individual or community greenhouse, there is a good resource
here
. If you'd like to see inside an urban food farm first hand, there's a good video
here
.