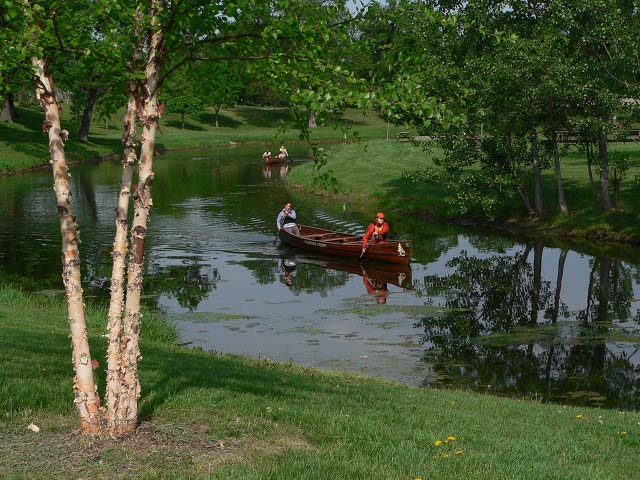 Fresh water seems scarce in our society. Clean water is bottled and few states offer pure filtered tap water. There are even fewer bodies of water that do not contain salt or man-made toxins. There are many movements that fight to protect the clean water that is offered through the many lakes in the US. There is one event that celebrates these clean lakes through free fun activities. The Saint Paul WaterFest is an annual celebration that provides interactive learning about "water quality, wildlife, and special ecological features," as stated on their website. The first WaterFest took place in 2000 and has only gotten bigger and better. This event takes place in St. Paul Minnesota and offers over 30 activities. The WaterFest is a fairly big deal for people who love the outdoors. They are equipped with their own theme song and photo album that they share with potential participants. On their website, they also include ways that community members can monitor their own lakes and how they can learn about lake ecology. Articles like "Understanding: Lake Ecology Primer," are one of many overviews the Waterfest website provides for people who are interested. Information filled broachers are also available on their website in the, "What can I do to improve the clarity of water in my lake" section. The Waterfest organization is changing the face of environmental activism with do it your self-guides and their annual festival.
Activities
As mentioned before, there are over 40 activities at this family centered water festival. The basics include fishing lessons for kids, boating, fishing contests, swimming, obstacle courses, yoga and more. Teachers are known to bring their students to the WaterFest as a filed trip in order to expose them to fun and learning, just like all great teachers. However, the organization has initiated this school our reach by partnering with some of the local schools. One activity stood out the most as a unique experience directly related to the goal of the WaterFest. It requires a microscope "to view tiny plants and animals that affect lake water quality," how cool? These clever activities impact the groups of people who experience them in ways that forever change their understanding of fresh water and its human impact.
Involvement
Anyone would wonder how this awesome celebration could remain free for 15 years. Sponsorships! Various business, organizations and people believe in honoring our clean lakes and learning about the environment so much that they donate. Good people coming together for good fun, fun that caters to 4,500 attendees. These attendees, organizations and outside communities are kept up to date about the events through the monthly newsletter entitled "The Ripple Effect." The newsletter features pictures from locals and includes articles about healthy water usage, such as conservation and other neat facts and news. It is totally worth the subscription. If you wanted to get involved outside of sponsorship or attending the event, volunteering opportunities are available through online registration.