Have some reclaimed wood around? Or maybe an old cable spool, a dresser drawer or even an old wine barrel? Wondering what all these things could possibly have in common in the first place? They all make excellent materials for furniture. Whether you want to DIY it or buy some upcycled home furniture, below are some great ways the old has been made new again.
1. Cable spool ottoman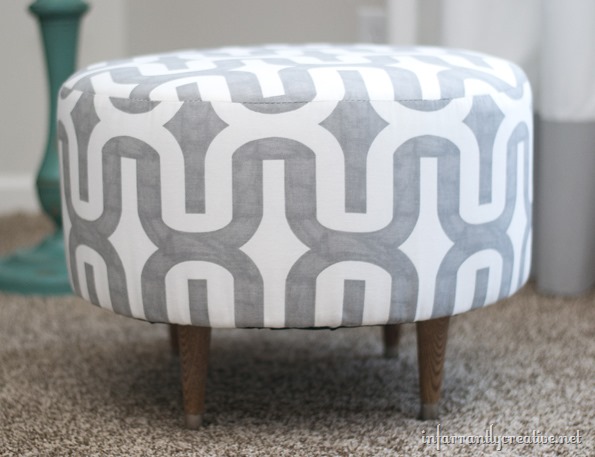 This ottoman looks pretty classy and commonplace. But inside is actually a reused cable spool. Some fabric and batting made the old spool into a central part of the home. You can find out how make this yourself at Infarrantly Creative.
2. Crate storage table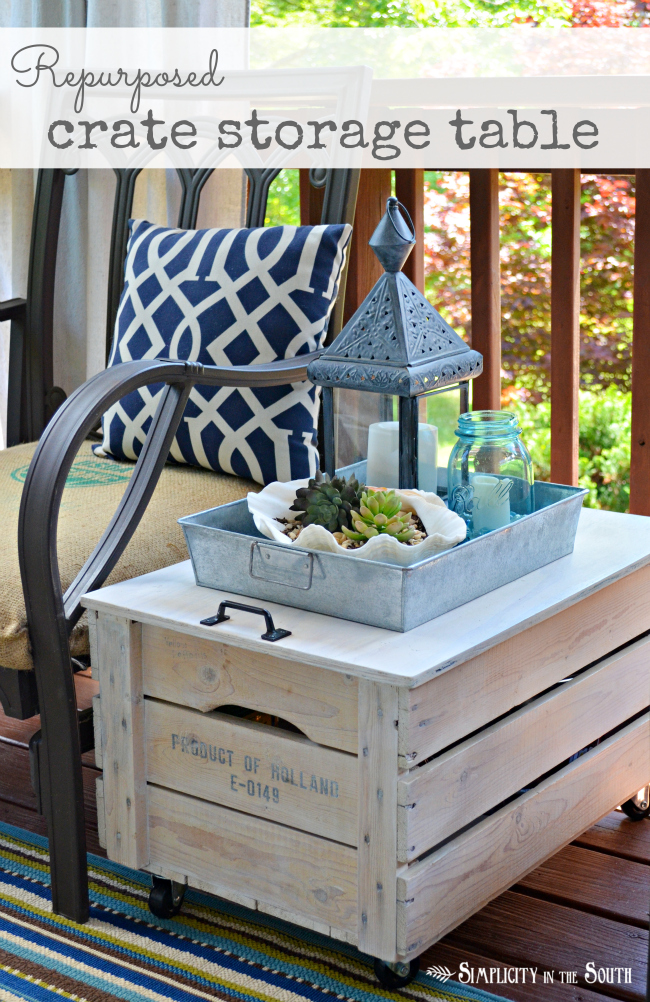 Also from Infarrantly Creative, this is a great use for an old crate if you're looking for a more rustic feel to your home or patio. The top opens right up to store anything from gardening tools to pillows. Some polyurethane on the wood makes it a great indoor or outdoor piece.
3. Pallet storage rack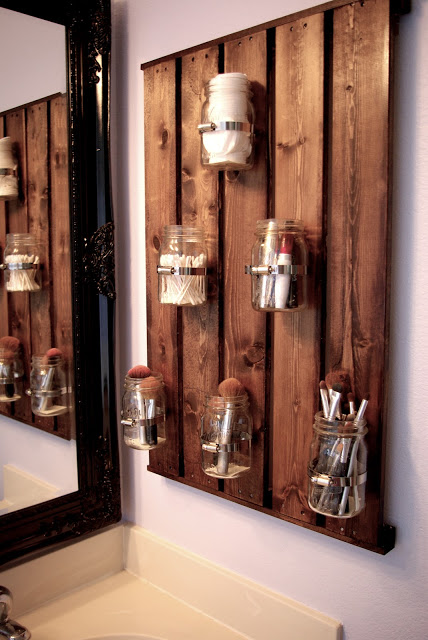 This is a great use for old pallets. The blogger found them for $2 at Ikea, though any old pallet could do. It's a great use for old mason jars, as well. Perfect for if you want a rustic look. You can find the tutorial with photos at Skinny Meg.
4. Reclaimed wood bench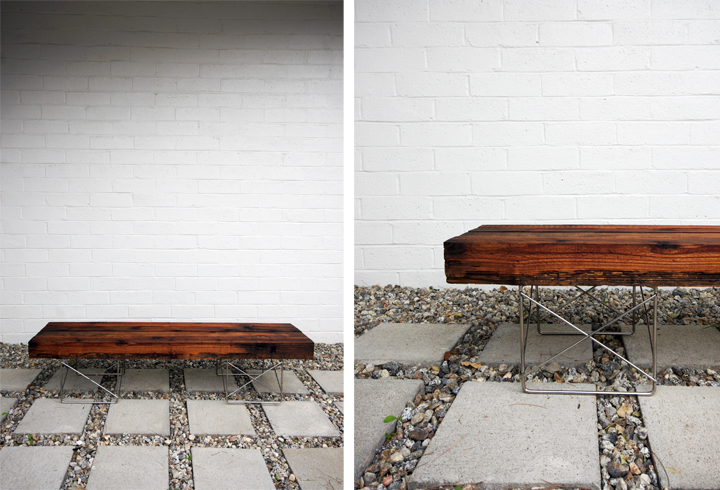 This is a perfect project if you have any old fence posts around, which make up the seating area of the bench. Feel free to paint it, or just stain it for a more rustic, natural look. You can find the full tutorial at The Brick House.
5. Dresser drawer pet bed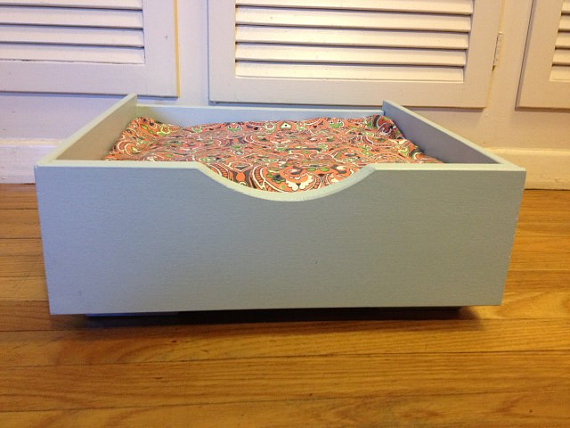 Sometimes pets need furniture, too. This pet bed is perfect for making sure your pet has an eco-friendly place to sleep. It's perfect for cats or smaller dogs. It was made by Squasha at etsy.
6. Conference table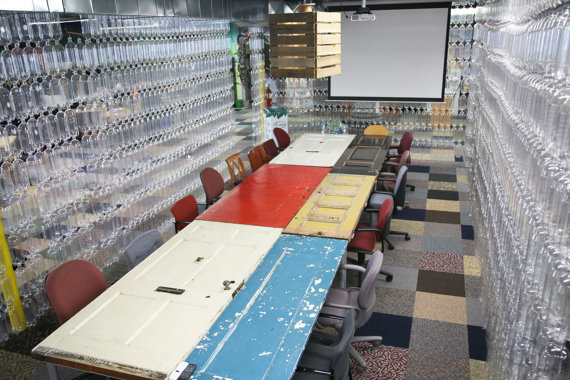 Yes, this piece was made from old doors. Six old doors went into make this, to be exact, and a couple of the doors have working doorbells. It's a perfect look for a trendy, hip office with an eco-friendly vibe. Or you can use it in the basement if you need a long crafting table. It was made by TerraCycle at etsy.
7. Ludwig sofa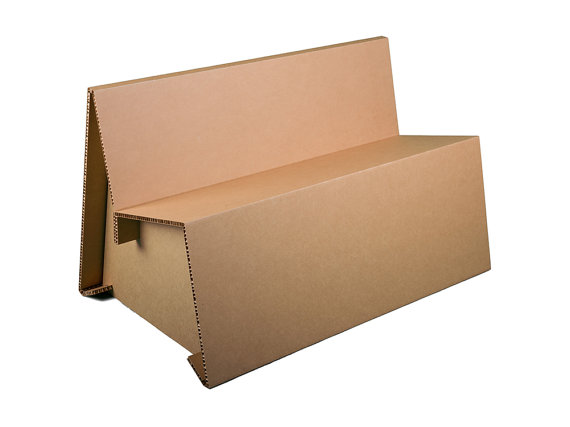 One of the big trends in green living is cardboard furniture. Surprisingly strong, able to be packed up in an instant and completely eco-friendly, this Ludwig sofa is available from Flatgoods at etsy. It's perfect if you move around a lot or have a small space where you need to pack up your furniture if you want more space.
8. Fruit crate side table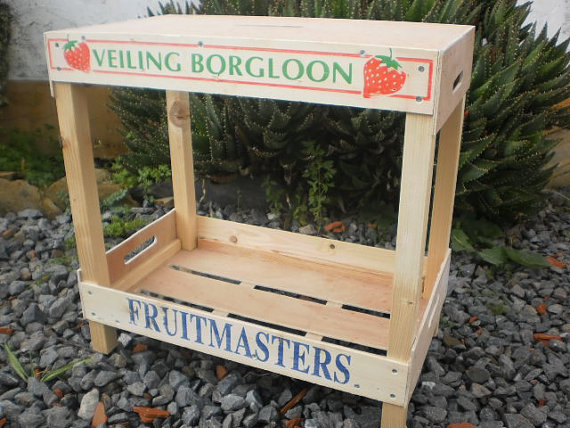 Here's a great piece if you're looking for a more rustic look again. The pieces come unassembled, but should be easy enough to put together. It's a great way to reuse fruit cartons that may have gone to waste. You can find it from 4HandsAndUs at etsy.
9. Pallet cabinet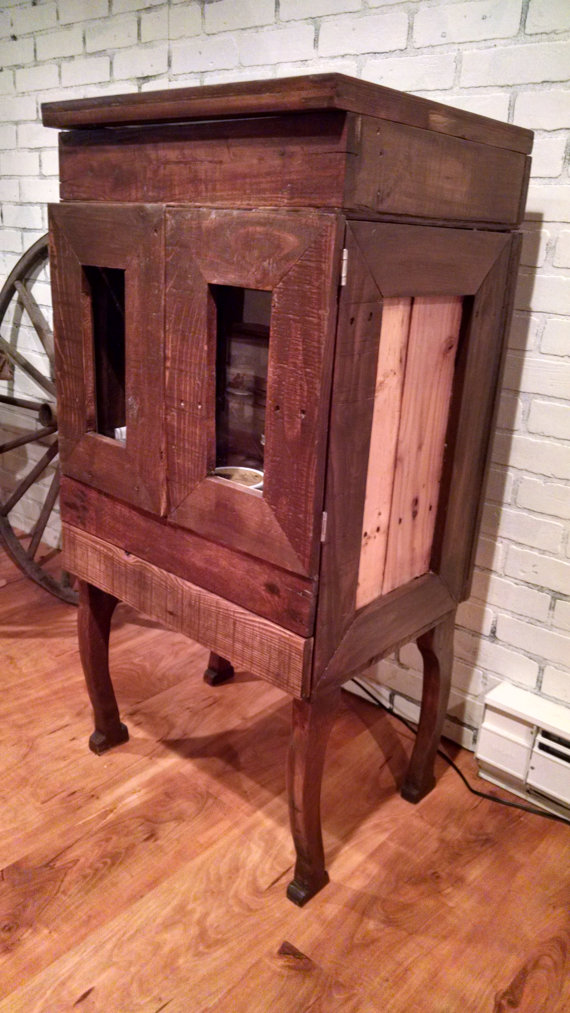 This is one of those pieces where it's hard to believe it came from recycled pallets, since the pallets have been taken apart and rearranged so beautifully. It's modeled after old pipe cabinet designs, so it's perfect for a classic, retro look. You can find it from RusticBeginningsLLC at etsy.
10. Reclaimed wood bed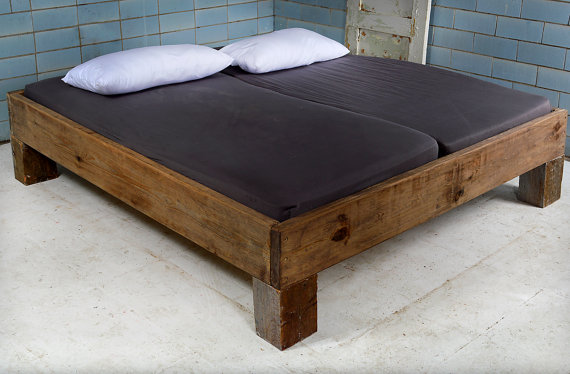 This bed was actually made from recycled beams and timber. It's great if you want a distressed, rustic look. The bed's simple design makes it perfect for country and retro looks, as well. The planks it's made from are sanded multiple times, then waxed or painted. It comes customized. You can find it from JOHANENLIES at etsy.
11. Rotunda table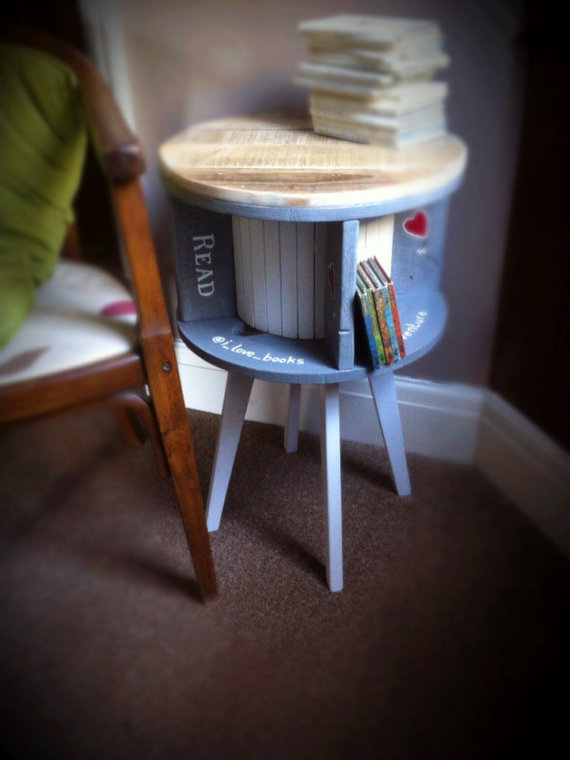 This was made from an upcycled cable reel. The paint embellishments make the reel look like it belonged as an end table all along. It's perfect for storing small books. You can find it from used2beeShop at etsy.
12. Pub table and stools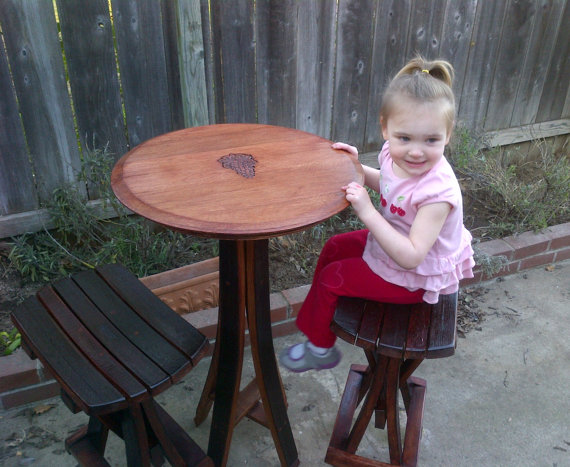 These were made from recycled oak wine barrels. It's the perfect set for wine enthusiasts, and would be great in a home bar area. The grape embellishment really adds a strong touch of class and contributes to the wine theme. You can find it from LivengoodWood at etsy.
13. Rustic coffee table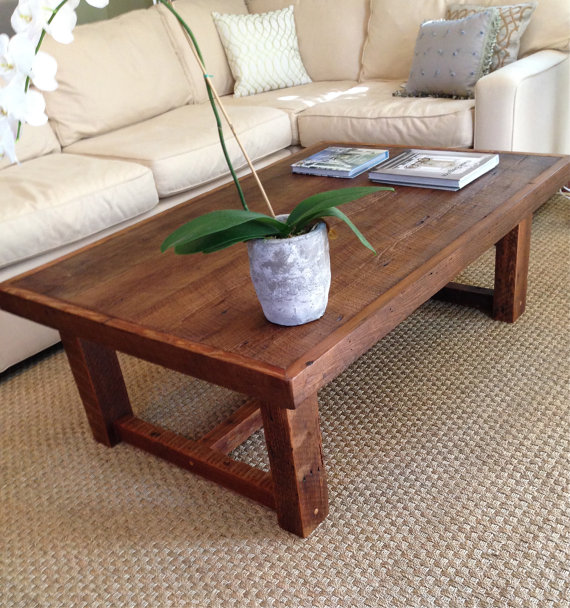 This classic, sensible coffee table was actually made from reclaimed New Orleans wood. This understated piece would work in almost any décor style. According to the listing, the wood came from homes that were damaged in Hurricane Katrina. You can find it from DoormanDesigns at etsy.
14. Pallet coffee table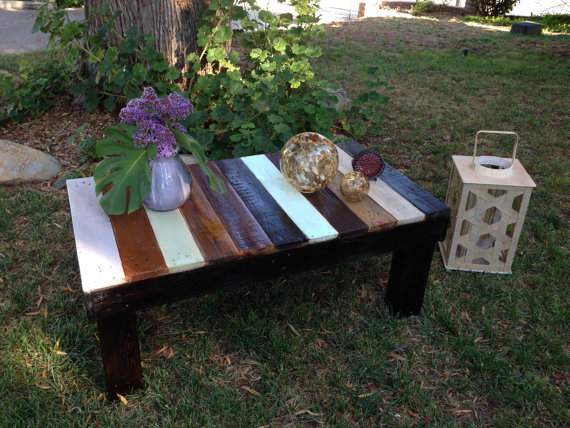 Add a little color to any room with this gorgeous, rustic coffee table. It was made from 100 percent reclaimed pallets. The color comes from multicolored staining and sealant. You can find it from RusticSundance at etsy.
15. Pallet chaise lounge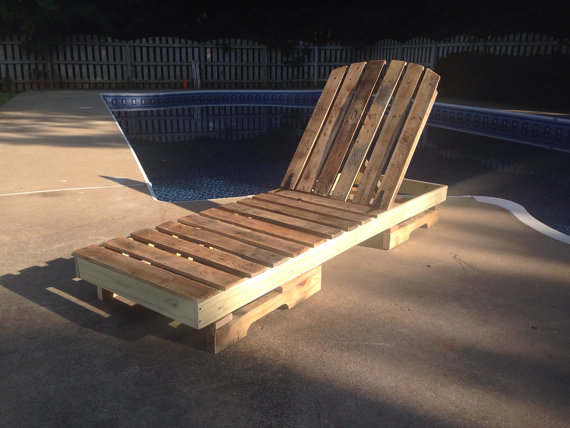 Here's another understated piece you wouldn't know was made from pallets. It comes sealed for outdoor use. You can find it from BrittandTyler at etsy.
16. Tractor seat stool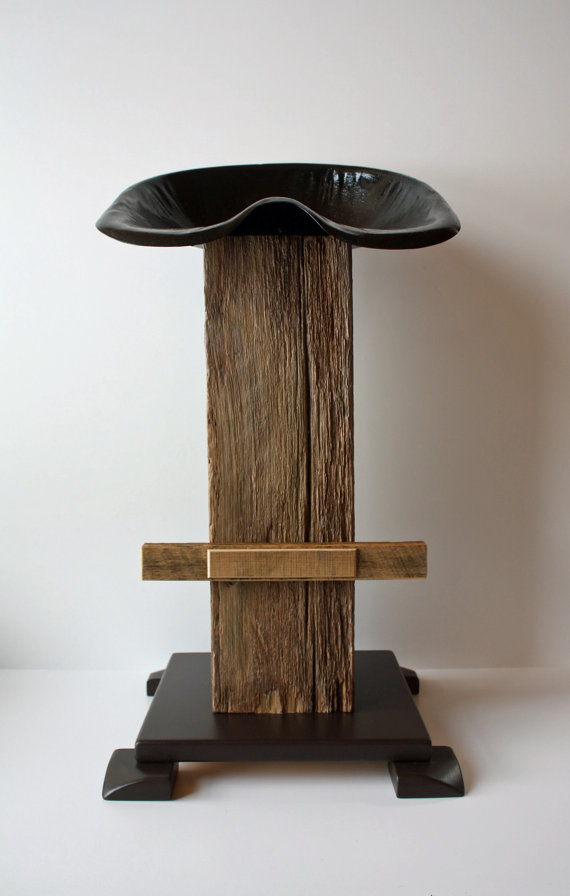 This is perfect for décor styles with a country theme. The seat comes from old tractors and was salvaged from local farmers. The gloss enamel painting helps bring out the beauty of the metal. You can find it from AikenKraft at etsy.
17. Rustic coffee table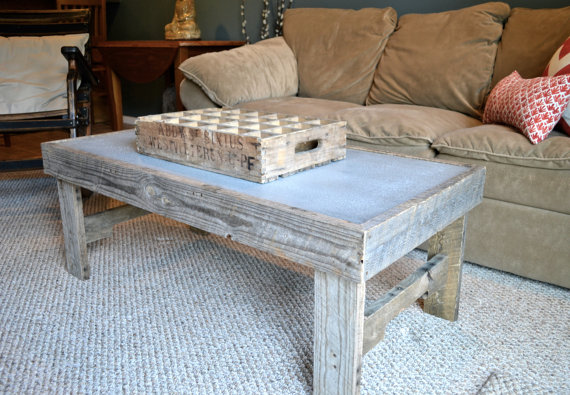 This coffee table was made from upcycled shipping pallets and reclaimed galvanized sheet metal. It's perfect for classic, country or rustic décor styles. You can find it from MJBpalletWorks at etsy.
18. Pallet headboard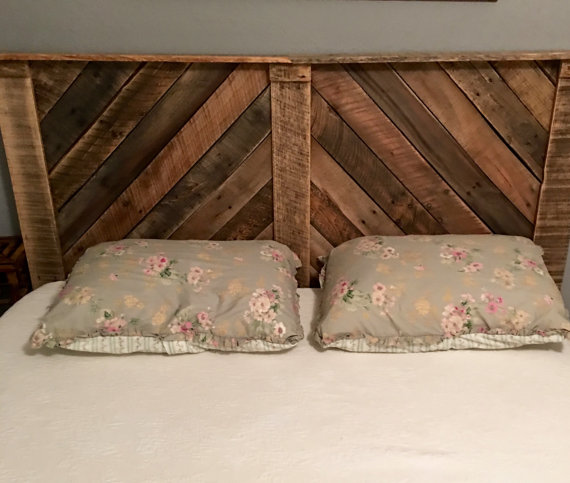 Here's another creative use for old pallet boards. Each headboard can be ordered to size, and the wood sealer used on it keeps the natural look alive. You can find it from DavesSaveShop at etsy.
19. Modern tubing chair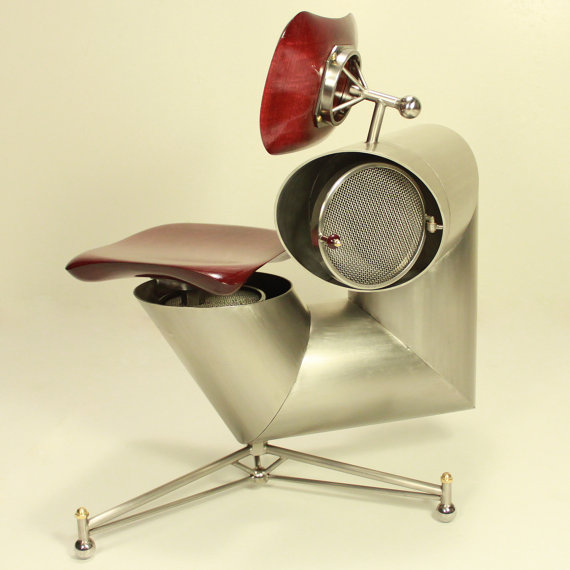 This funky chair was made from reused electric generator tubing. It's perfect for modern or industrial homes. You can find it from SalasArt at etsy.
20. Wine barrel pet house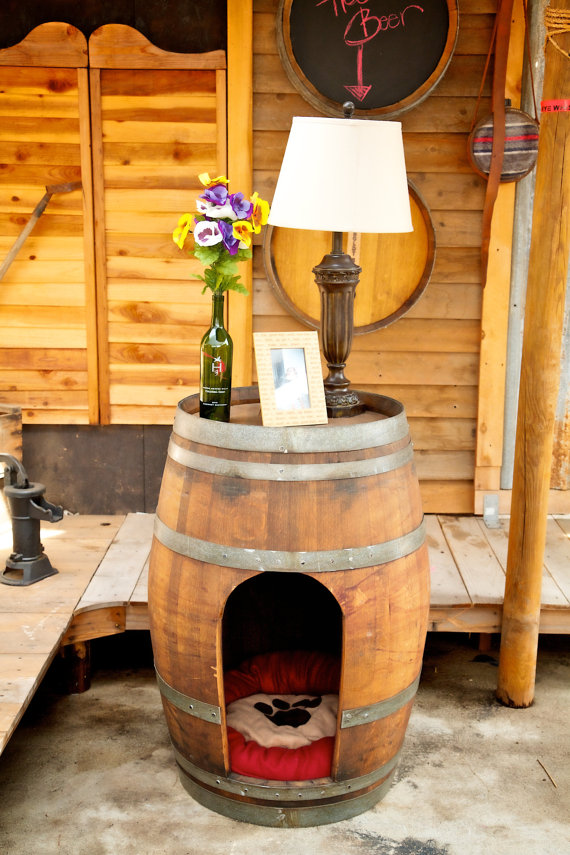 Here's another perfect piece of upcycled furniture that is great for the family pet. It also doubles as an end table. This is another piece that would be perfect for classic, country or rustic homes. It's available from KingBarrel at etsy.