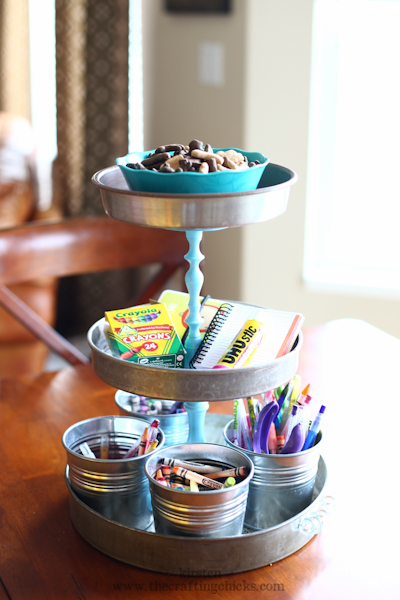 Photo courtesy of Crafting Chicks
Beautiful candlesticks can add a touch of elegance to any room. But let's face it – most of the candlesticks we see in our basements and at thrift stores nowadays are rusty, dirty, or simply outdated. Luckily, there are plenty of ways to repurpose candlesticks of all types! Check out some of the ideas we found below!
Tiered Stand
Pretty three-tier desert stands and makeup holders are hotter than hot – and they can be made for far less than you'd see at the local home décor shop. There are many ways to do this project depending on what the material of your candlesticks are. However, the basic concept is the same: adhere the bottom of a candlestick to a large tray and then add a smaller one on top. The tiers can go as long as you want! Check out what The Crafting Chicks did for their cool tier stands.
Holiday Joy Plaques
The holiday season is in full swing and decorations are flying off the store shelves left and right. Save yourself time and money by creating a DIY JOY plaque out of wooden candlesticks. In this tutorial, the blogger opted to create her plaques out of small wood circles, burlap, a long 2×6 (eight foot length is recommended), and of course, wooden candlesticks. After sanding, panting, and a bit of construction work – the message of joy rings out. The project is a tad ambitious but the results are gorgeous. Make sure to read the Shanty2Chic instructions!
Candy Jar Stands
Who doesn't love to see delicious treats displayed about the house? Sure, they may be tempting – but they're also so adorable! Create your own candy jar stands out of recycled glass jars and old candlesticks. Similar to the tier tray project above, this DIY will involve adhering a jar to the top of the candlestick. Depending on the type of candlestick you have, you may want to consider spray painting them a fun red or gold color. This also goes for the jar lids! Once the paint is dry, glue the bottom of the jar to the top of the candlestick using strong glue or epoxy. Once everything is dried, fill it up with candy and enjoy!
Pedestal Picture Frame
Everyone wants to display their family's pictures proudly, but there's no sense in spending loads of cash on fancy display frames. Instead, DIY your own pedestal display using repurposed candlesticks and small wooden frames. If you do not already have these two items laying around, head to the local thrift shop – they're everywhere. Remove any glass/plastic pieces from the frames and spray paint them a color of your choice along with the sticks. Once the paint has dried, adhere the frame to the top of the candlestick. Slide in your treasured photos and display throughout the house.
DIY "Crystal" Ball
For all of the wizardly lovers out there, having a crystal ball in the house seems obvious. Most crystal balls – meant to see into the future – that you'd find at a convention décor store can be quite pricy. Make your own mystic creation – or have the kids join in to design their own – out of a candlestick, a clear glass ball ornament, and some transparent glass paint. Carefully remove the metal base from the ornament – this requires adult supervision. Drop a few colors of paint into the ball and carefully twist around until coated. Once it's dry, attach it to a candlestick and adorn as wanted. See the full tutorial here!