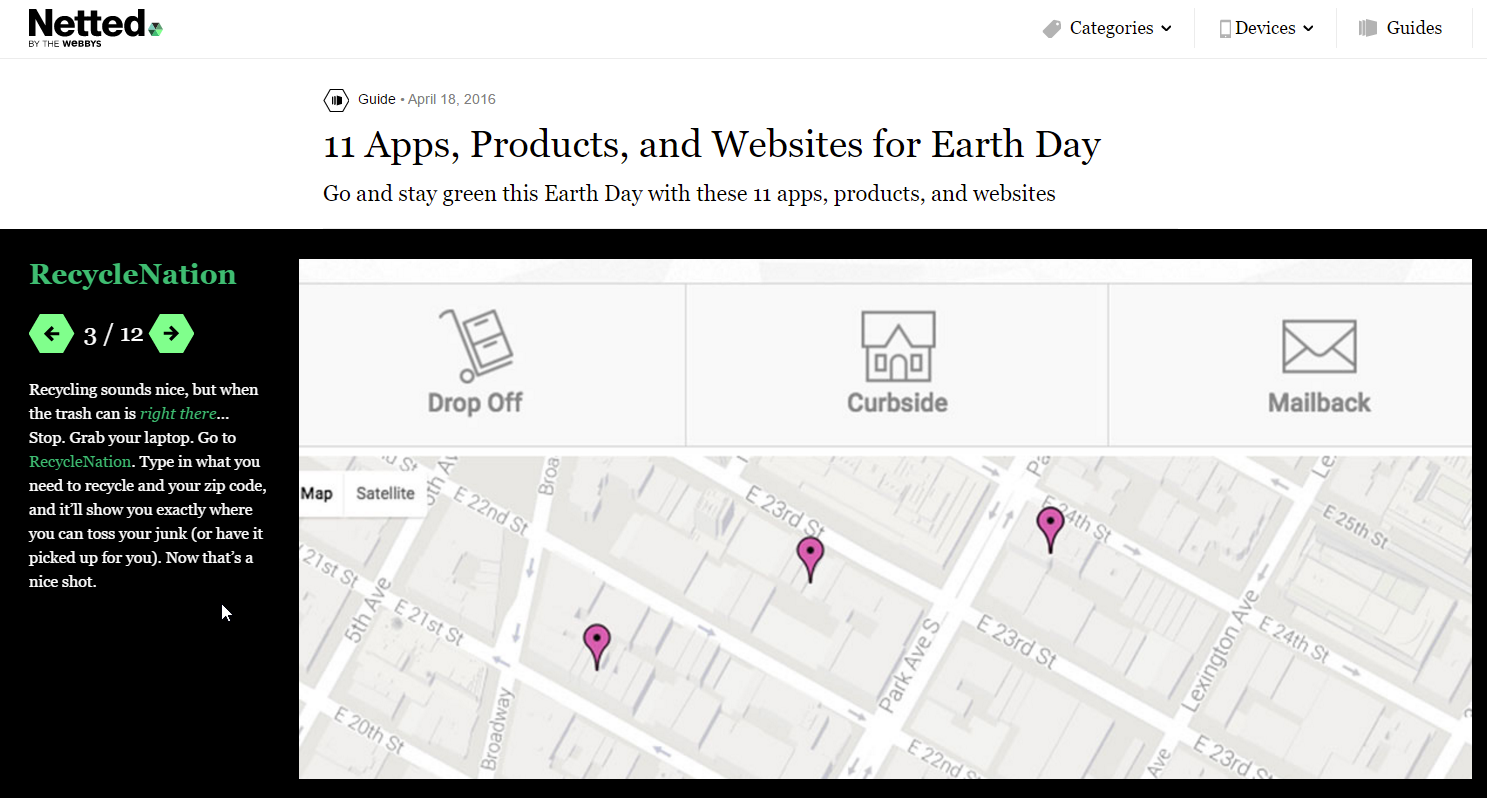 The popular website
Netted.net
recently featured RecycleNation as one of it's top 11 apps, products, and websites for Earth Day.
In its write-up, Netted urged readers to reconsider tossing unwanted items in the trash when they can "…Stop. Grab your laptop. Go to RecycleNation."
The RecycleNation site contains a broad collection of helpful information pertaining to recycling, from blog posts on recycling everyday items to articles on the latest in environmental news to an updated search engine, where users can track down information on how and where to responsibly recycle nearly any item.
RecycleNation is more than just a website, however. It is also an interactive mobile app, putting recycling in the palm of users' hands. The RecycleNation app offers the same search functionality as the site but also allows users to schedule item pick-ups, track individual recycling footprints and access more than a thousand tips and facts. Users can also call 1-800-RECYCLING to get access to recycling opportunities near them.
"We're honored to have RecycleNation be included in Netted's list of terrific sites, apps and services," said John Shegerian, Chairman and CEO of Electronic Recyclers International (ERI), the nation's leading recycler of electronic waste and parent company of RecycleNation. "RecycleNation is a dynamic recycling and green living-focused site that makes recycling, conserving, reusing and living wisely easy. Through innovation, we are working to once again change the experience the American public has when trying to recycle any and all items – and to ensure they do so responsibly. Providing an easy-to-use resource for consumers coast-to-coast and helping people get in touch with their green DNA is something that has been part of our vision from the start."
"Netted only features products and services our team genuinely loves," said Netted by the Webby Awards' Editor, Michael Charboneau. "It's always good to see our favorites, like RecycleNation, become successful."