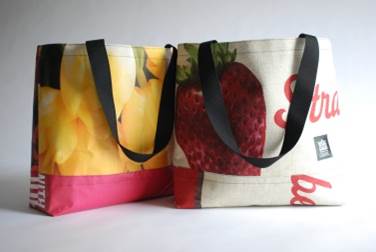 Have you ever thought about where old vinyl banners and billboards go once they have served the intended purpose? Well, they are usually thrown into a landfill which creates an environmental problem because vinyl is made of polyvinyl chloride (PVC). PVC is not recyclable and will not breakdown in a landfill. And, according to the Clean Air Council, over 7 billion pounds of PVC are thrown into landfills in the U.S. each year.
There is an alternative
In 1995 an Aveda employee started Relan, which means "reinventing fashion", as a way to keep all the banners that Aveda was producing out of the landfill. She used the vinyl to create bags and sold them in boutique stores. In 2011, the mother-daughter team of Della Simpson and Kari Brizius, bought the company and took it to the next level.
In fact, in 2014 Relan was named to the GameChangers500 list as part of the world's top For-Benefit companies and the organizations they partner with have helped keep over 300,000 square feet of material out of landfills. They have even expanded the materials they are able to recycle/upcycle to include mesh, polyester and jersey.
What do they do?
When an organization makes the decision to have their billboards, banners and other marketing materials recycled into other products, they contact Relan. Relan then takes the materials and clean them with eco-friendly cleaning products and minimal amounts of water. Next, they cut the material to create one-of-a-kind, handcrafted products like messenger bags, totes, coolers, tablet sleeves, purses and so on. These products are sold back to the organization and they in turn sell these unique products to the public.
For example, when the Boston Ballet celebrated their 50th anniversary they made beautiful double-sided banners to commemorate the event. When the event was over, they sent the banners to Relan to create one-of-a-kind bags for them that they will sell at intermission during the ballet season.
Relan has worked with a multitude of companies ranging from the aforementioned Boston Ballet to Verizon, MillerCoors and the Green Sports Alliance.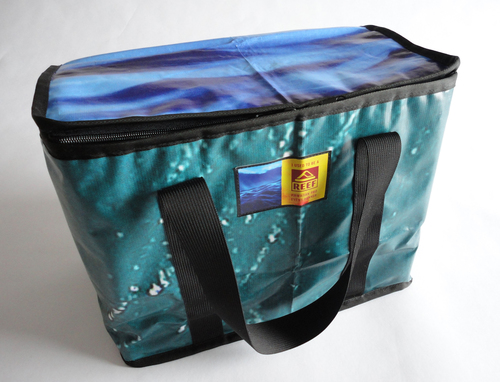 Environmental and economic impact of Relan:
Relan is reducing the amount of materials that are going to our landfills
Reducing a current waste stream of hard-to-recycle material
Eliminating the negative manufacturing impact of new materials
Reducing the transportation costs of importing new materials
Supporting the U.S. economy by purchasing locally-made products
Avoiding disposal fees for these materials
Relan is also committed to working within their local community. Every item that Relan creates is cleaned, designed, cut and sewn in Minnesota where the company is based. They also purchase their materials and supplies from local and U.S. manufacturers and are dedicated to making every piece of the products with upcycled and recycled components.
When Simpson and Brizius were interviewed for Women of Distinction magazine they were quoted, "Our goal is to have an impact on the future of people, our community and our planet. When you create a company and align it with your goals in life, you will find that every day allows you to share that passion and enjoy what you're doing."
To find out more about this inspiring company and the "products with a purpose", visit http://www.relan.green/.