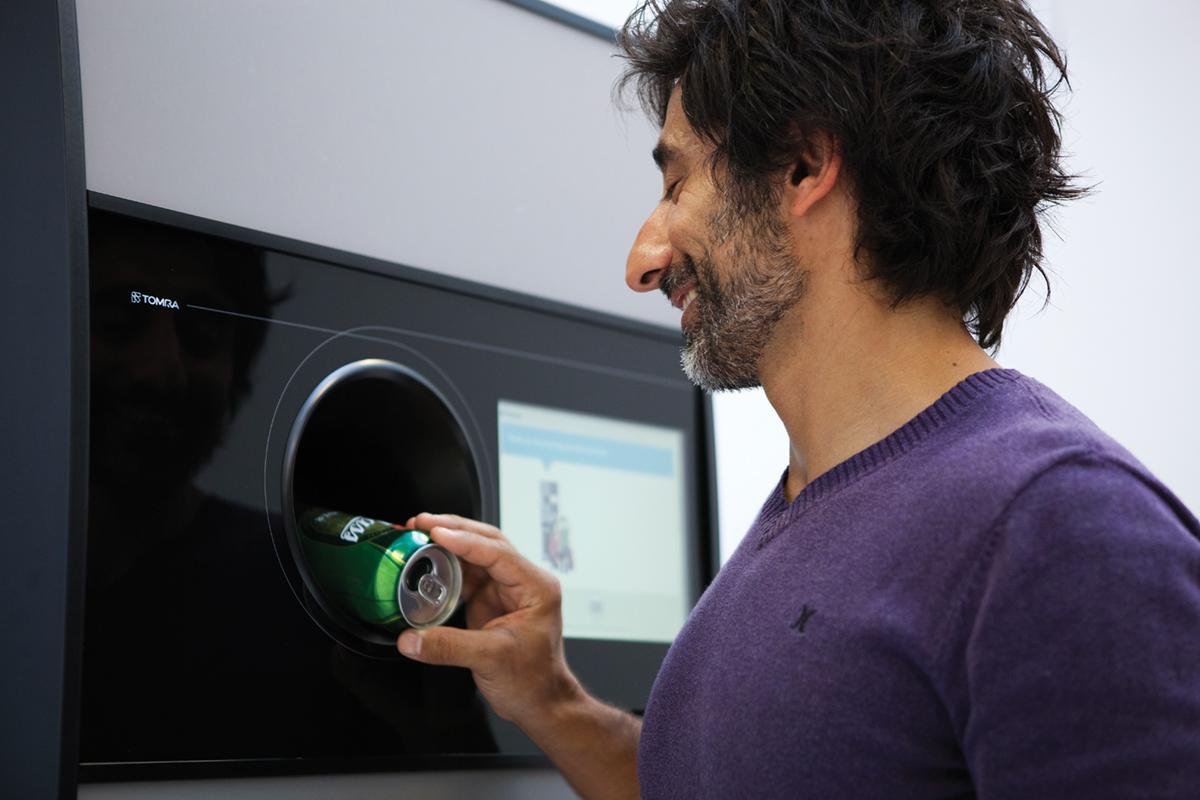 Did you know there's a vending machine that can take your bottles, give you a refund and sort them for recycling? In fact, TOMRA has over 75,000 of these reverse vending machines in more than 40 locations.
Reverse Vending Systems
According to TOMRA, "Reverse vending systems provide an automated method for collecting, sorting and handling the return of used beverage containers for recycling or reuse. During the more than 40 years these systems have been utilized, they have proven to be an unmatched success for consumers, businesses and the environment."
These reverse vending machines can collect and recycle aluminum cans, glass bottles and plastic bottles. According to their site, "consumers go through almost 1.8 trillion beverage containers every year, representing a vast amount of packaging material that can be collected and reused or recycled.  Proper handling of used packaging conserves precious resources like energy, water and crude oil and reduces greenhouse gas emissions."
The company says their machines take in around 35 billion used bottles every year which they estimate has saved the planet the equivalent of the annual emissions from 2 million cars, each driving around 6,214 miles.
TOMRA kicks it up a notch
On February 15th, 2017, PR Newswire reported: "Recycling is going digital with the launch of TOMRA Connect for reverse vending machines (RVMs), which collect cans and bottles for recycling." By digitizing their machines, TOMRA is able to "offer customer rewards, community involvement and analytics all at the touch of a button."
Some of the benefits with the digital upgrade:
Points programs – people who bring their used beverage containers to be recycled can earn points and redeem them for rewards or donate the amount to charity. They will also be able to share their recycling activity to social media.
Marketing – the machine's touchscreen can be used for retailers to promote things like daily specials. The refund receipts that are printed after the bottles are put in the machine to be recycled can be printed with a store coupon or other marketing message.
Analytics – data from the machine includes information like recycling volumes during different times of the day and week.
Easy recycling – since the machine is usually located inside or near the entrance of a store, it is easy for people to access it.
Currently, there are not many TOMRA Connect reverse vending machines in the U.S. Visit https://react.tomra.com/ to find out if there is one by you.
To find out more about TOMRA Connect, visit
https://www.tomraconnect.com/
.