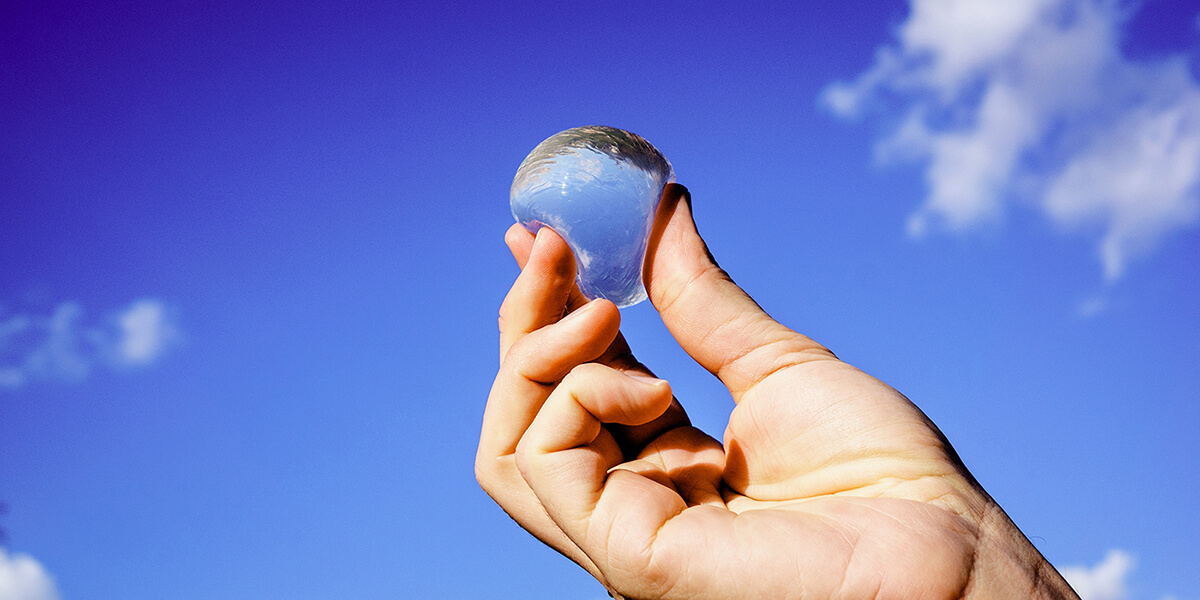 It shouldn't be news to anyone that plastic is damaging to the environment and that plastic water bottles are one of the biggest offenders. According to Ban the Bottle, Americans alone use around 50 billion plastic water bottles every year and only recycle around 23 percent of them.
And, although it's easy to tell people to stop buying water in bottles, sometimes it's unavoidable. So, while we do need to try and avoid purchasing disposable plastic whenever possible, we also need to come up with sustainable alternatives to single-use plastics.
I first learned about a really exciting product from my 9-year-old daughter. She devours Kid's YouTube whenever she's allowed to have "screen time." Since she knows me well, whenever she discovers something eco-friendly or adorable, she shows it to me. This product is both and it even has a cute name, Ooho.
Ooho is an edible water container that looks like a big dew drop and the brain behind this innovation is Skipping Rocks Lab.
About Skipping Rocks Lab
Skipping Rocks Lab is an" innovative sustainable packaging start-up based in London." They are "pioneering the use of natural materials extracted from plants and seaweed, to create packaging with low environmental impact."
Clearly my daughter and I aren't the only ones excited about Ooho, at the beginning of April 2017, Skipping Rocks Lab raised over $1 million in only 72 hours during a funding initiative they launched through Crowdcube.
About Ooho
Skipping Rocks Lab hopes their first product, Ooho, will revolutionize the "water-on-the-go market." The company says this "spherical flexible packaging" can also be used for other liquids including water, soft drinks and cosmetics. They have also developed a way to create this product cheaper than plastic.
In an article about Ooho at Discovery.com, the making of the product is explained, "To create the bottles, spheres of ice are treated with a liquid form of the seaweed-derived membrane. When the membrane solidifies and the water melts, a portable, eco-friendly serving of packaged water remains. Each orb costs only 2 cents to construct."
A grouping of Oohos (from three to ten) can be enclosed in a peelable skin, just like an orange, says the company. They say the material is transparent but can be colored so it's easier to tell the difference between the peel and the Ooho core.
From Skipping Rocks Lab: Skipping Rocks Lab is part of the Climate KIC start-up acceleration program founded by the European Institute of Innovation & Technology (EIT) and the scientific team is based in Imperial College.
Skipping Rocks Lab was awarded the 2014 Lexus Design Award, the 2014 World Technology Award (environment) held in association with Fortune and TIME, 2015 SEA Award and 2016 UK Energy Globe Award.
Skipping Rocks Lab hopes this product will eventually be produced on a local level, for example, your local coffee shop would have the ability to make fresh Oohos right on site. I hope it happens soon.
"Don't recycle water bottles, eat them instead."
For more information about Skipping Rocks Lab, visit http://www.skippingrockslab.com/.