The Council for Responsible Sport, a non-profit founded in late 2007, supports, certifies and celebrates responsibly produced sports events. The Council's definition of responsible sport acknowledges "the many ways event organizers can increase an event's social benefits while reducing its environmental footprint."
The sports events earn specific certification levels based upon credits that are earned from a menu of Certification Standards.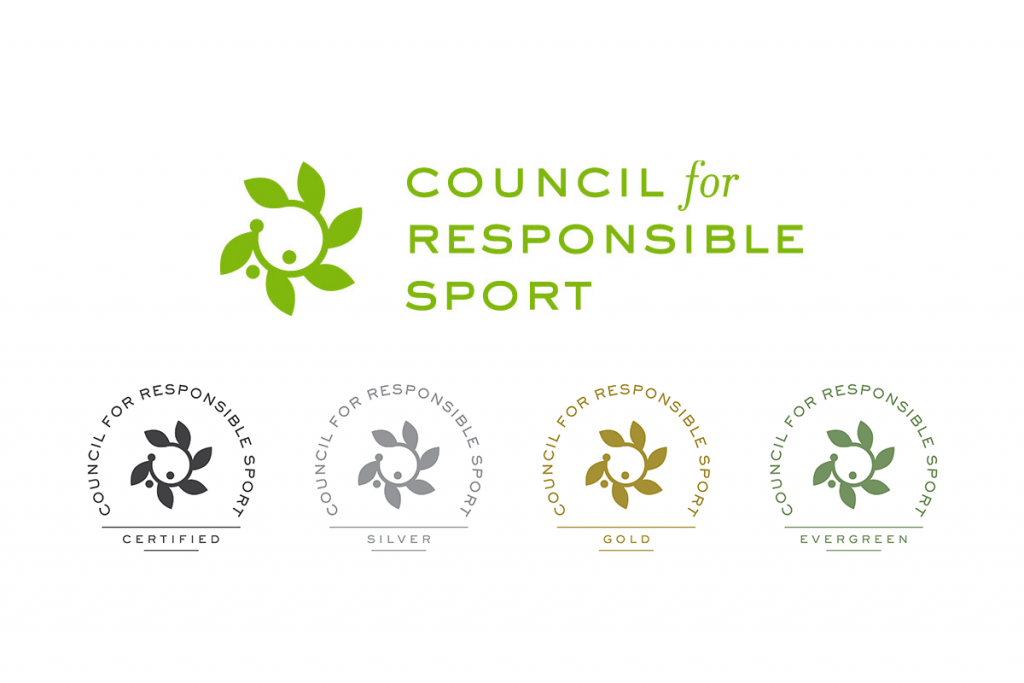 Certified – requires achievement of 45 percent of total credits.
Silver – recognizes the events that have reached 60 percent of the total credits.
Gold – is given to the events that have earned 75 percent of total credits.
Evergreen – honors the events that reach at least 90 percent of the certification credits.
Here are a few examples of the actions that translated into credits and are included in the Certification Standards:
Develop a formal plan to reduce event's environmental footprint and increase social impact (this standard is mandatory).
Ensure that sites and/or facilities are chosen that minimize environmental impacts.
Notify community and solicit feedback on how to mitigate any negative impacts of the event on the surrounding neighborhoods/communities (this standard is mandatory).
Provide athletes, volunteers and spectators easy access to food and beverages that are locally grown and/or sustainably produced.
Ensure the event has a written waste diversion plan (this standard is mandatory).
Ensure the event tracks waste diversion from landfill (this standard is mandatory).
Measure the water use of the event.
Use alternative or renewable energy sources.
Event has a written access and equity policy (this standard is mandatory).
Measure the event's economic impact on the host county or city'
Promote local businesses.
Work with local transit authorities to provide free or discounted mass transit on event day(s).
Since 2008, the Council for Responsible Sport has certified over 100 sporting events, here are just a few:
NCAA Final Four Men's Basketball Championship (2017) in Phoenix, Arizona achieved an Evergreen certification.
The Eugene Marathon (2016 – 2017) in Eugene, Oregon achieved a Gold certification.
AT&T Pebble Beach Pro-Am (2016 – 2017) in Monterey, California earned a Gold certification.
Flying Pig Marathon (2015 – 2016) in Cincinnati, Ohio achieved a Gold certification.
Greenline Half Marathon (2012 – 2013) in Memphis, Tennessee earned a Silver certification.
BGI Epic Ride (2014 – 2015) in Brooklyn, New York obtained a Silver certification.
The Beach to Beacon road race in Cape Elizabeth, Maine, celebrated its 20th anniversary this year and has become the first major road race in the United States to achieve the Council for Responsible Sport's Evergreen certification.
The road race's organizers have made environmental sustainability a priority. According to Maine Public, "For the past five years, the race has worked its way from silver certification to gold, and then evergreen."
The organizers feel like one key to their success is that they have volunteers sorting the waste to ensure that it ends up in the correct place. That way all materials that should be recycled or composted are recycled and composted not just tossed into a garbage bin.
To find out more information about the Council for Responsible Sport, visit http://www.councilforresponsiblesport.org/.