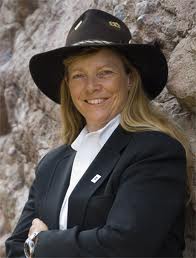 L. Hunter Lovins
is President and founder of the Natural Capitalism Solutions (NCS). Hunter's areas of expertise include natural capitalism, sustainable development, globalization, energy and resource policy, economic development, climate change, land management and fire rescue and emergency medicine. She developed the Economic Renewal Project and helped write many of its manuals on sustainable community economic development. She is currently a founding Professor of Business at Presidio Graduate School, one of the first accredited programs offering an M.B.A. in Sustainable Management. A recipient of such honors as the Right Livelihood Award, Lindbergh Award and Leadership in Business, she was named
Time
Magazine 2000 Hero of the Planet, and in 2009,
Newsweek
dubbed her a "Green Business Icon." She has co-authored nine books and hundreds of papers, including the 1999 book,
Natural Capitalism
, 2006 e-book
Climate Protection Manual for Cities
and 2009's
Transforming Industry in Asia
. Trained as a sociologist and lawyer (J.D.), Lovins co-founded the California Conservation Project (Tree People) and Rocky Mountain Institute, which she led for 20 years.