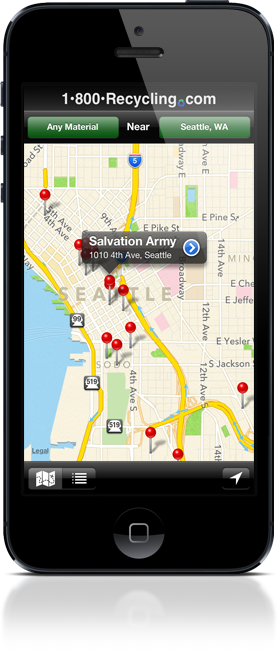 The 1800Recycling.com iPhone app (
formerly known as "My Recycle List"
)  makes it easy to accomplish your recycling goals in the least amount of trips. Quickly find recycling locations nearby that accept items you pick from a list. Easily organize locations you want to use by adding them to your list.
Version 2.0.2 is fully optimized for iPhone 5s/5c/iOS 7+
Features at-a-glance
:
Find nearby recycling locations using GPS or ZIP
Search for multiple materials at once
Organize and save your list for future use: It's like a grocery list for recyclables.
Share your recycle list with others via e-mail, Facebook, Twitter or text.
In-app interactive maps and Web browser
Covers the entire U.S. and parts of Canada.
Call recycling locations directly in-app, or add them to your contacts to call later.
The app works directly with our flagship site, 1-800-RECYCLING.com, to search more than 145,000 locations.
The most commonly recycled materials are grouped into nine categories for quick selection: Electronics, Plastic, Metal, Paper, Glass, Household, Hazardous, Automobile and Yard Waste.
Download
it today for free! Please keep in mind that we're always updating our database of recycling locations to bring you the most current information. We highly recommend calling locations to verify their hours and materials accepted. Help us keep others up to date by contacting us with any corrections at
1-800-RECYCLING.com
.
| | | | |
| --- | --- | --- | --- |
| Select from a vast, ever-growing list of commonly recycled materials and see the number of locations nearby that accept them. | View nearby locations that accept the items you are looking to recycle. You can see which other materials they will take as well! | Maps of recycling locations are built in, so you don't have to leave the app to get directions. You can even tell friends where you're recycling via text or email! | Stay up to date with the latest recycling news, and learn how to be a better recycler with our Blog page built right in the app! |