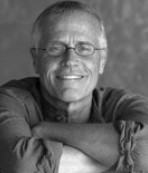 Paul Hawken
authors articles, op-eds, and peer-reviewed papers, and has written seven books, including four national bestsellers:
The Next Economy
(Ballantine 1983),
Growing a Business
(Simon and Schuster 1987),
The Ecology of Commerce
(HarperCollins 1993) and
Blessed Unrest
(Viking, 2007).
The Ecology of Commerce
was voted in 1998 as the #1 college text on business and the environment by professors in 67 business schools.
Natural Capitalism: Creating the Next Industrial Revolution
(Little Brown, September 1999), co-authored with Amory Lovins, has been read and referred to by several heads of state, including President Bill Clinton, who called it one of the five most important books in the world today. His books have been published in more than 50 countries in 27 languages.
Growing a Business
became the basis of a 17-part PBS series, which Hawken hosted and produced. The program, which explored the challenges and pitfalls of starting and operating socially responsive companies, was shown on television in 115 countries and watched by more than 100 million people. Hawken has founded several companies, including some of the first natural food companies in the U.S. that relied solely on sustainable agricultural methods. He presently heads OneSun, LLC, an energy company focused on ultra low-cost solar based on green chemistry and biomimcry; and Highwater Global, a social impact fund that employs the highest standards of corporate social, ethical and environmental behavior.