Border Grill
, with locations in Santa Monica, CA, and Las Vegas, and a kiosk and food truck in LA, and its owners, Mary Sue Milliken and Susan Feineger, have been leaders in sustainability for years, practicing responsible environmental policy inside their restaurants and out in the world. Leah Ross, PR & Marketing Manager and Sustainability Manager for Border Grill, says there are many sustainable efforts in place among the locations.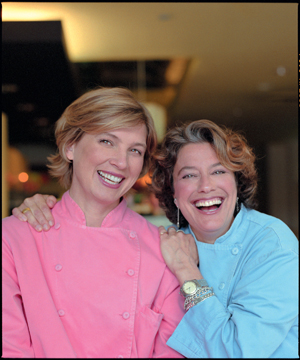 Border Grill uses biodegradable food containers. This is part of Santa Monica's citywide ban on polystyrene now, but they've been doing it since well before the ban went into effect. Border Grill is also part of the Monterey Bay Aquarium Seafood Watch Program and uses only sustainable seafood. The restaurant distributes pocket seafood guides to customers in an effort to make fish like Arctic char, black cod and barramundi as appealing as salmon. I guess I'll try the barramundi next time. Another campaign Border Grill is part of is Oceana's Stop Seafood Contamination campaign. Oceana is a leading international conservation organization and aims to educate the public about mercury contamination in seafood as well as to help reduce the amount of mercury released into the environment. Border Grill shows its commitment to this campaign by not serving swordfish or most species of tuna, which have high mercury content. If you see albacore on the menu at Border Grill, it's low mercury. Mary Sue and Susan were two of the first famous chefs to sign on to the boycott of Canadian seafood until Canada ends its commercial seal hunt. This is part of the
Humane Society's Protect Seals campaign
, and their action has inspired a long list of chefs and restaurants in the United States and Canada to follow suit. I was impressed to see many Canadian restaurants are boycotting their own seafood
*
now, because they recognize the brutal, senseless slaughter of baby seals each year is an abomination that must be stopped. To download a pocket guide from the Humane Society on how to boycott Canadian seafood,
click here
. Border Grill uses seasonal, locally grown ingredients and it never uses trans fats. The restaurant serves only organic long-grain rice, beans and coffee.
Outside the kitchen, Border Grill is an active member of several green networking groups and often hosts events at the restaurant. I first met Leah Ross a couple years ago at an
Eco Tuesday
event in Los Angeles, and that was the first time I had heard of a restaurant making an overall commitment to sustainability. Since then, the restaurant has developed a program called
"Good for the Planet, Good for You"
where you can choose dishes made with at least 80% plant-based ingredients. It is well known that the livestock industry produces more greenhouse gas than the transportation industry, so "going veggie," or, as Mary Sue and Susan like to say, "getting meat out of the center of the plate, and building a meal around vegetables, grains, beans, salads and fruit," is a very powerful way to help the environment. Finally, Border Grill has shunned bottled water that needs to be transported from around the world, and instead opts for reusable glass bottles and the Natura water purification system. Leah says she gets a lot of positive customer response to the "Good for the Planet, Good for You" program, which was developed after she and Mary Sue both read the same article on the same day about "Meatless Mondays." They realized if they could get enough people cutting meat out of their diet altogether or using it more as a flavoring and side dish, "it could have a huge and profound impact." *
The most common Canadian seafood exports are snow crab, cod, scallops, shrimp, haddock, herring, perch, lobster, mussels, yellow perch, sardines, flounder, tuna, whitefish, swordfish, oysters, sole, trout and mackerel.