From start to finish,
True Food Kitchen
is a restaurant that has taken on the ambitious activity of being both a purveyor of fine foods and a steward of the natural environment. Tucked into the Biltmore Fashion Park in Phoenix, this restaurant has an approach to business that is derived from the lifestyle concepts of Dr. Andrew Weil and Sam Fox, President and CEO of Fox Restaurant Concepts, the parent company of True Food Kitchen.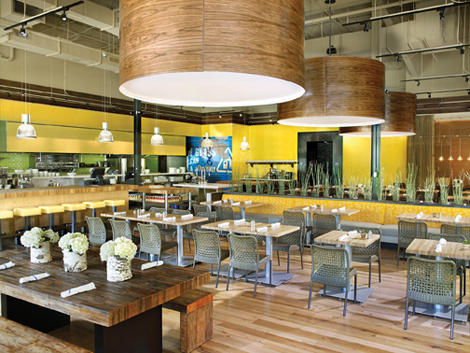 Visitors should admire the fact that everything about True Food Kitchen is designed to be as healthy as possible — including the structure itself. Materials selected for the interior are environmentally friendly, including Caesarstone quartz countertops, low-voltage LED lighting, low-VOC paint, white oak butcher block tables and countertops and more. And, the accolades continue as we find out that the restaurant will participate in a recycling program as part of its membership in The Green Restaurant Association. At the core of these beliefs is the conviction that eating out shouldn't compromise the nutritional value of eating right. According to Dr. Weil, all menu items are consistent with his philosophy that "food should taste great but should also promote health and healing." The executive chef of True Food Kitchen created meals that have broad appeal and incorporate ingredients that are nutrient rich, such as whole grains, healthy fats, fresh organic fruits and vegetables, whole soy foods and healthy herbs and spices. This place prides itself on being healthy for both customers and the environment, from the earliest breakfast until the latest dinner. The food itself is as green as possible — both in freshness and in sustainability. True Food Kitchen serves local, organically grown produce as much as possible; their seafood selection is wild or sustainably harvested; and wine served in the restaurant is biodynamic, organic and sustainable. Food producers that promote eco-friendly practices get the nod of approval, whereas those that don't will not be found at True Food Kitchen. Now True Food Kitchen will bring its healthy foods, furnishings, operations and practices to others. And, it will continue to strive to make everyone and everything seem a bit healthier. The restaurant's second location will open later this year at Fashion Island in Newport Beach, CA.