Om Garden
is a healthy, green oasis amidst the concrete jungle of
Miami
. The restaurant, located near Brickell and downtown Miami on the cozy corner of Southwest 4th Avenue and Southwest 15th Road, serves only vegan fare. Most vegans I've met are in tune with the environment and its needs, so it isn't surprising that Om Garden's management and staff share a similar mindset about things such as recycling and reducing waste.
What Om Garden is doing
Staffers are proud to recount the steps Om Garden takes for the environment. For one, employees sport 100% organic cotton uniforms, which means the cotton crops are grown without pesticides and toxins. They clean with eco-friendly cleaners, and in the bathrooms you will find only 100% post-consumer recycled paper towels and toilet paper. Food is served in a biodegradable, plastic-like container made from 100% cornstarch that begins decomposing in just 50 days. The restaurant also recycles and composts its food scraps. (I can only imagine how much waste restaurants accrue from food scraps alone!)
Plans for the future
Down the road, Om Garden wishes to upgrade its space in accordance with LEED certifications. Some of the changes the owners long to implement include using milk-based paints with no VOCs, installing compact fluorescent light bulbs and placing "smart" light bulbs in the restrooms that turn off when vacant. They also plan to use a greywater system to recycle water from the sinks to use in the toilets, which will reduce the restaurant's water consumption by one-third each year. Another cool item on the to-do list is to recycle heat from the restaurant's ovens to heat the water heater and air heating units.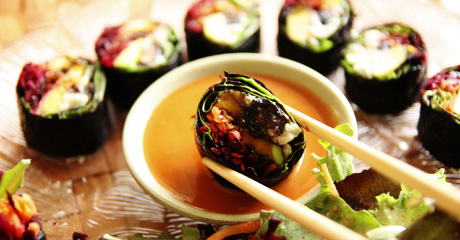 On top of all that, the owners want to use hybrid vehicles for food delivery, hold a free weekly workshop to inspire children in the community to recycle and eat organic food, and donate to local environmental causes.
A note about the food
Not only is Om Garden all vegan, but the restaurant concept also includes only "living food." This means they don't cook anything over 118º F, and they don't cook fruits, vegetables or grains at all. Patrons love the Rainbow Roll, with carrot, mango, beet, baby greens, avocado, cashew pâté and figs with balsamic syrup wrapped in seaweed. The Peace Pizza is also tasty, with mushroom, tomato, sun-dried tomato, pesto, black olives and cashew cheese. Eating here is like casting a vote for a healthy life and a healthy plant. When in Miami, eat green at Om Garden.