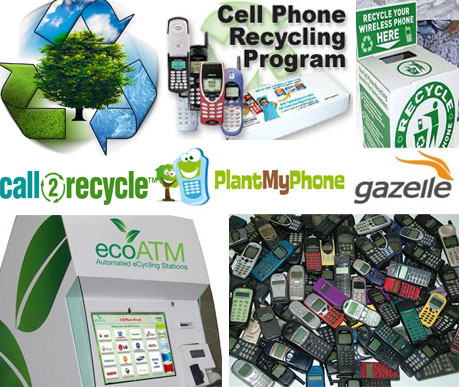 Have you ever anointed yourself the reigning sergeant of the "recycling police"? If you're an eco-sympathizer, you have probably tried on the role at least once at your place of employment, a friend's party or certainly in your very own household. For newbies, swiftly diverting newspapers, cardboard, glass, metal and plastic from a doomed future of landfill entombment can often require vigilant determination, patience and a keen eye on the garbage pail, but with enough practice, it becomes as second nature as tying the laces on your
sustainably stylish shoes
. So, how do yesterday's mobile phones fit into the equation? With roughly 130 million of them cast aside on a yearly basis in the U.S. (a mere 10% are actually recycled), our society needs some serious cell phone intervention. Unless we resist the perpetual urge to upgrade to the latest greatest bells-and-whistles model, our cell phone habit will continue to fuel an ever-escalating e-waste problem that results in soil and water contamination via toxic materials. Even though "old" cell phones are deemed obsolete by the public and manufacturers, they're still made of various recyclable materialssuch as platinum, palladium,
gold
, copper, silver and plastic that could conceivably yield millions upon millions of dollars in precious metals when harvested in bulk. Additionally, the EPA says that water, energy and greenhouse gases could be
significantly cut
even if just 1 million old cell phones were properly recycled (the equivalent of getting 33 vehicles off the road for 365 days). Fortunately, there are more unique recycling options available to well-intentioned consumers than ever before. The following programs are designed to lure us into dusting off our unwanted cell phones so we responsibly divert them from the landfill. In many cases, compensation is even offered for helping the planet, so what are you waiting for? Green it like you mean it!