It is back-to-school time, and I want to challenge all of you eco-minded parents to send your kids to school with a waste-free school lunch. What is a waste-free school lunch? It's simple: Nothing that you send in your child's lunch gets thrown away. Everything comes back home so it can be reused in the next day's lunch.
Last year was the first year that I focused on a waste-free school lunch with my kids, and it went really well. The kids loved their fun, reusable sandwich and snack bags and the eye-catching designs had their classmates asking what it was that they were using. Let me share with you what we did to meet our goal of a waste-free school lunch year so that you can have the same success this year.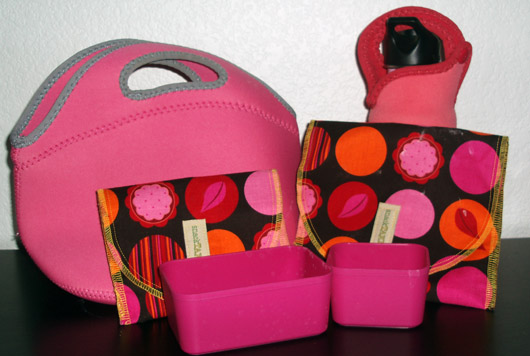 Let's start with the outside. Gone are the days of brown bag lunches. Reusable lunch bags have been used for decades, so this part is easy. You can find a lunch bag at any of the nation's large retail outlets. Finding reusable products to go inside the lunch bag is where it gets a bit trickier. When it comes time to actually fill the lunch bag, there are two directions that you can go: reusable sandwich and snack bags or solid-sided containers. We actually have both. Although I live in a major metropolitan area, I wasn't able to find reusable bags at a retail store, so I took my search to the Internet. There are several different brands to choose from, but I ultimately went with
snackTAXI
. snackTAXI's reusable bags come in several prints that both of my children love. The outside is made of 100% cotton and the inside is a polyurethane-coated nylon material. Although the Consumer Products Safety Improvement Act states that both cotton and the coated nylon are naturally lead- and phthalate-free, snackTAXI conducted its own independent testing of the nylon and confirmed this statement. The bags can be easily rinsed out and left to dry overnight or thrown in the washing machine for a more thorough cleaning. I ended up buying two sandwich bags and two snack bags per child just in case I forgot to rinse something out at night. The other option that we use for packing lunch items is reusable solid-sided containers. Although you can find these containers everywhere, I wanted something a little more environmentally friendly, so I found myself ordering a set for each child from the
Laptop Lunches
site. The containers are BPA-, phthalate- and lead-free. Laptop Lunches actually offers a complete bento set with a container, a stainless steel drink bottle and stainless steel utensils. However, the kids liked the soft-sided lunch bags better, so we used a do-it-yourself waste-free school lunch kit instead. Now that you have the lunch bag and the food containers set up, you're almost done with your waste-free school lunch setup. You'll want to make sure your kids stay hydrated, so a reusable water container is key. We chose
Klean Kanteen
's 18-oz Klean Kanteen Classic with the sport bottle top and a sweat-proof cover from
Built NY
. By the time we got down to the utensils and napkins, I was in money-saving mode, so instead of buying a custom lunchbox-sized utensil set, I just toss in a spoon or fork from the utensil drawer. The same goes for the napkin — nothing new and fancy for my two; what we have in the linen closet works. However, you can easily head to your local fabric store and buy a half-yard of organic cotton in a fun pattern and make your own napkins. Now that you know how I went about implementing a waste-free school lunch setup in our house, I should share a few of my "lessons learned." You will lose spoons and napkins. Thankfully, we didn't lose any of the sandwich bags, snack bags or containers. You will also forget to rinse out a bag one night and wonder what the familiar yet old smell is the next morning when you go to repack the bag. This is where the washing machine comes in handy. It is also a bit more expensive, in terms of upfront costs, than a traditional lunch using plastic bags. My products are all still in great shape, though, so I've got at least another year out of them, if not more. However, if you're doing this just to save money, you are doing it for the wrong reason. A waste-free school lunch is better for the environment, which means that it is better for your kids' health. That is why we made the commitment last year and that is why I'm challenging parents everywhere to make the same commitment this year. Who is joining me?