A recent
survey
of 505 consumers revealed that most Americans do not know the best ways to save money on energy costs. Nearly 40% of those surveyed said that the best way to improve their residential energy efficiency was to turn off the lights or change the thermostat. Unfortunately, that is not the right answer. Properly insulating your house is one of the best ways to improve energy efficiency, yet only 3.2% of those surveyed chose this answer.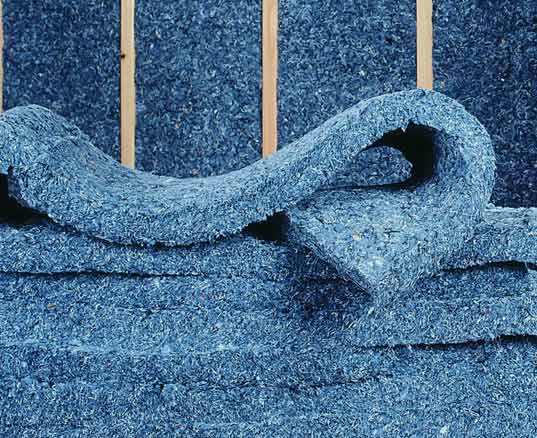 Home insulation products are rated on their R-value. The R-value determines how well a product insulates. A thinner insulation with a higher R-value is better than a thicker insulation with a lower R-value. Although all insulation products carry an R-value, the recommended level can vary based on climate and temperature so it is important that you work with a knowledgeable contractor in your area if you are upgrading your insulation. Now that you know a little bit about how insulation products differ from one another, it's important to discuss a couple of types of eco-friendlier insulation products on the market. One of the products that is gaining in popularity is
blue jean insulation
. This is insulation that is primarily made from post-consumer recycled natural fibers, including those found in denim jeans. As is the case with traditional insulation, blue jean insulation comes in a variety of R-values so that it can be used in several different climates. This type of insulation is taking products out of the waste stream and reusing them in a way that provides a second environmental benefit, increasing the energy efficiency of a house. Blue jean insulation is particularly enticing for individuals pursuing LEED certification from the U.S. Green Building Council, as the use of blue jean insulation can help a property earn LEED certification credits. In addition to saving money on their annual energy bills thanks to a more energy-efficient house, homeowners can also qualify for federal energy-efficiency tax credits. For more information on the federal tax credits available, please visit the
EnergyStar website
. Although blue jean insulation seems to be the most popular of the green insulation options, other types of post-consumer waste can also be recycled into insulation, including newspapers and cardboard. To learn more about how to improve your home's energy efficiency, reduce your carbon footprint and save money on your energy bills contact your local eco-friendly building contractor.