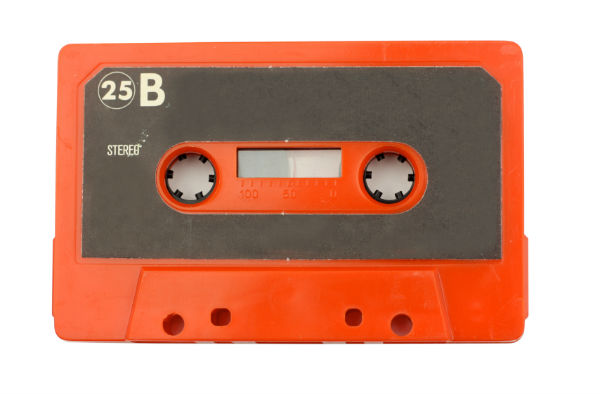 Take one glance at a dusty, old cassette tape and your first reaction might be to give the archaic musical technology the heave-ho, but let's not be so hasty. MP3s and CDs may serve your modern audio needs more effectively than their humble predecessor, but did you know that cassettes long to be woken up from a deep slumber so they can pursue their second career as an ever-morphing resource for the crafty and DIY-inclined? They should actually be regarded as diamonds in the rough possessing infinite applications, whether for art projects, household décor, fashion or recreation.
Composed of a hard plastic outer shell and magnetized polymer tape interior, what this once cutting-edge form of musical delivery lacks in audio clarity it more than makes up for in DIY appeal. Beyond its less-than-appealing sound quality, the raw components of each cassette can be broken down, with the plastic exterior suitable for recycled products such as shower cubicles and coat hangers. The magnetic tape is incapable of being recycled via mainstream processing facilities, but that doesn't mean that it can't be repurposed. As you can see below, where there's a crafty eco-will, there's a great green way! Making a
mini cassette tape journal
could easily honor the secretly expressive pop culture junkie within. Special gifts call for an earth-friendly adornment courtesy of magnetized cassette tape alterna-ribbon! Contexture Design's
fourth-generation iPod nano protective cases
hum with retro style. Turn an old cassette tape case into a
freestanding picture frame
. Nancy Judd's
woven cassette and VCR tape "faux fur" coat
lined with an old thrift store prom dress speaks volumes about how multi-faceted media relics really are. Devoted gardeners dealing with the challenges of greedy birds might find that stretching recycled cassette tape around the perimeter of their crops will go a long way toward scaring them off (without resorting to less humane tactics). Broadcast your hip sense of style with a
micro-cassette tape necklace
. Need a way to safely yet cleverly store your cash or spare change? It's hard to decide which is cooler — this
cassette tape wallet
or its crafty cousin, the
cassette tape coin purse
. Tempted to take on a larger-profile project? Patrick Schuur's
cassette tape closet
, made with 918 individual recycled units screwed onto a wooden frame, is instantly elevated to kitschy "gotta have it" eye candy. Knitters of the world, surely you know by now that transforming old magnetic tape into flexible fabric is as simple as unwinding each spool and kicking your needles into high gear, right? A
retro-style recycled cassette tape purse
would easily inject any wardrobe with one-of-a-kind personality.
Brian Dettmer
melts hard plastic cassette tape exteriors into surreal and intricately detailed sculptures, including skeletons and bird carcasses. Those on the fast track to career success might find this
portable business card holder
to be especially practical. Want to run a footpath through your yard but lack the budget for conventional supplies? If you can spring for a few bags of cement, then why not embed old cassette tapes in it rather than mainstream pavers? Trying to tame your stuff'? This
recycled cassette tape case wall organizer
makes bits and pieces fall in line. Unraveled magnetic tape could easily be used to cushion fragile items for storage/mail. Who needs costly cookie-cutter belt buckles when
this one
broadcasts
your individuality
? London artist
Nick Gentry
uses cassette tapes (along with other outdated media forms like disks and VCR tapes) as a backdrop for his '
80s-style portraits
. A
cassette tape USB memory stick
? Heck yeah! A few holiday-themed applications for cassette tape "guts:" earthy-looking Easter basket grass or Halloween spider web decorations. How about purchasing a handmade
fair trade cosmetic bag
crafted from recycled cassette tape fabric (the proceeds of which support a vocational school in India)? Here's an offbeat idea for the kiddies: Try your hand at making them miniaturized motorized "
recorder racers
." Ooomy Designs sells
chairs
and
assorted lamps
(among many other cleverly repurposed items) made with old cassette tapes, or you might venture making one with your
own wicked DIY skills
.