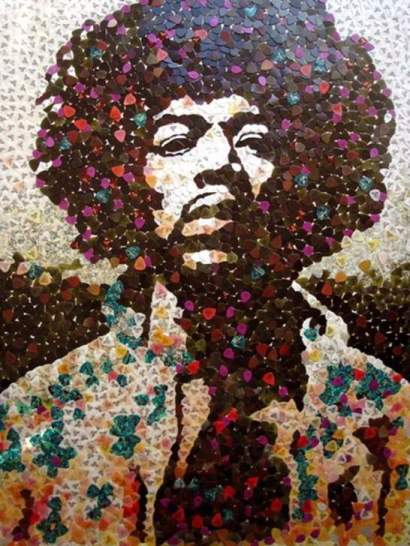 All images courtesy of Ed Chapman.
Jimi Hendrix was a true guitar legend, a man who lived and breathed music; so what could be more appropriate than creating an image of the icon out of thousands of repurposed guitar picks? The portrait of Hendrix seen above was made from more than 5,000 Fender plectrums, and ultimately raised more than $35,000 at auction, with the proceeds donated to charity. A truly creative and heartfelt piece of recycling!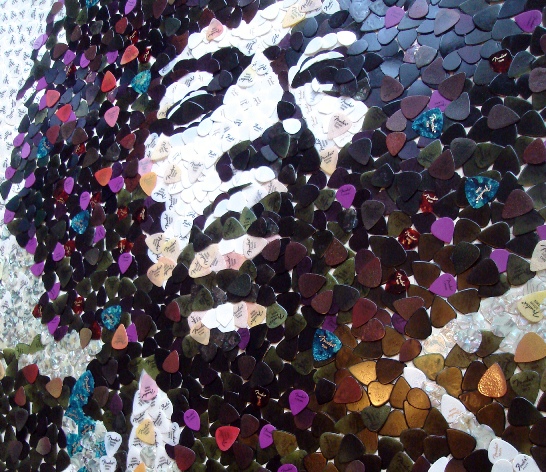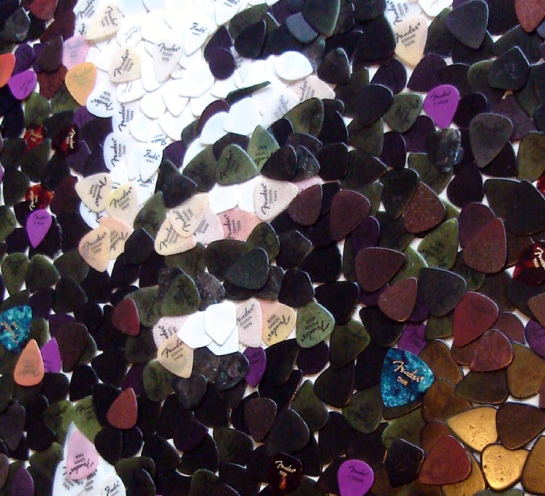 The artist who created the piece, Ed Chapman, explains: "Jimi is a guitar legend, and nobody played a Fender guitar quite like him. I decided to use plectrums to create a portrait of him because I like experimenting with different materials and textures and I think it is a fitting tribute."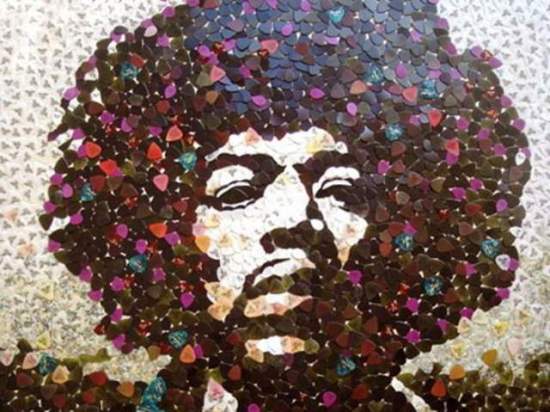 Chapman studied the ancient technique of mosaic art in depth and has been a professional artist for more than a decade now. Though he originally worked with torn paper, he soon took up new challenges, using media such as glass, metal and ceramic tiles for his mosaics, as well as everyday items like coins and sugar cubes.
John Lennon — 36″ x 24″, ceramic tiles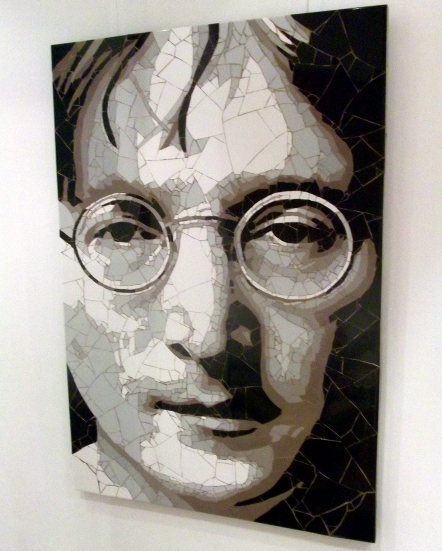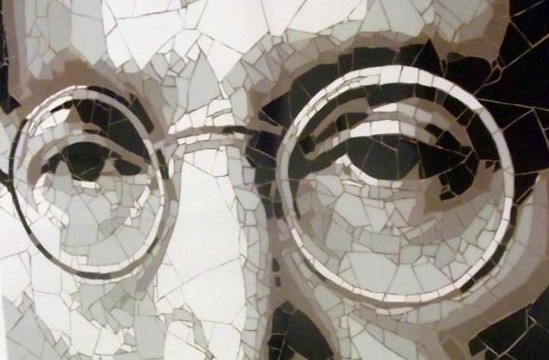 That he finds inspiration in the music of bands like the Sex Pistols and The Doors is very apparent from his subject matter. While everyday faces appear here and there, much of his work captures impressions of iconic music
(as well as film) legends in their prime. Though best known for his tile mosaics, Chapman also uses a wide variety of other items as materials. In fact, recycling plays an important part in the way that he looks at his work.
Jim Morrison — 24″ x 24″, ceramic tiles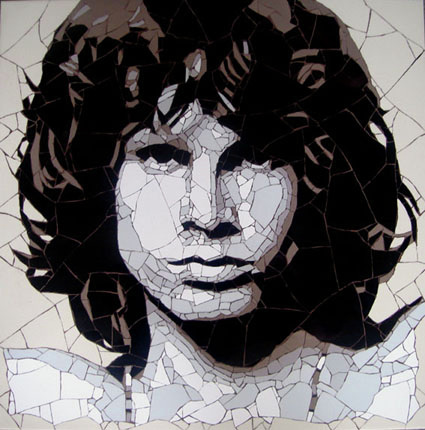 "I am always looking for everyday things to use in creating a mosaic or 3D collage," he says. "I love the results that simple and basic materials we are all familiar with can create, either as a portrait or abstract work."
Paul Weller — 24″ x 24″, ceramic tiles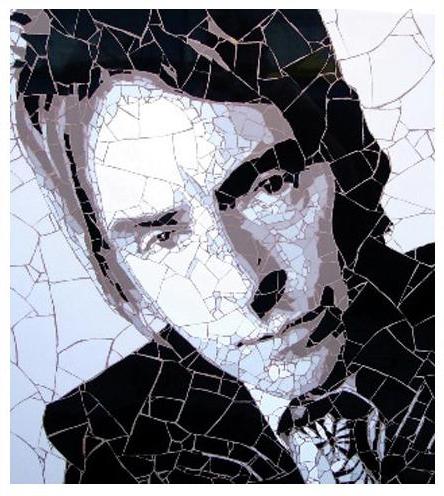 Singer/songwriter Paul Weller, of the legendary '70s and early '80s British punk rock band, The Jam, was one of Chapman's subjects immortalized in a mosaic made of ceramic tiles.
Debbie Harry — 36″ x 24″, ceramic tiles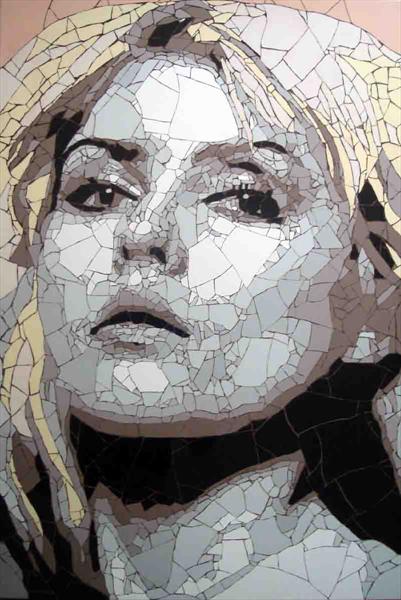 And Debbie Harry got the same treatment in this tile mosaic, which shows the Blondie singer looking at her enigmatic and alluring best.
Johnny Rotten — 24″ x 24″, ceramic tiles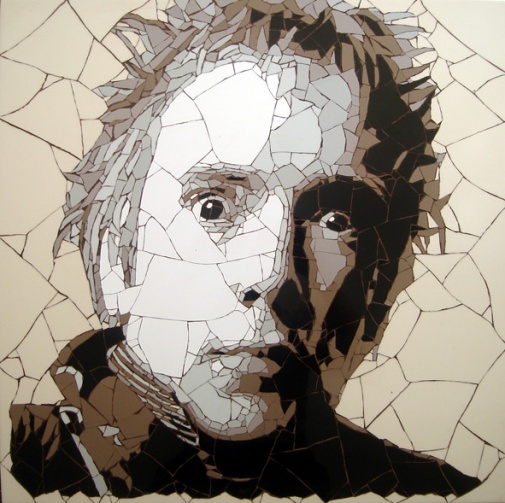 Earlier punk icon Johnny Rotten was similarly captured in ceramic fragments, the Sex Pistols frontman looking out at the viewer with his trademark wide-eyed stare.
Tupac — 24″ x 36″, ceramic tiles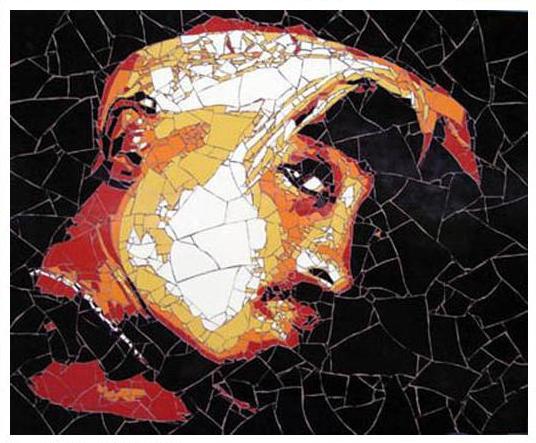 And Chapman has also created ceramic tile mosaics of more modern music sensations such as rapper Tupac Shakur, above, and Kurt Cobain, below.
Kurt Cobain — 36″ x 24″, ceramic tiles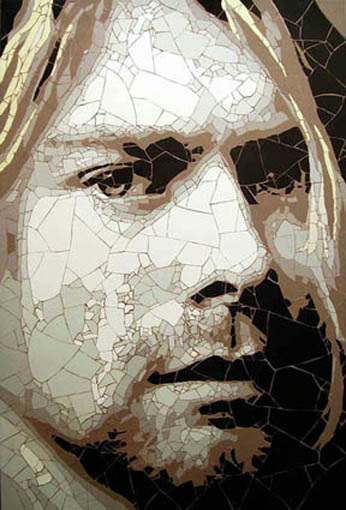 What's striking about Chapman's ceramic tile mosaics is the use of mainly black and white tiles, in some cases supported by ocher shades, as seen in the Tupac mosaic above. Each portrait is created from hundreds of fragments, some as tiny as a few millimeters across. Each ceramic tile fragment is carefully hand cut and placed, leaving no room for error. The mosaic is not finished until the last tile has been positioned.
Paul McCartney — 44″ x 31″, vitreous glass tiles
Though usually limiting himself to black and white, Chapman used green, red and pastel-colored square vitreous glass tiles to work out the details of Paul McCartney's face in the portrait above. Like many of the works by artist Chuck Close, who has acted as a great inspiration for Chapman, this particular piece works best when viewed from a distance. And, while clearly not a representation of a music icon, the portrait of Nelson Mandela, below, shows Chapman displaying his skills working in another medium, this time thousands of penny coins.
Nelson Mandela — 44″ x 31″, 5,340 pennies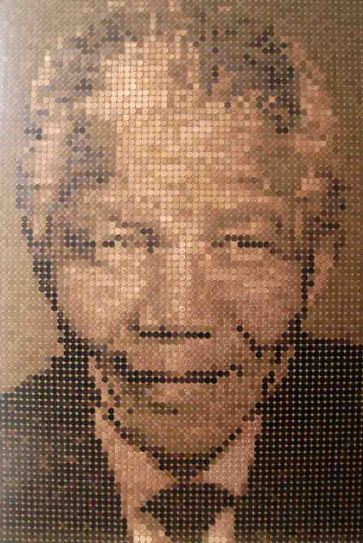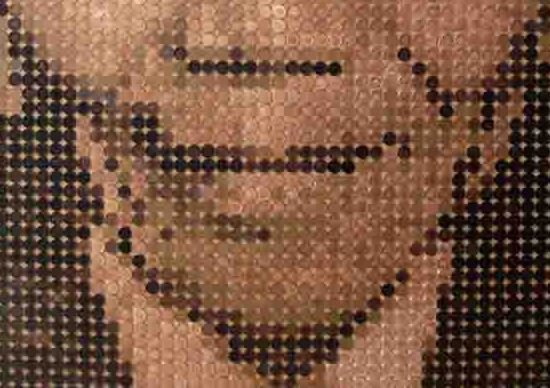 The portrait of British businessman Lord Alan Sugar, made out of more than 3,000 sugar cubes, is a tongue-in-cheek tribute to the tough
Apprentice
host — a man not known for sugarcoating anything! Chapman says, "I'm an avid fan of
The Apprentice
, and I thought a sugar cube portrait of Sir Alan was a nice idea, and one people would immediately relate to."
Sugar — 44″ x 31″, 3,009 sugar cubes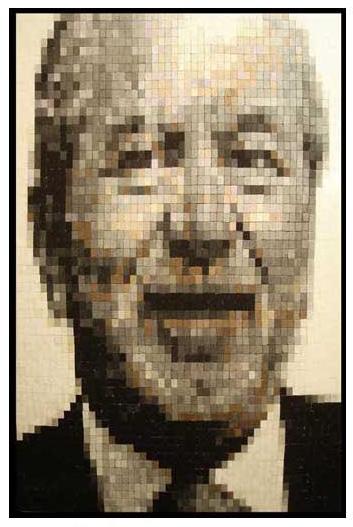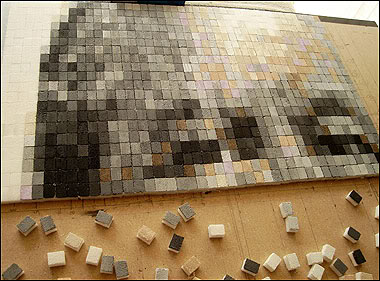 Manchester-based Chapman cites artists like Robert Rauschenberg and Jamie Reid, as well as Chuck Close, as inspiring his work, and he is a big fan of fellow mosaic artist
Saimir Strati
. His works have been exhibited worldwide, and his fan base includes musicians, sports stars and TV personalities. His work has sold in more than 20 countries, from as far and wide as Hong Kong, Australia and the U.S., to all over Europe.
David Bowie — 36″ x 24″, ceramic tiles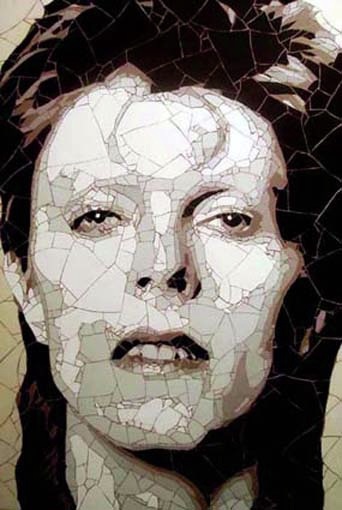 Bob Marley — 36″ x 24″, ceramic tiles
Make sure to check out Chapman's website for more of his amazing mosaic artworks or to inquire about commissioning a personal portrait from life or photography.
Special thanks to Ed Chapman for sharing information and images.
Additional sources: 1, 2