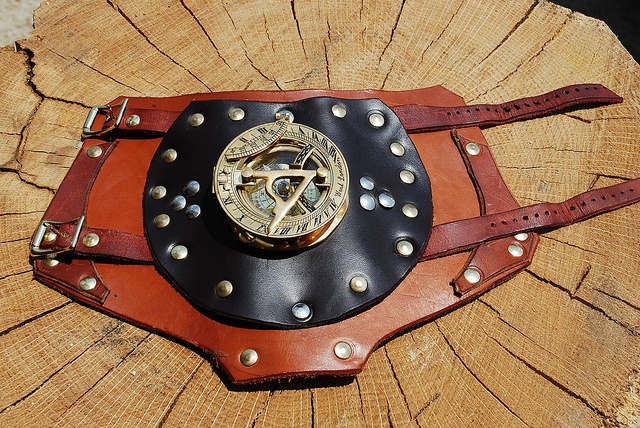 Image: JP & Anelle Ammons, used with permission
H.G. Wells might have dreamed of time machines sweeping their way through the ages, but the Victorians were happy enough to settle for their elaborate pocket watches. Watches really can be ageless, especially when they are made of recycled, reused or repurposed materials. Add a bit of steam power charm and you have a timeless piece indeed that can, on occasion, even look like a medieval gauntlet or a torture device!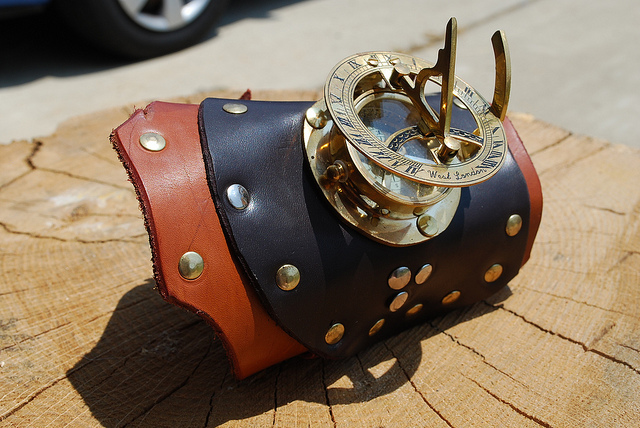 Image: JP & Anelle Ammons, used with permission
Capturing the romance of Victoriana and the strangeness of a high-tech age of steam, these 10 amazing steampunk watches truly are something to behold — and all have been constructed on borrowed, recycled, time!
10) Steampunk Gauntlet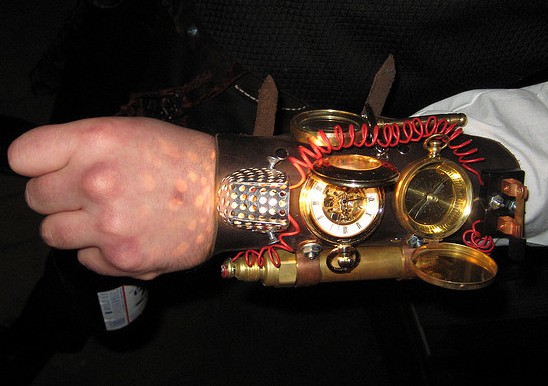 Image: Jason Adams, used with permission
Rather than just your wrist, this watch will require your whole arm, and can only be described as a stunning piece of steampunk machinery. Taking up the better part of one's forearm, this wristwatch is not for those who like it dainty. The leather gauntlet houses what once was a pocket watch, a compass and a lamp — in case you need to tell both the time and the direction in which you're going in the dark. Many nuts, bolts, screws and corkscrew wires complement the steampunk contraption. We love it!
9) Under My Thumb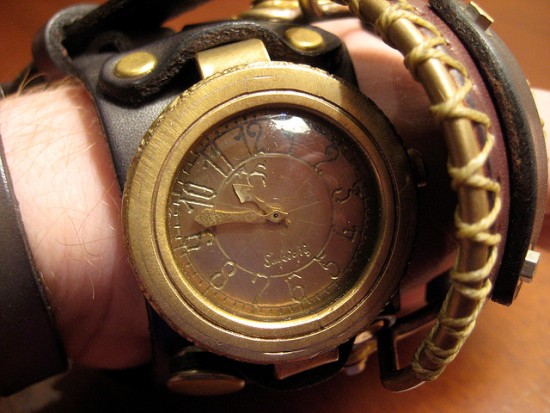 Image: Joe Navratil, used with permission
This watch was made by Tokyo-based watchmaker Haruo Suekichi, who specializes in repurposed, steampunk designs. If you've seen a few Suekichi watches, you can tell that this model is one of the simpler ones, without detachable parts, a complicated closing mechanism or torture devices that double as wristbands. Still, like any of the steampunk master's designs, it has the typical Suekichi charm that is a combination of authenticity, creativity and quality parts.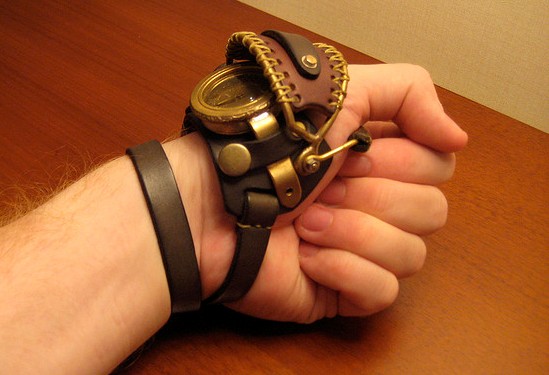 Image: Joe Navratil, used with permission
This model, featuring a simple brass dial and purposely crudely carved numbers, rests on a dark brown leather wristband. The extra layer of protection that slides over the dial is particularly nifty, hiding the dial so that the watch becomes a fancy wristband. Don't miss how this watch attaches around the thumb! All of Suekichi's pieces are handmade, mainly from found, repurposed or discarded parts. Asked in a
CrunchGear interview
if he made everything from scratch, the artist explained: "Everything but the movement. That's the only thing I actually buy. Everything else I make from scratch. Heat the brass with my blowtorch, bend it, make shapes into all the parts from the frames to dial faces. The hardest part is carving the numbers on dial faces… It takes a lot of time and concentration."
8) Steampunk Pocket Timepiece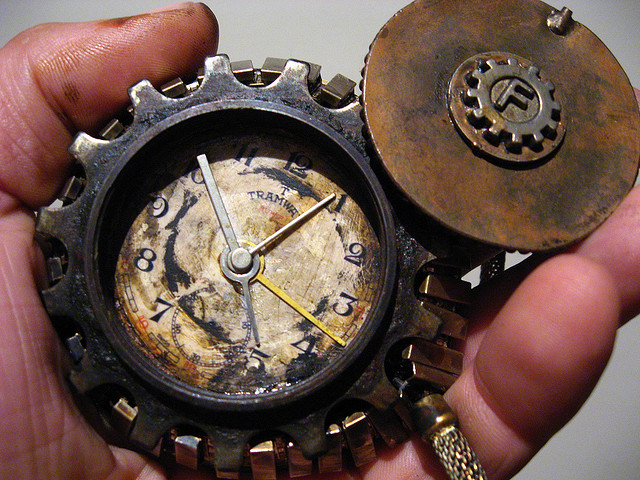 Image: Don Pezzano, used with permission
Featuring a face set into a gigantic cog, this mechanical timepiece is redolent of the low-tech heavy industry of the age of steam. Measuring just 2.7 inches across, the cod-Victorian pocket watch is perfect for the steampunk on the go. What's more, it's been made almost from scratch, including clock parts, watch parts, bike bits and brass and metal junk, all coming together into a truly impressive design.
7) Elegant Wrist Watch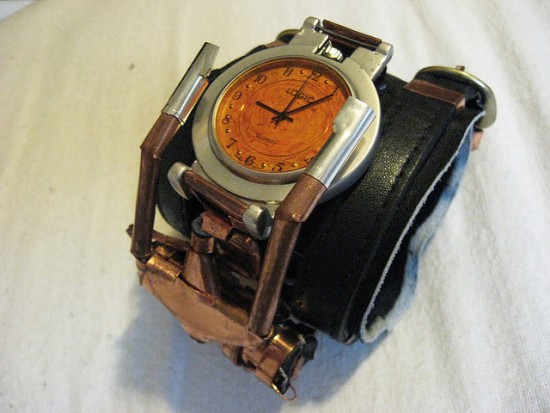 Image: E. Devin Vander Meulen II, used with permission
This wristwatch was crafted by Anthony Rolfe, who also steampunks other pieces of jewelry like necklaces and wristbands, and has even reworked an Xbox. His trademark style is black leather decorated with copper pieces. This steampunk watch also has two brass buckles that close the device firmly around the wrist. The simple dial adds to the watch's elegance.
6) A Twist in Time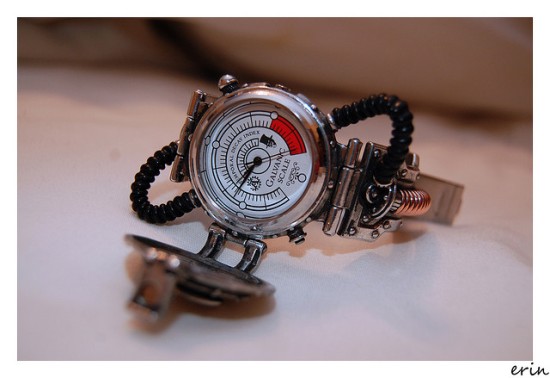 Image: Erin, used with permission
Styled like a speed or temperature dial, this watch's dial reads, "temporal decay index," indicating for the wearer the speedy passing of time, as well as the maker's good sense of humor. The black pressure pipes coming out of the dial add to the theme. But if it gets too steamy (or steampunkish), just put a lid on it. We like it!
5) Simply Victorian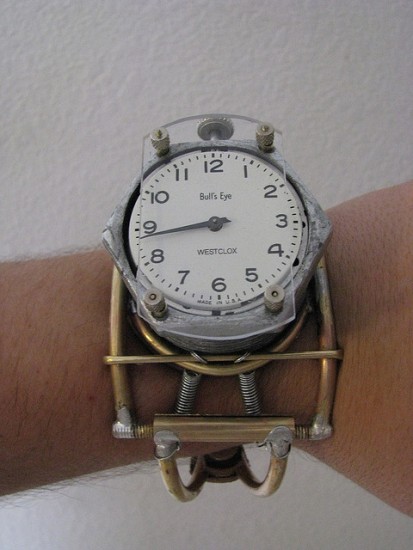 Image: Alvi Chelini, used with permission
Speaking of elegant, this no-frills Victorian-inspired wristwatch has all eyes set on time. Removing the protective dial casing and replacing it with a protruding, transparent cover accentuates the DIY and steampunk character of the timepiece. The little gap between dial and cover seems like an invitation to tinker with time — or to at least give oneself that extra half-an-hour that's so needed. The wristband made of springs, thin metal tubing and screws doesn't look too comfortable, but sure adds to the watch's unique style. Only fitting that the watch's dial reads "Bull's Eye."
4) Mechanical Watch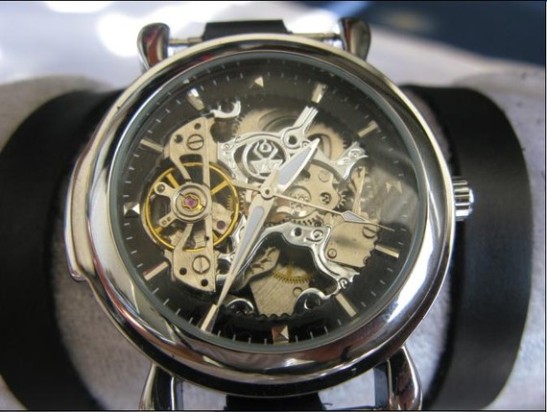 Image: Alfresco Unique Group, used with permission
A wristwatch that literally lets you get into gear in the morning. Watch the gears move and see time ticking away as you get ready.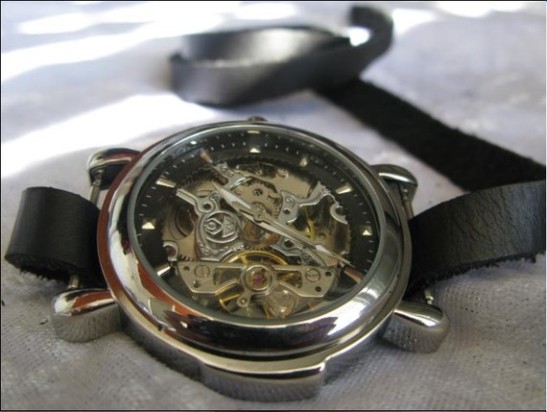 Image: Alfresco Unique Group, used with permission
This handmade watch works on precise mechanical movement, so no battery required.
3) Spy Watch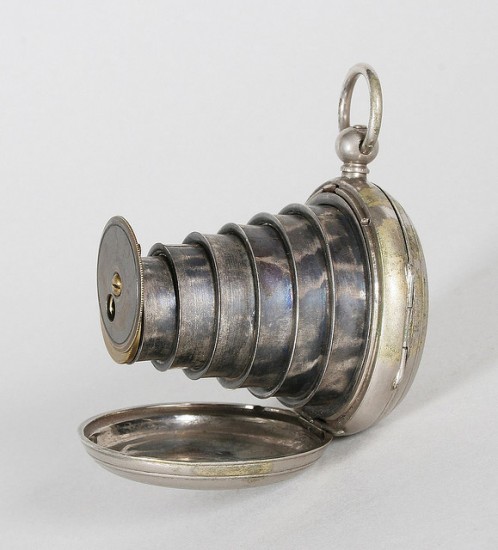 Image: History_Aficionado
This amazing spy watch is as inconspicuous as they come — at least when enclosed in its case. Then, it looks like an ordinary silver pocket watch.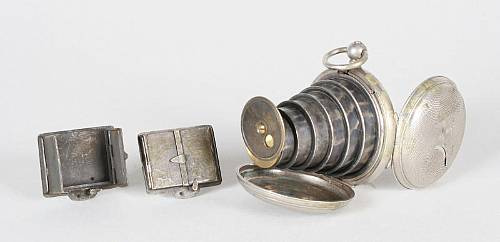 Image: History_Aficionado
But open the lid and out comes the coolest Victorian spy watch you've ever seen! Looking through a tiny hole in the front will reveal the time. After all, time is precious and should be protected.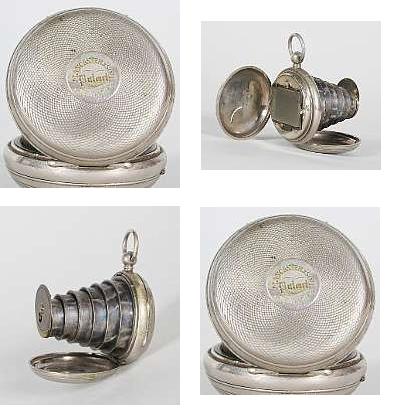 Image: History_Aficionado
These pictures show you the piece in all its awesomeness.
2) Navigators Wristwatch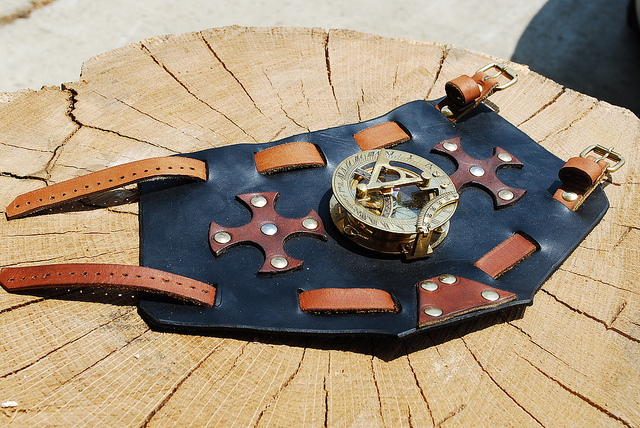 Image: JP & Anelle Ammons, used with permission
This glorious timepiece is rather simpler than many of the others on display here; it doesn't take batteries and it should never break down. Why? Because it's actually a mobile sundial. As its makers put it: "[It] was designed to help the avid explorer find their way and keep time with little fear of a mechanical failure." And as long as you're in direct sunlight you should always know the time.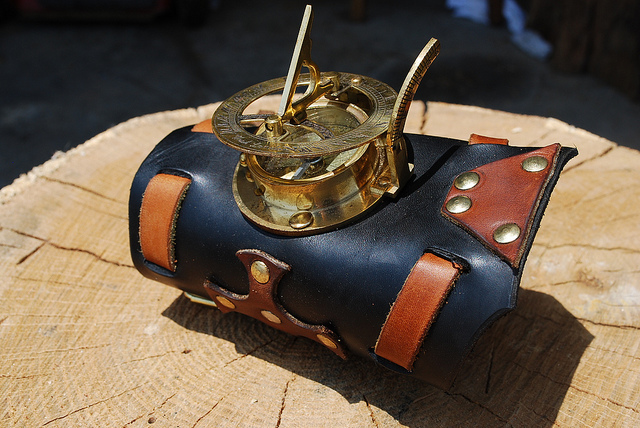 Image: JP & Anelle Ammons, used with permission
The brass sundial is set over a working compass — so you'll know which way to look — attached to a leather vambrace, to ensure accessibility as well as portability. The watch is held on by two adjustable straps, and should you need to take it off, the brass work can be flattened for storage. This is the fantastic high-tech combined with the super low-tech!
1) Three Graces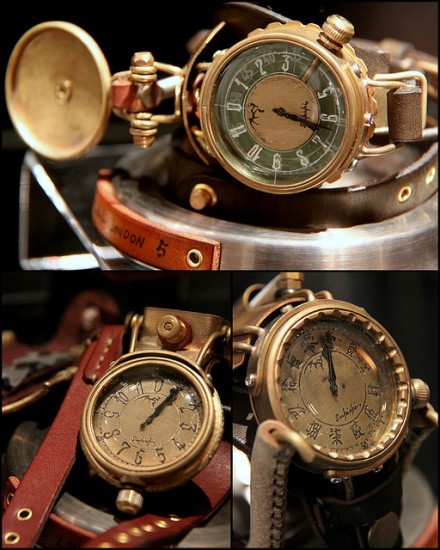 Image: Kotomicreations, used with permission
These three beauties by Haruo Suekichi (also see entry 9) featured in the Oxford Steampunk Art Exhibition in November 2009. Three flies adorn one of the leather straps at the bottom left one, better visible in the image below. What's particularly unusual about this model are the two light brown leather straps that hold the watch in place. You can see the name "Suekichi" etched into the dial of each watch. The bottom right model is striking because of its dial, with Chinese symbols and the symmetrical grooves carved into the brass dial cover. The model on top comes with a dark green dial and a lid. The watch's gear-like base nicely underscores its steampunk character. Also on display at the Oxford exhibition were pieces by Tom Banwell and by Datamancer, which we've previously featured in articles about
recycled steampunk gasmasks
and
recycled steampunk keyboards
.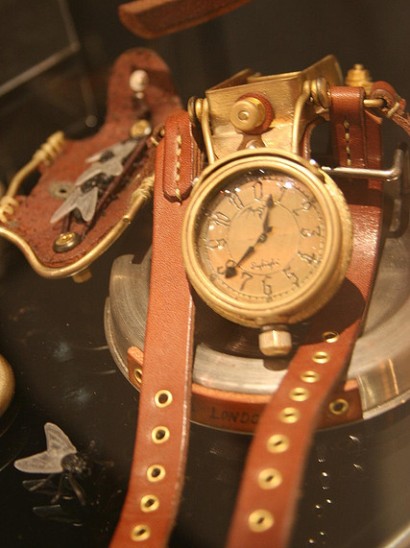 Image: Biker Jun
Suekichi's models are some of the best of what's in the market for steampunk timepieces, and he doesn't compromise on the quality of his parts. Because of this, Suekichi watches don't come cheap: one watch retails from between $800 and $1,200. A far cry from the days when Suekichi used to sell them at the flea market. Now, they are collectibles and not always easy to come by, as you can read
here
. It may be better, then, to just have a look at a few of his most famous models. In just over 15 years, Suekichi has made about 7,000 watches in
his workshop
, not all of which are for sale. So, a better approach to owning your own steampunk timepiece may be to scour your basement, attic or garage for some brass, wires leather and old watch pieces, and get to work!
(Bonus Entry) Nautical Model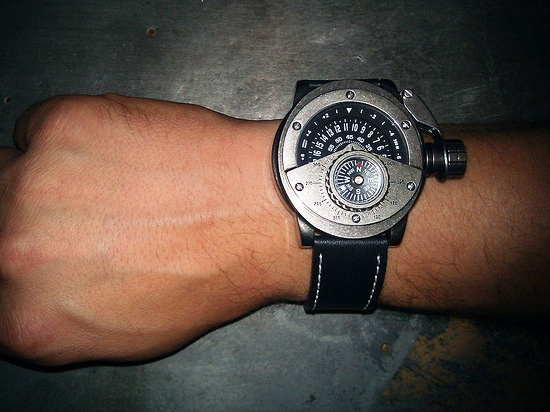 Image: Cory Doctorow
For those who like it simple, this silver and black
Retrowerk Compass Steel-Automatic
might be ideal. Combining German craftsmanship with Swiss precision, Retrowerk aims for steampunk artistry that creates "watches from the depths of Jules Verne's imagination to the heights of horology." If you're heading beneath the waves, you might be interested to hear that this model is water resistant up to a depth of 656 feet, and the compass module is detachable. Cool stuff!